MFC Div 3 Preview: 'Bracks' get the nod
August 14, 2019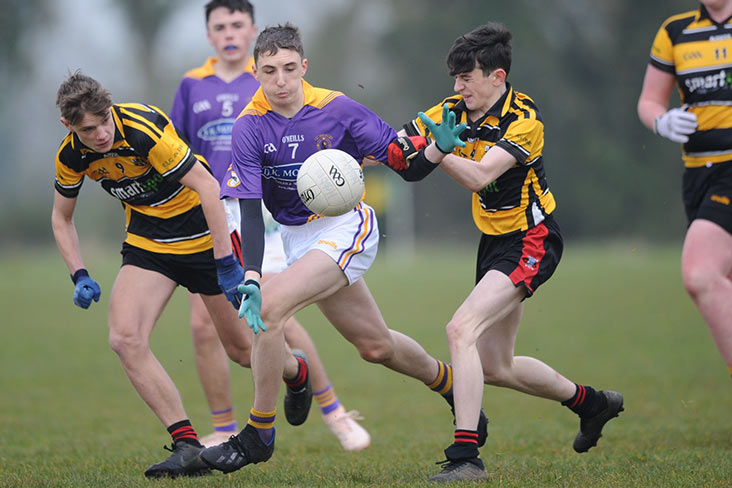 St. Michaels/Nobber and Wolfe Tones will have their eyes fixed on the MFC Division 3 title.
The opening round of the LMFM Division 3 MFC gets underway tonight. Eight teams will compete for outright honours.
Division 3 – Ballinabrackey, Bective/Dunsany, Killary Emmets, Longwood/Clonard, Moynalty/Carnaross, St. Michael's/Nobber, Walterstown, Wolfe Tones.
Division 3A – Bective/Dunsany, Longwood/Clonard, Moynalty/Carnaross, Wolfe Tones
Bective/Dunsany – A group dominated by combination sides; Bective/Dunsany will be hoping to emerge as the strongest. How likely this is to come to fruition is very difficult to predict but with Niall Flynn patrolling the sidelines, they won't be short of advice as the games progress.
Con Smith and Scott O'Sullivan will be key players but the strength of this side is their ability to play as a team. The Summer League final defeat to Ballinlough is likely to drive them on.
Longwood/Clonard – Lost out to Kilmainhamwood in the Spring League semi-final and will enter the competition fancying their chances of picking up the Championship silverware.
With many of the players also lining out for Killyon/Longwood in the Minor Hurling Championship, they may find it difficult to mount a successful campaign on both fronts. This may be a handicap which holds them back.
Moynalty/Carnaross – With the boost of having two home games, Moynalty/Carnaross will fancy their chances of getting through to the semi-finals stages after losing out in a playoff to get there in the Spring League.
Kian Lynch will be among their key players and if he can help them to an opening day success over Moynalty/Carnaross then the world may be their oyster.
Wolfe Tones – A few years ago Wolfe Tones were contesting Division 1 of the Championship but these days they have slipped back down the grades. It's a great challenge for rural clubs to get to the top table and an even greater one to stay there.
After winning the Division 4 title when defeating St. Michael's/Nobber in the Spring League final, they will enter the Championship with plenty of confidence.
Evan Corrigan, Oisín Martin and Shane McGarry will carry a lot of their workload and if they can all shine then Wolfe Tones have the ability to go all the way and pick up a second minor title this year.
Division 3B – Ballinabrackey, Killary Emmets, St. Michael's/Nobber, Walterstown
Ballinabrackey – What is it about Ballinabrackey that causes clubs to dread travelling there for games? Is it the long drive, the oft joked about need to bring the overnight bag, or that there's never two points taken away without a stiff challenge? One thing is for sure, there are few clubs who relish home advantage more than the 'Bracks.
Barry Thompson and Dean Pluck were Meath Minors this year, continuing the clubs fine record of bringing through players to represent the club. Pluck was gamekeeper in goals for the county but is poacher extraordinaire for the club where he is often stationed at full forward. Along with Mark Coffey, these three help Ballinabrackey tick.
Killary Emmets – A team which struggled earlier in the season, they will hope to be revitalised once they hit the white heat of Championship action. The Castletown/Syddan combination open up with a game against near neighbours St. Michael's/Nobber in what promises to be a cracking opening encounter.
They may find the going tough, but it would be no surprise if they confounded expectation and made it through to the semi-finals.
St. Michael's/Nobber – An independent side which has enjoyed success in the recent past with an U-16 Summer League victory in 2018 when they left Sean Newman Park victorious. Can they add to that success with Championship glory?
A semi-final spot is quite likely but whether or not they will be able to push on past that stage is something which we will soon discover.
Walterstown – Worryingly for a club with the population to pick from that they have, Walterstown had to concede the points in an early round to Ballinabrackey. They now have a chance to make up for that when hosting the same opposition in Round 1 of the Championship.
In Ross Reynolds and Eoghan McCague they have two talented players who can show the way, but a team effort will be required. It would be great for Meath football to see Walterstown getting back to the success they enjoyed at underage ranks around the turn of the millennium and maybe this group can help get them there.
Predicted semi-finalists – Bective/Dunsany, Wolfe Tones, Ballinabrackey, St. Michael's Nobber
Predicted winners – Ballinabrackey
Predicted Shield Contestants – Longwood/Clonard, Moynalty/Carnaross, Killary Emmets, Walterstown.
Most Read Stories