IFC: Castletown continue on their winning ways
August 14, 2019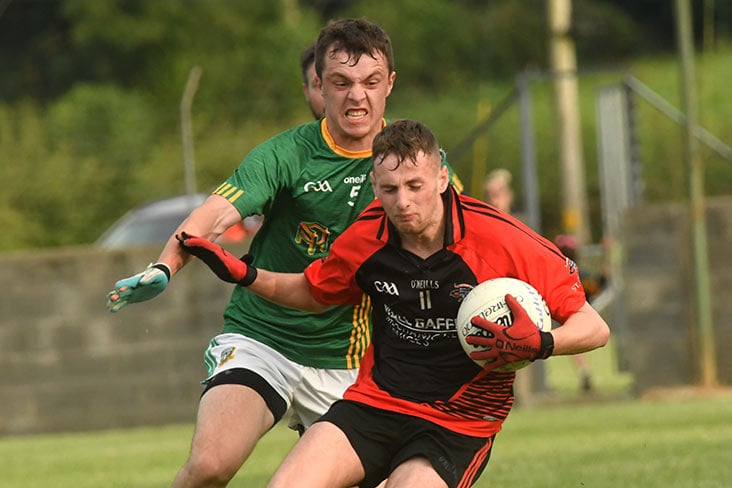 Castletown's Killian Price with Ray Reilly (St Michaels) during the Meath IFC clash in Drumconrath
Castletown 1-11 St. Michaels 0-8
Castletown tonight made it 3 wins from 3 in this years intermediate football championship with this 6 point victory over neighbours St. Michaels in Drumconrath.
St. Michael's opened the scoring with a pointed free after a minute. It took Castletown almost 10 minutes to score with Killian Price opening Castletowns account with a point from play. St. Michaels hit the next point then Castletown hit 2 in a row one from play from Kevin Ross and one from a free from Darren Finney only for St. Micheals to level matters on 17 minutes 3 point a piece. Tommy Smith scored Castletowns next point from play before St. Michaels went 2 points up with 3 points in a row from the 20th to the 23rd minute two from play and their 6th point a free. The eventual winners replied with two points a Kevin Ross free on 28 minutes and Tommy Smith with his second point from play a minute later to leave it 6 point each at the break.
Castletown made the better start to the second period with 3 points in a row Barry Smith from play on 33 minutes, Kevin Ross from a free 36 minutes and Darren Finney from play on 41 minutes. Castletown then went for 17 minutes without a score and St.Michael's scored two in a row on the 45th and 49th minutes to leave it just the minimum between the sides. Less than 10 minutes to go St. Michaels were reduced to 14 following a second yellow card offence which gave Castletown that little bit of space which they hadn't get previous to this. In the final 2 minutes of normal time Castletown scored 1-02 a point from play from Shane Hoey and a well worked goal which was started and finished by second half substitute Kenny Smith following a deft flick from Kevin Ross which opened up the St. Michael's defense to for Kenny to finish to the net to eventually put them away. Castletowns wides count will be a worry as they kicked 6 in each half but this also showed their dominance in periods where they if converted would have led to a more comfortable victory.
Castletown will face Bective in round 4 of the championship in two weeks time. Compliments to the Drumconrath Club on their pitch was in excellent condition, the stewarding of the game and the programme supplied. Well done.
Castletown: Jonathan Ginnitty, Jonathan Metry, Noel Smyth, Gerard Farrelly, Killian Price (0-01), Evan Hoey, Stephen Duffy, Shane Hoey (0-01), Declan Cribbin, Darren Finney (0-02 (1f)), Kevin Ross (0-3 (2f)), Damien Ginnitty, Barry Smith (0-01), Tommy Smith (0-3 (1f)), Wayne Donegan.
Subs: Kenny Smith (1-00) for Wayne Donegan (48 minutes)
ST. MICHAELS IFC MATCH REPORT.
St. Michaels 0-08, Castletown 1-11
St. Michaels suffered their first defeat of this campaign as their neighbours Castletown jumped to the summit of the Meade Potato Co. IFC group B table after this clash in Drumconrath last evening. In what was a fairly evenly contested match throughout, Castletown inflicted the serious damage in the final four minutes when they added 1-2 without reply to seal victory.
While the exchanges were as competitive as one would expect for a local derby, the quality was lacking overall with both sides squandering many chances in front of the posts and when St. Michaels were reduced to 14 men with the dismissal of Mark Stafford to a second yellow with a little over 10 minutes remaining it was Castletown's experience and guile that served them well at the end.
After an evenly contested opening half, both sides went in at the break on level terms, 0-6 apiece, Shane McCormack opened the scoring with a point in the first minute and it was tit for tat from there to the short whistle with Ciaran Lynch (0-3), Shane McDonnell (0-2) and Mark Stafford (0-1) on target for St. Michaels. Darren O'Connell put in a good hours work and kept his side in the game with some great blocks in both the first and second halves.
Castletown pulled away with three unanswered points in the opening ten minutes of the second half, St. Michaels didn't open their second half account until the 44th minute when the hard working Shane McDonnell sent one over on the run. Ciaran Lynch pointed from a free four minutes later for what proved to be his sides final score of the match and to leave it a one point game.
Try as they might St. Michaels failed to get deliveries into their forwards who were starved of good ball for the entire second half. Castletown fared no better as they went a full 17 minutes without working the umpires and it wasn't until St. Michaels went down a man that they began to get a grip of the game when they posted two minors in the 27th and 28th minutes and it didn't get any easier for St. Michaels as they tried to work the ball down the field from their own kick-out which Castletown's substitute Kenny Smith latched onto before billowing the net in the 59th minute for the final nail in the St. Michaels coffin.
St. Michaels: Darren O'Connell; Ciaran O'Reilly, Sam Briody, Ben Reilly; Alan Reilly, Matthew Halpin, Harry Dunne; Shane McCormack (0-1f), Mark Stafford (0-1); Ray Reilly, Paddy Clarke, Lee Morris; Oran Meehan, Shane McDonnell (0-2), Ciaran Lynch (0-4, 2f). Subs: Paddy Tobin for Lee Morris.
Referee: Brendan O'Brien.
Report and photo Pascal Reilly PRO.
Most Read Stories