JFC: Seneschalstown remain in the hunt
August 14, 2019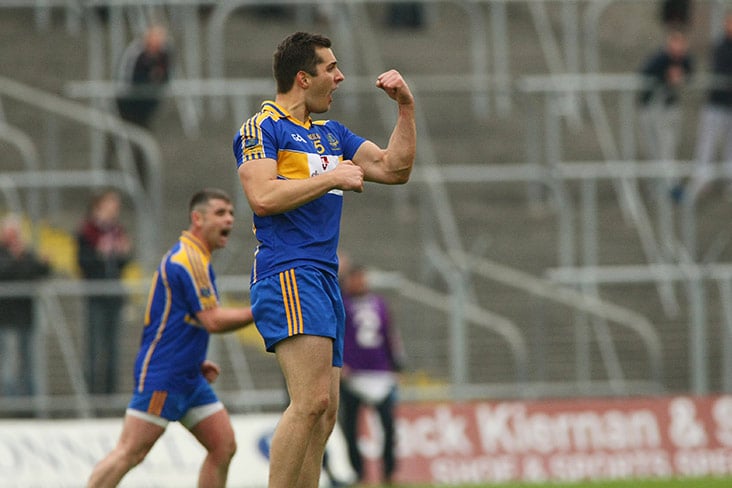 Seneschalstown's Jonathan Gilsenan
Sensechalstown 1-14 Wolfe Tones 1-11
Seneschalstown recorded a three point win over Wolfe Tones in this Group C Meath JFC game palyed in Rathkenny
James Byrne opened the scoring with a point from play in the second minute and Johnathon Gilsenan followed suit with the next three points. Wolfe Tones replied with three points before the replied with a brace from Gilsenan and a well worked goal from Brendan Lynch. Seneschalstown led at the break 1-9 to 0-5.
Wolfe Tones narrowed the gap with a goal in the opening minutes of the second half but over the next six minutes Seneschalstown pushed the lead back out to 8 with points from play by Dylan Doyle, Damien Sheridan and a pointed free from Johnathon Gilsenan. Gilsenan l;anded the winners last score of the game on the 13th minute as Wolfe Tones began to dominate. The Oristown parish outfit hit the last five points of the game but Seneschalstown held on to record their third win of the campaign and remain in the race for a place in the knockout stages.
Seneschastown: 1. David Gordon, 2. Colin Gleeson, 3. Joe Cowley, 4.Josh Ryan, 5. Jamie Kirwan, 6. Padraig Finegan, 7. Neill Darby, 8. Robert Ruddy, 9. Damien Sheridan (0-01), 10. James Byrne (0-01) 11. Dylan Doyle (0-01), 12. Brendan Lynch (1-00), 13. Ross Mullen, 14. Edward Meade, 15. Johnathon Gilsenan (0-11 5F).
Subs: Gary Conlon for James Byrne, Ross Mullen for Brendan Lynch, Peter Tierney for Colin Gleeson and Damien McDonnell for Ross Mullen
Wolfe Tones Report
Bhulf Tón 1-11 Senescalstown 1-14 in Rathkenny on 13th August 2019
Teacht ar ais den scoth a bhí ann do Bhulf Tón a bhí ocht gcúilíní chun deiridh go luath sa dara leath. Bhí seansanna acu an chluiche seo a bhuachaint sna noimeadaí deireanacha ach níor éirigh leo sa deireadh.
Although Seneschalstown led by 1 09 to 0 05 at half time and by 1 14 to 1 06 after 44 minutes they failed to score again before the final whistle and had to hold off a spirited Tones comeback before the referee called time. Tones will regret five second half goal chances which yielded just two points while the yellow furze side hit eight wides in the final quarter. Tones needed a good start to the second half and created two goal chances in the opening five minutes of the half. The first saw Thomas Blaney set up Adam O Neill who unluckily dragged his low shot left of the post. The Yellow Furze men stamped their authority on the game with a point from the kickout. Blaney made no mistake himself shortly afterwards when he hit the roof of the net following a flowing Tones move. O Neill fielded Conor Brennan's kickout and found Niall Mc Loughlin who hit a long pass which was gathered by Aaron Tolan. Tolan rounded his man and found Blaney who made no mistake. Seneschalstown shrugged off this setback and hit three points without reply by the 40th minute. Tones substitute Seán Moriarty who had scored a goal in the previous match almost goaled but toe poked the ball narrowly wide of the post shortly after his introduction. The sides again traded points with Tones Darragh Canny getting his fourth from play. There didn't seem anyway back for the Tones but bizarrely this was Seneshalstown's last score while hitting eight subsequent wides. Laochra O Fionnagáin was the next Tones player who found himself with an opportunity to goal but shot wide from close range. A Thomas Blaney free narrowed the gap to leave the score at 1 08 to 1 14 as the game entered added time. Tones continued to fight on and had two good goal chances before the final whistle. Thomas Blaney's attempt to chip the keeper crept over the crossbar while Adam O Neill's close-range shot did likewise. Although Tones battled on all they could muster was a further Blaney pointed free before the final whistle.
This was a spirited fight back from the men from Oristown parish, who started with ten players under twenty years of age and who were facing a vastly more experienced Yellow Furze side.They were well served by Adam O Neill, the youngest of the O Neill brothers who is showing great promise in his first year in adult football. Alan Lynam was steady throughout, handled a lot of ball and won some good turnovers. Thomas Blaney hit 1 05 and was unlucky to have added to this tally. Darragh Canny's contribution hitting four points from play was noticeable. Mark Mc Keever covered oceans of ground and linked the play effectively until substituted. Peter Carroll and Seán Kendall used their pace to good effect on several occasions to carry the ball out of the danger area while Conor Brennan made a fine save late on. Veteran Niall Mc Loughlin continues his return to full fitness from injury and he was a steadying influence throughout.
Bhulf Tón: Conor Brennan, Seán Kendall, Adam O Neill (0 01), Alan Mc Keever, Mark Mc Fadden, Niall Mc Loughlin, Peter Carroll, Gearoid O Brien, Alan Lynam, Laochra Ó Fionnagáin, Thomas Blaney (1 05), Jake Mc Fadden, Aaron Tolan (0 01), Darragh Canny (0 04), Mark Mc Keever subs: Sean Moriarty for Mark Mc Keever, Dan Glynn for Laochra Ó Fionnagáin.
Most Read Stories