Leinster MFC: Net gains for Dublin against holders in opener
April 23, 2019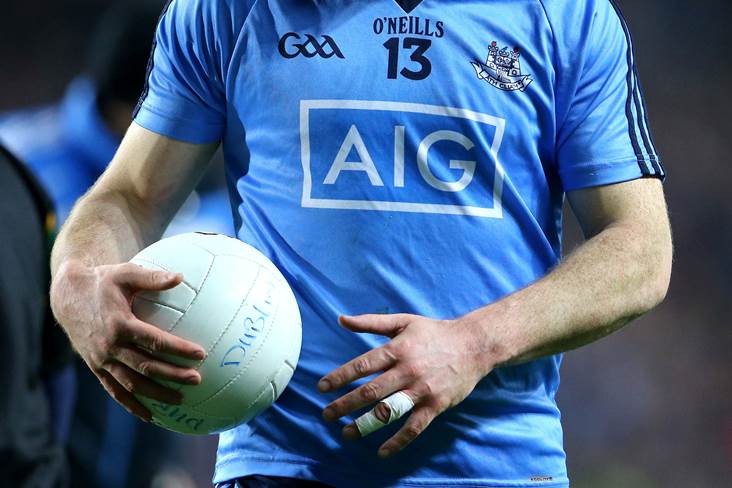 Dublin got their 2019 Leinster MFC campaign off to a winning start against Meath
Dublin 4-10
Meath 2-10
Second half goals from Ryan O'Dwyer and substitute Luke Swan proved vital for Dublin as they got their Electric Ireland Leinster MFC campaign off to a winning start, with a six-point win over 2018 winners Meath at Parnell Park tonight.
O'Dwyer, Fionn Murray and Castleknock dual-player Swan were among those who showed strongly for the hosts, with O'Dwyer finding the net in the 43rd minute and Swan raising a green-flag in the dying moments of normal time, in a game where the visitors started strongly.
Meath registered their opening goal inside the first minute, when centre-half-back Aaron Chinchilla got onto the end of a move which originated in the Royals defence.
Josh Carolan was also involved as the visitors pushed forward, before his fellow Simonstown Gaels clubman found the back of the Dublin net for the opening score of this match.
O'Dwyer opened Dublin's account from a free in the third minute, and although this was quickly cancelled out by Niall Finnerty, after he took on three Dublin defenders, it wasn't long before the hosts found the net.
Centre-half forward Seán Kinsella caused a lapse in the Meath rear-guard, before the Fingal Ravens clubman levelled the tie at 1-1 apiece after four minutes.
This was exciting, open and entertaining football throughout; not punctuated by blanket defences or cyncial tactics, and it was a joy to watch.
Dublin took the lead for the first time after Ryan O'Dwyer slotted over a pointed free, after a good burst forward by David O'Dowd.
Barry Thompson equalised in the 10th minute, after he had been fouled, but Meath failed to make the most of their chances after this.
Jamie Fagan went off on a surging run, to feed Eoghan Frayne, and while the Summerhill clubman got the ball to David Bell - the St. Colmcille's corner-forward had his effort snuffed wide.
An Alex Rogers point from play put Dublin back ahead, before a 13th minute Robbie Bolger goal after a misdirected pass from Meath outfield, ensured a 2-3 to 1-2 lead.
Dublin looked a bit more composed and patient at this juncture, with a Fionn Murray point pushing them into a double-scores lead entering the second quarter.
Niall Finnerty grabbed Meath's first score in seven minutes to cut the gap, and although this was cancelled out by Murray from a free, Meath came good once more.
Bell sent the Dubs net ringing with a fine effort, after good work by Thompson, before a Finnerty score cut the gap to the minimum, nine minutes before the break.
A Thompson pointed free levelled the game after 25 and a half minutes, before Eoghan Frayne put the Royals ahead with a well struck free.
O'Dwyer and Dublin were eager for a goal, but Harry Corscadden marshalled well, before Seán Kinsella finished the half with a well worked score to level the tie 2-6 apiece at the break.
Senan Forker ran at Meath's defence from the throw-in, but Dean Plunk delivered a fine save, before points from Bell and Frayne helped Meath into a two-point lead five minutes into the second half.
A Murray misfired free off the upright, saw Dublin react quickest, with O'Dwyer on hand to fire home.
Dublin wouldn't trailed after this with Murray's placed ball efforts and Swan's goal prowess keeping them in front.
Meath kept in touch through the likes of Pearse Sheridan, but Dublin were more accurate, and not even the reintroduction of Evan Corrigan and Barry Thompson could help the Royals cause.
Dublin: Hugh O'Sullivan; Conor Tyrell, Ben Millst, Conor Archer; Alex Watson, Senan Forker, Jack Lundy; Luke Murphy-Guinane, David O'Dowd (0-1); Ryan O'Dwyer (1-2, 2f), Seán Kinsella (1-1), Alex Rogers (0-1); Robbie Bolger (1-0), Fionn Murray (0-4, 3f), Dara Fagan. Subs: Tom Brennan for Fagan (39); Luke Swan (1-1) for Rogers (40); Luke Curran for Bolger (49); Kieran Conroy for Forker (50); Harry Colclough for Murphy-Guinane (59); Eoin Gannon for Archer (62).
Meath: Dean Pluck; Jamie Fagan, Aitzol King, Harry Corscadden; Harry Ryan, Aaron Chinchilla (1-0), Ciarán Caulfield; Josh Carolan, Cillian Hegarty; Evan Corrigan, Niall Finnerty (0-2), Eoghan Frayne (0-2, 2f); Pearse Sheridan (0-2), Barry Thompson (0-2, 2f), David Bell (1-1). Subs: Shane Smyth for Corrigan (22); Enda Ehichoya for Thompson (45); Sean O'Donoghue for Ryan (47); Evan Corrigan for Chinchilla (54); Barry Thompson for Bell (58).
Referee: Alan Coyne (Westmeath)
Most Read Stories