HL Div 1: The Village win battle of champions
February 18, 2019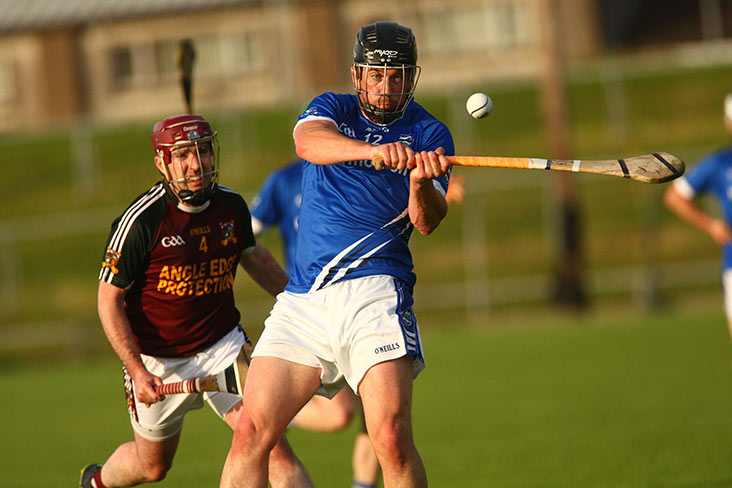 Kildalkey's Seanie Heavey strikes as Ciaran Ennis Kiltale closes in
Kildalkey 1-8 Kiltale 0-6
A cold bright Kiltale was the venue for this first round game between the reigning Division 1 title holders and the Jubilee Cup champions.
Both teams were short a number of regulars between county hurling and injuries.
Kildalkey led at half time by 0-4 to 0-3 with the strong wind playing its part.
Paddy Potterton hit a good point on the run, Gary Kelly got the second and Derek Doran got 2 quick scores before halftime.
There was some great battles all through the field but the wind was a major factor and scores were very hard to come by.
Kildalkey kept the pressure on in the second half and Nicky Potterton hit a point from play which was followed up by a goal from Brian Coneely after some good work by Doran to set him up. Sean Heavey then hit a good score and 2 Nicky Potterton frees closed the scoring as Kildalkey took both points home on a score line of 1-8 to 0-6.
Both defences were very much on top with all 6 backs playing well for Kildalkey. Kevin McKeon and Paddy Potterton worked hard in midfield while the forwards and 3 subs that were used all tried hard for the village
Next up for the winners is Killyon in 2 weeks
Kildalkey: P Fagan, D Coneely, D Harmon, B McKeon, Mark Healy, P Coneely, B Kelly, K McKeon, P Potterton (0-1), Martin Healy, L Rickard, S Heavey (0-1), N Potterton (0-3)(2f), G Kelly(0-1), D Doran (0-2). Subs: B Coneely (1-0) for P Potterton, A Fagan for K McKeon, M Browne for D Doran
Kiltale Report
Kildalkey 1-8 Kiltale 0-6
Kildalkey proved too strong for a Kiltale team that started without 11 of their county final starting 15.
This was a game of 2 halves with Kildalkey restricting Kiltale to 4pts in the first half as Kiltale played with the wind advantage.
Star of the show for Kildalkey was Paddy Conneely in a new role at centre back were he dominated the game and Kiltale found it hard to get any attacking momentum as he broke up numerous attacks and set up many Kildalkey attacks.
Conor Mc Nally was the star performer for Kiltale coming back after a year off injured and been given the task of curtailing Martin Healy who had just returned from county duty but Mc Nally held the half back line breaking up numerous Kildalkey attacks.
Kiltale had other good performances from young Conor Ryan in goals, Willie Mahady and Steven Donoghue in defence, Padraig Kelly and Conor Shiren at midfield and up front Shane Linehan, Ferghal Mc Cabe battled hard and Chris Reilly hit some great stores.
Kiltale battled hard and made a decent game of it but Kildalkey's strenght showed at the end as they hit 1g 3pts in the final quarter.
Kiltale: Conor Ryan, Iarla Hughes, David Donoghue, Ciaran Ennis, Conor Mc Nally, Steven Donoghue, Willie Mahady, Padraig Kelly, Conor Shiren, Steven Cummins, Chris Reilly 0-4, Shane Linehan, Jack Bannon, Ross Ryan, Ferghal Mc Cabe 0-1. Subs Caragh O Brien for Stephen Cummins,Steven White for Ciaran Ennis
Most Read Stories