Ladies U16 FL Div 5: Dunsany goals defeat St. Michaels
February 18, 2019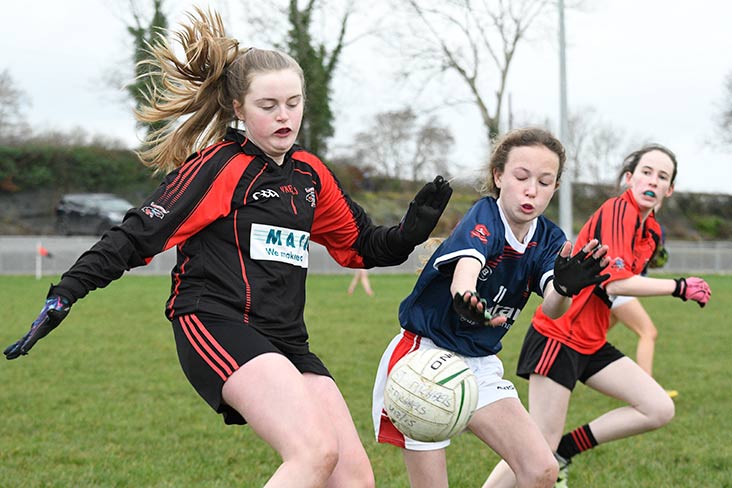 St Michaels Ori-Anne McConnell clears her lines as Aoife Swan Dunsany closes in.
St. Michaels 2-08, Dunsany 5-05
Dunsany simply possessed too much fire power for a gallant St. Michaels side in this first round match played in Carlanstown on Saturday afternoon.
Claire Reilly gave the home side a great start with a goal after 3 minutes however they failed to score again until the 21st minute when Kate Mulligan pointed from play. St. Michaels lost their influential full back Ciara Reilly through injury after 15 minutes and Dunsany were spending more and more time in the hosts half of the pitch as they notched up an impressive 4-3 in the opening half. Lily Smith pulled off some fine saves in the visitors goals however Brioch Meehan managed to squeeze one past her in the second minute of injury time to leave her side trailing by 2-1 to 4-3 at the break.
St. Michaels task looked very difficult at the start of the second half, but credit to each and every one of them they knuckled down to the task in hand and posted 4 unanswered points from Kate Mulligan (3) and Katie Smith (1) to reduce the deficit to 4 points midway through the second half. Meanwhile Dunsany regained their composure and fired home 2-2 in a eight minute period to consolidate their lead and put the game to bed.
The young St. Michaels girls fought on bravely to the end with Claire Reilly, Mulligan and Meehan all posting a point apiece to complete the home sides tally.
St. Michaels team and scorers: Ori-Anne McConnell; Anna Cunningham, Ciara Reilly; Grace Keoghan, Shauna Murphy; Kate Mulligan (0-5), Chloe Reilly; Katie Smith (0-1), Lauren Murphy; Brioch Meehan (1-1), Claire Reilly (1-1).
Referee: Seamus O'Connor.
Report and photo Pascal Reilly PRO.
Most Read Stories