HL Div 2: Dunderry pick up where they left off
February 18, 2019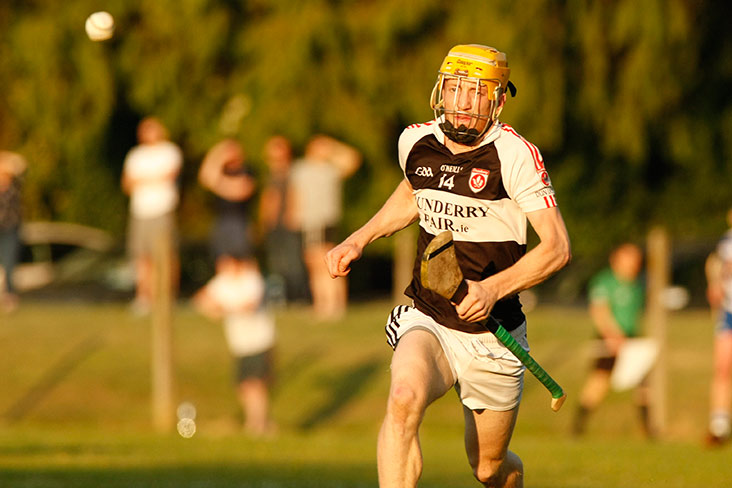 Dunderry's Luke Martyn
Boardsmill 2-7 Dunderry 4-9
The Dunderry hurlers kicked off their new league campaign with a win away to Boardsmill on Sunday. With a new management team and plenty of new faces on show, it was an impressive start to the year for this young side and exactly the start they wanted in Division 2 after promotion last year.
The windy conditions were making life difficult for both teams to settle in to the game and it took until the 9th minute for the 1st score to be registered. Luke Martyn, taking over the free taking duties, slotted Dunderry's opening score against the breeze. Dunderry began to take over and registered two goals in 5 minutes to lead 2-1 to 0-0. Demot Kelly bagged the 1st goal after some excellent work from Conor Leavy and Luke Martyn grabbed the second, assisted by Conor Dempsey and the hard working Alex Walsh.
The home side got off the board with a well taken free in the 20th minute and gathered their own bit of momentum but were thwarted by the hardworking Dunderry defenders. When a 21 yard free was driven towards goal, Mickey Dowdall pulled off a fine save with Chris Fitzgerald saving the rebound shot on the line and Aaron Feeney tidying up and clearing the lines like a young JJ Delaney. Dunderry regained the momentum and tagged on two more points through Walsh and Stephen Coogan. Then came the goal of the game, with Bomber Farrell winning a high ball in midfield and bursting through three defenders before slotting an unstoppable shot in to the top right corner. The home side then grabbed a goal back when a high ball in caused problems and was bundled in to the net after being deflected in to his path.
Dunderry opened the scoring with another free from Lukey in the 2nd half followed by two well-taken (rare) points from Connor Dempsey who was lording it in the middle of the field.. Dunderry missed quite a lot of chances after this and were punished with a 2nd goal from Boardsmill. This seemed to spark a bit of life in to the game again and the tackles were flying in with a bit more bite. Jordy Martin, captain for 2019 was sweeping up everything that came his way and picking out passes at ease. Lukey Martin got his 2nd goal of the game which seemed to finish off the contest and the scoring was rounded off by Conor Dempsey again for his third point of the game.
Big credit to everyone in a Dunderry shirt on the day as the work rate was excellent throughout but a special mention has to go to our three debutants Conor, Donagh and Diarmuid, coming up from the minor ranks last year who settled right in and were very composed throughout.
Next up is a home tie with Navan O'Mahony's scheduled for 3/3/19 at 11am.

Dunderry: M.Dowdall, R.Brady, A.Feeney, C.Fitzgerald, D.O'Laoire, J.Martin, D.Curran, C.Dempsey (0-3), S.Heffernan, D.Kelly (1-0), C.Farrell (1-1), L.Martyn (2-3,2f's), C.Leavy, S.Coogan (0-1), A.Walsh (0-1). Sub: P.Casey - C.Leavy
Most Read Stories