HL Div 1: Trim see off Dunboyne in league opener
February 18, 2019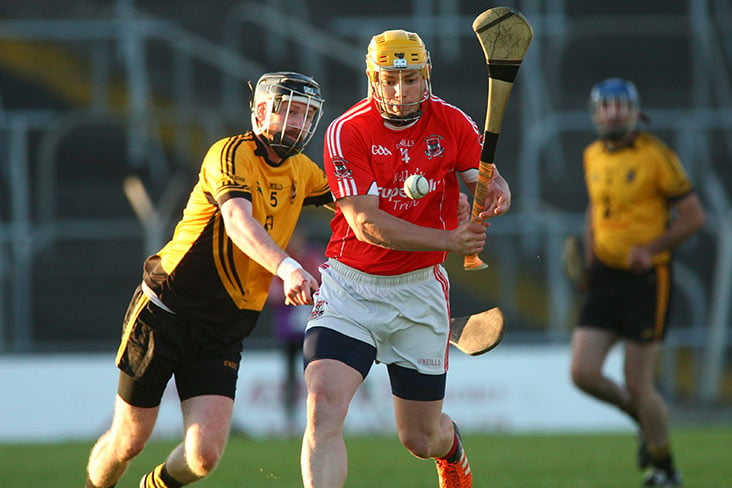 Trim's Neil Heffernan shoots against Dunboyne
Dunboyne 1-9 Trim 0-14
Sunday morning saw the beginning of the season for The Trim senior hurling team. Alan Douglas was on county duty while last years stalwarts Ciaran O'Rourke , Dimmy Higgins, Luke Moran and Sean McGee were unavailable for selection giving Neily Cole a good opportunity to blood some youth into his side.
Brian "Beano" Dowling got Trim off to a good start with two early points from play, he contributed throughout the game, keeping the scoreboard ticking over for Trim and finishing with a total of 9 points to his name. James Andrews scored a long range point for Trim and the sides were level at half time. Conor Quigley and Dylan Farrell were very impressive from start to finish, with their speed, skill and general ability they are a huge addition to this years squad.
The second half was nip and tuck in the early stages, Trim supporter Stephen Doyle was getting a little excited and once the referee gave his warning to Doyle, play resumed and Trim started to take control. Neily Heffernan got into his rhythm to finish with a personal tally of 3 points from play. Sean O'Mahony looked at home at corner back with the consistent Gerry Dwane beside him for guidance.
A great weekend for Trim hurling. The most pleasing aspect was the blooding of last years minors Sean O'Mahony, Conor Quigley, Dylan Farrell, Mikey Cole, Ian Birmimgham and Ben Holden. Patrick Quigley and Declan Dowling also made good adult hurling debuts last night. With this youth and many regulars still to come back into the side, Manager Neily Cole and his Selectors Declan Murray,
Rory Dowling and Darren O'Conor will hopefully have a tough year with all the right problems!
Trim: Charlie Ennis, Colm McGrath, Ger Dwane, Sean O'Mahony, Ryan Andrews, Conor Quigley, Kevin Lennon, James Cullen, Dylan Farrell, Thomas Farrell, James Andrews (0-2), Peter Farrell, Damien McGee, Neil Heffernan (0-3), Brian Dowling (0-9 (5 frees)). Subs. Andy Dinan, Jack Cottrell for James Cullen,Cian Walsh, Ian Birmimgham for Tommy Farrell, Mikey Cole for Peter Farrell Ben Holden for Kevin Lennon.
Most Read Stories