Camogie: Leinster title for Ratoath
October 29, 2018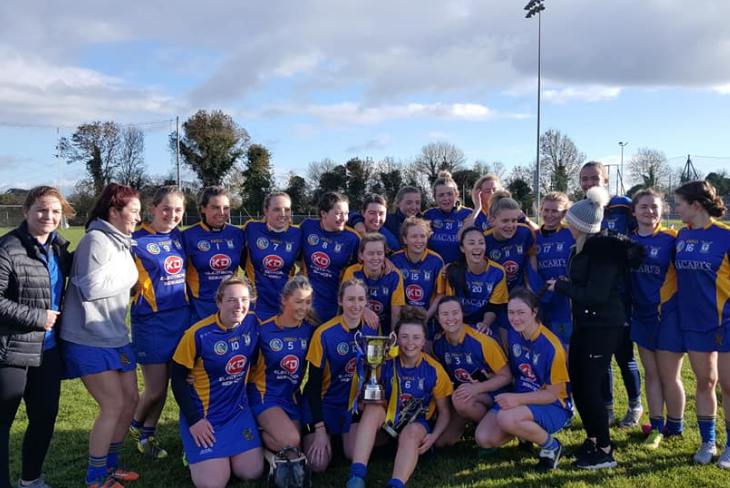 Ratoath celebrate in Kinnegad
Ratoath won the Leinster Special Junior Camogie title on Saturday October 27th with a 2-9 to 1-5 victory over Delvin of Westmeath. The road to the Leinster title was far from easy and started with a county final replay to get past Kildalkey and a hard fought 1 point win over Knockananna Wicklow in the Leinster semi-final.
This team have worked hard to gain back senior status in the county and this was made extra special by bringing home the Jim McDermott Memorial Cup after the county final. Jim McDermott (RIP) coached many of these girls at club and county level and would be extremely proud of their achievements.
Rataoth 2-9 Delvin 1-5 (Westmeath)
The Ratoath girls gave an excellent performance in challenging conditions of biting wind and hail with both sides battling all the way to the final whistle.
Ratoath's Áine McNerney opened the scoreline with a point in the first minute of the game . Delvin levelled with a point shortly after. Ratoath found it difficult to get their range with 4 wides in the next 10 minutes but Sinéad Beagan settled things down with a point from a free followed by a great point on the run from Niamh McLoughlin to put Ratoath 0-3 to 0-1 in the lead after 11 minutes. Delvin were fighting back in all positions but after great fielding from Emma McGill, Áine McNerney's long range shot was batted out by the Delvin keeper and Sinéad Beagan was there to see it to the back of the net. Delvin's Denise McGrath kept her teams spirit alive and scored a goal before having to be substituted with a hand injury. Sinead Beagan converted two more frees for Ratoath to give them a half time lead of 1-6 to Delvin's 1-2.
Áine McNerney got the second half off to a good start for Ratoath with a fine point. A great save by Ratoath's goalkeeper Niamh O'Riordan went out for a 45, which Delvin converted, followed by another point from a free to narrow the gap to 3 points. Despite winning battles at every position for the next 10 minutes Ratoath struggled to split the posts with 5 wides to keep Delvin's hopes alive. After 25 mins of play Delvin were awarded a free on the 21, a point would have narrowed the gap to 2 points but Sarah King's shot on goal was saved by substitute Sarah McNerney and Ratoath went down the pitch 2 mins later when Sarah's sister Fiona lifted her team and the crowd when she drove over an excellent point. Aisling O'Reilly found the net after a defensive error in the 60th minute. Niamh O'Riordan pulled off another great save deep into the seven minutes of added injury time and Delvin suffered another disappointing blow losing a player to the line after a second yellow. Ratoath were home and dry when captain Sinéad Beagan pointed a free to give her a personal tally of 1-5 in the game. There were many great performances on the day but player of the match was justly awarded to Ratoath's No. 6, 16 year old Áine Cooke.
A huge thankyou to Ratoath U11 panel who played an exhibition match at half time against Cullion, Westmeath.
The Ratoath team now progress to the All-Ireland Semi Final on November 11th.
Ratoath: Niamh O'Riordan, Clodagh Griffiths, Orla Hayes, Chloe Faherty, Louise Gaffney, Áine Cooke, Adrienne McCann, Anna Brannagan, Emma McGill, Lauren McCann, Áine McNerney (0-2), Eimear Griffiths, Sinéad Beagan (1-5), Niamh McLoughlin (0-1): Subs used: Aisling O'Reilly (1-0), Sarah McNerney, Emma McNerney, Sarah McLoughlin. Others Anna Fagan, Lelia Byrne, Karen Hayes, Ruth Fagan, Hannah Talbot, Ann McIntyre, Ciara McCabe, Amy Gaffney, Alex Doyle
Most Read Stories