IFC: Longwood finish strong to see off Dunderry
April 10, 2018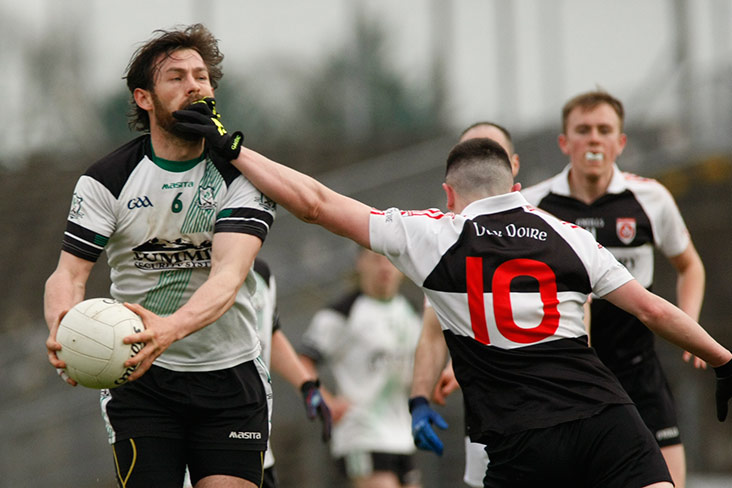 Longwood's Eoin Lynch with Conor O'Shea Dunderry during the Meath IFC game at Pairc Tailteann.
Longwood 3-12 Dunderry 1-13

Longwood kicked off their 2018 IFC campaign with a tremendous victory over a highly regarded Dunderry team in Páirc Tailteann on Sunday afternoon.

With the weather finally settling down, at least for the duration of the game, both teams took advantage of the conditions to produce an open, free flowing game of attacking football.  The spectators were certainly given value for money.

Longwood were quickly out of the blocks with Ryan Moore notching the opening point after just 51 seconds.  Dunderry settled and had their best spell of the match over the next 10 minutes, scoring 1-4 without reply.  Trailing by six points, Longwood's supporters could have been forgiven for feeling a little anxious at this stage; they need not have worried as the team roared back into the game with a second point from Moore followed by a brace of points from Mickey Burke.  Both teams traded points to leave Dunderry leading by 1-5 to 0-5 after 19 minutes.

Longwood were now taking the game to Dunderry at every opportunity and a quick counter attack opened up the opposing defence, with Aaron Ennis rounding goalkeeper David Jennings before being dragged to the ground in the small square.  A clear goal scoring chance denied, the referee had no option but to issue a black card to the keeper.  Amazingly, Jennings was permitted to remain in goals to face the resultant penalty.  This curious decision sparked considerable "debate" amongst supporters but ultimately it made no difference as Mickey Burke coolly dispatched the penalty to the back of the net.  Only then did Dunderry's substitute keeper take to the field.  The loss of Jennings proved to be a turning point as his precision kick outs had been causing problems for Longwood in the early exchanges.

Dunderry edged the remaining minutes of the first half and took a 1-8 to 1-7 lead into the halftime break.

Play resumed with an early point from Dunderry before Longwood started to take control of the game.  A point from centre back Eoin Lynch seemed to inspire Longwood and this was quickly followed by a booming point from a 45 from midfielder Anthony Healy.  Dunderry were further rocked by a goal from Aaron Ennis.  Indeed Longwood could have extended their lead even further had they not spurned at least one and possibly two goal chances.  Ultimately it didn't matter as substitute Gavin Griffith, making his championship debut for Longwood, secured a memorable victory with an injury time goal.

Longwood's second half display was very impressive with all players giving everything to the cause.  They simply refused to entertain the possibility of defeat and it was especially heartening to see the team finish out the game so strongly. Indeed the last 10 minutes was probably Longwood's strongest period of the game with Niall Mulvey, the Healy brothers and Joey Stenson very much to the fore.

While we have to remember its only one game, it certainly represents a good start to championship 2018.
Longwood: Darragh Maguire, Paul Gill, Chris Lynch, Johnny Furey, Joey Stenson (Capt.), Eoin Lynch (0-1), Karl Ennis, Niall Mulvey, Anthony Healy (0-2), Damien Healy (0-1), Ryan Moore (0-3), Evan Coyle, Aaron Ennis (1-2), Mickey Burke (1-3), Wayne Leonard. Subs: Gavin Griffith (1-0) for Leonard
 
Most Read Stories