SFC round by round
March 13, 2018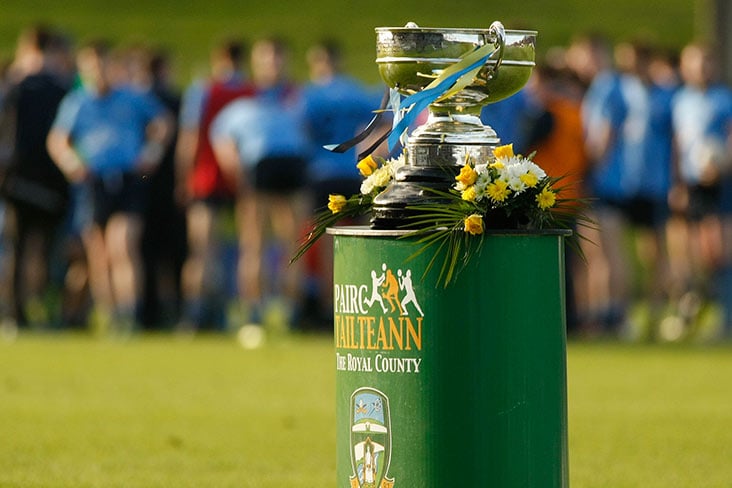 The race for the Keegan Cup got underway on April 8th
The draws for the Senior football championship has throw up some very tasty ties.
Curraha versus neighbours Skryne should attack a large crowd. Keegan Cup holders Simonstown take on Dunboyne in round two. Both will have an eye on outright honours and if last years quarter final encounter is anything to go by this is one not to be missed. 
It's the battle of the towns in round 3 with O'Mahonys versus Gaeil Colmcille. The Kells men had three points to spare in their recent league encounter. Ratoath against Wolfe Tones in round 4 might go a long way in deciding who tops Group C. There's a repeat of the 2016 final in round five when holders Simonstown take on Donaghmore Ashbourne while Na Fianna and Summerhill provide a big local derby.
Top 3 teams in each division quailfy for the knockout stages
Preliminary quarter final draw B3 v C3
Quarter final draw 
(1) A1 v B3 or C3
(2) B1 v C2
(3) C1 v A3
(4) B2 v A2
Semi final
1 v 4
2 v 3
Relegation: 1 team to be relegated to IFC for 2019
Round 1 Group A
Dunshaughlin v Simonstown
Donaghmore/Ashbourne v Seneschalstown 
St Peter's, Dunboyne v Blackhall Gaels
Round 1 Group B
Skryne v Curraha 
Gaeil Colmcille v Summerhill 
O'Mahonys v Na Fianna
Round 1 Group C
St Patrick's v Ratoath 
St. Colmcille's v Rathkenny
Moynalvey v Wolfe Tones
Round 2 Group A
Simonstown v St Peter's, Dunboyne 
Blackhall Gaels v Donaghmore/Ashbourne 
Seneschalstown v Dunshaughlin 
Round 2 Group B
Curraha v O'Mahonys
Na Fianna v Gaeil Colmcille
Summerhill v Skryne
Round 2 Group C
Ratoath v Moynalvey
Wolfe Tones v St. Colmcille's
Rathkenny v St Patrick's
Round 3 Group A
Blackhall Gaels v Dunshaughlin 
Seneschalstown v  Simonstown
Donaghmore/Ashbourne v St Peter's, Dunboyne 
Round 3 Group B
Summerhill  v Curraha 
Gaeil Colmcille v O'Mahonys
Na Fianna v Skryne
Round 3 Group C
St. Colmcille's v Moynalvey
Wolfe Tones v St Patrick's
Rathkenny v Ratoath 
Round 4 Group A
Simonstown v Blackhall Gaels
Dunshaughlin v Donaghmore/Ashbourne 
Dunboyne v Seneschalstown 
Round 4 Group B
Curraha v Na Fianna 
Skryne v Gaeil Colmcille 
O'Mahonys v Summerhill 
Round 4 Group C
Ratoath v Wolfe Tones 
St Patrick's v St. Colmcille's 
Moynalvey v Rathkenny 
Round 5 Group A
Blackhall Gaels v Seneschalstown 
Donaghmore/Ashbourne v Simonstown 
St Peter's, Dunboyne v Dunshaughlin 
Round 5 Group B
Na Fianna v Summerhill 
Gaeil Colmcille v Curraha 
O'Mahonys v Skryne
Round 5 Group C
St. Colmcille's v Ratoath 
Moynalvey v St Patrick's 
Wolfe Tones v Rathkenny 
Most Read Stories