FL Div 2: Subs help Syddan maintain unbeaten run
March 13, 2018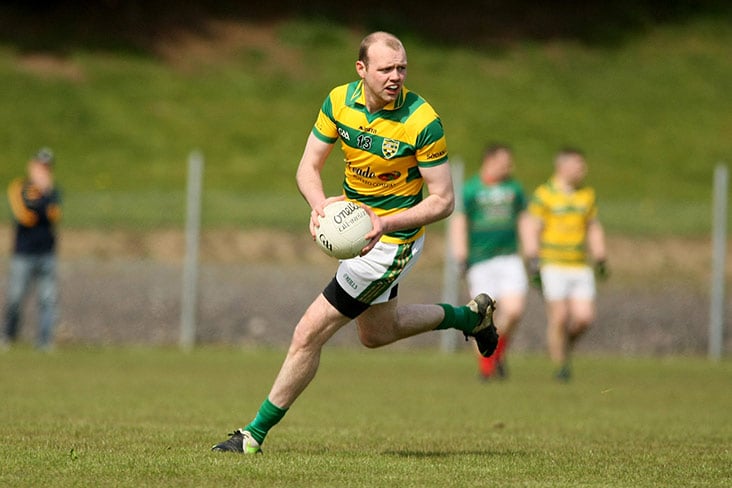 Syddan's Gary Farrelly
SYDDAN 0-10 SENESCHALSTOWN 0-9
SUBSTITUTES played a crucial role as Syddan maintained their league Division 2 unbeaten run with a narrow victory over visitors Seneschalstown on Sunday morning.
Gary Farrelly who joined the fray in the opening half following an injury to Daire Rowe hit three of his sides second half points. Farrelly contribution included the equalising score on 48 minutes and then the lead point three minutes later.
Another sub Brian Dillon struck what proved to be the winning score after being sprung from the bench in the final quarter.
The hosts trailed throughout the opening half and with Cathal Finnegan and Bryan Clarke in fine form in attack Seneschalstown enjoyed a double score lead at the break, 0-6 to 0-3. Daire Rowe (two) and Michael Fedigan were on target with Syddan's first half scores.
Syddan went further behind on the restart but points in as many minutes from Michael Fedigan, Cormac Rowe and Farrelly had them back to the minimum.
It was a pointed free from Farrelly that drew the teams level and the same player pointed his side ahead for the first time heading into the closing stages.
Dillon then doubled Syddan's advantage and Seneschalstown's only response was a point in added time.
SYDDAN: Ciaran Farrelly; Kevin Garland, Ronan Mooney, Mark Fedigan; Jack Reid, Andrew Garland, Stuart Fedigan; Sean Clare, Cathal Dardis; Graham Garland, Daire Rowe 0-2, Michael Fedigan 0-2; Cormac Rowe 0-1, Kevin Traynor, Padraig Dillon 0-1. Subs: Gary Farrelly  0-3 for D Rowe, Michael Smith for S Fedigan, Brian Dillon 0-1 for G Garland, Peter Sheehy for Reid.
SENESCHALSTOWN: Stephen Finnegan; Joe Cowley, John Smith, Cormac Duffy; Niall McCabe, Niall Hickey, Niall Groome; Brian Sheridan 0-1, James Conlon; Adam Carey, Robert Wogan, Alan Mulvany; Cathal Finnegan 0-5, Bryan Clarke 0-2, Niall Lyons 0-1. Subs: Ronan Conneely for Mulvany, Dylan Keating for Lyons, Sean Carey for McCabe.
Seneschalstown 0-09  Syddan  0-10
On Mothers day Seneschalstown travelled to Syddan to play round 5 of the A league. The visitors fell just short of getting something from the game as a result of a one point defeat.
Seneschalstown played against the wind in the opening half but with fine scores from Cathal Finnegan (3), Bryan Clarke (2) and Niall Lyons they went in at the break 0-6 to 0-3 in front.
Finnegan and Brian Sheridan added to the Yellow Furze tally in the second half but Syddan improved on their first half performance to score seven points playing into the club house end, their last point coming in the closing minutes to seal a narrow win.. .
Seneschalstown: Stephen Finnegan, Joe Cowley, John Smith, Cormac Duffy, Niall McCabe, Niall Hickey, Niall Groome, Brian Sheridan 0-1, James Conlon, Adam Carey, Robert Wogan, Alan Mulvany, Cathal Finnegan 0-5, Bryan Clarke 0-2, Niall Lyons 0-1. Subs: Ronan Conneely for Alan Mulvany, Dylan Keating  for Niall Lyons, Sean Carey for Niall McCabe 
Most Read Stories