HL Div 4: Bird and Ashe shine for the 'Mill'
May 13, 2019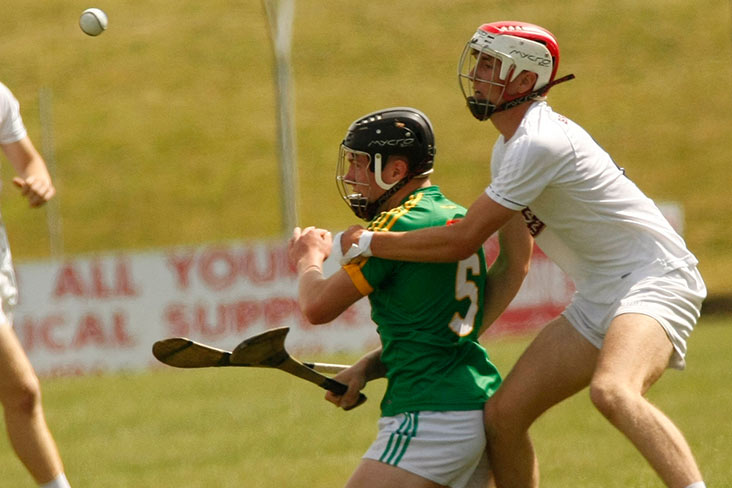 Boardsmill's Conall Bird gets in his pass for Meath against Kildare
Boardsmill 4-14 Dunderry 1-6
Boardsmill hosted Dunderry on a lovely Sunday morning. The home side were hoping to bounce back from their defeat to St Pats.
The game started in Boardsmill favour and with some early wide they started to find their points three vinny guy and Conall Bird. Then two lovely taken goals from Mark flood seen the mill build up a lead. Both teams were hurling well but it was Boardsmill doing all the scoring. Conall Bird found the net from a high ball just before halftime.
Two goals fro Mark Flood and one from Conall Bird gave Boardsmill a 3-8 to 0-5 interval lead.
The second half started much the same as the first with Guy and Bert McLoughlin getting points from play. But it would be a James Ashes' goal , in his first ever hurling game, that would secure the win for the hosts.
The highlight for Boardsmill was young James Ashe lining out corner forward for this first ever game of hurling and last years Meath minor Conall Bird hitting (1-3) from midfield.
Boardsmill: Sean Dixon, Jim Bird, Stephen Gibbons, Eoman Roche, David Farrell, Eric McKay, Conall Bird (1-3), Tom Eviers, Bert McLoughlin (0-4), Mark Flood (2-1), John Corrigan, Vinny Guy (0-5), James Ashe (1-0) Subs Thomas Leonard for Conall Bird at half time.
Most Read Stories