HL Div 1: Kildalkey run out comfortable winners
May 13, 2019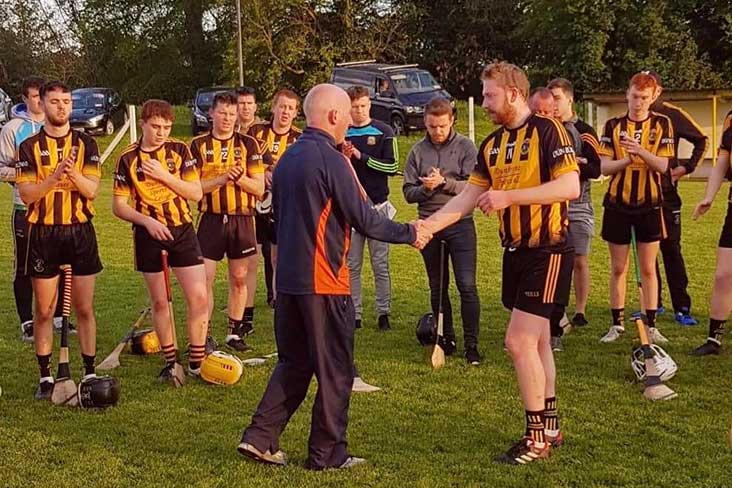 Manager Pat O'Halloran presents a donation to the Sean Cox fund on behalf of the Kildalkey players after the Div 1 HL game.
Kildalkey 0-20 Dunboyne 0-10
Kildalkey made the trip to Dunboyne on Saturday evening last and took home both points in this Division 1 HL fixture played in lovely sunny conditions.
It was Kildalkey who made all the running from the start with Brian Conneely and Paddy Potterton hitting the first 2 points followed up by 5 Paddy Conneely frees.
James McNally then hit a super score on the run off his left and Sean Heavey who was causing trouble for the Dunboyne defence hit the last 2 points of the half as Kildalkey led 0-10 to 0-3 at halftime.
Brian Conneely again got the first score of the half and Podger Geoeghan who moved out the field got 2 points. Heavey doubled his first half tally as did James McNally who's younger brother Niall also got in on the scoring act as their pacey running was proving hard to handle.
Conneely closed the scoring with his 7th free to leave the final score Kildalkey 0-20 Dunboyne 0-10.
In defence Brin Kelly Gary Kelly, young Conor Fitzgerald and David Harmon caught the eye. Paddy Potterton gave his usual hard working display chipping in with a point and up front the McNally brothers, the Conneely brothers and old reliables Heavey and Geoeghan all played their part as the village sit on top of Division 1 unbeaten.
Kildalkey: M McCormack, D Coneely, G Kelly, B Kelly, Mark Healy, D Harmon, C Fitzgerald, Martin Healy, P Potterton (0-1), S Heavey (0-4), J McNally (0-2), P Conneely (0-8)(7f), B Conneely (0-2), P Geoeghan (0-2), N McNally (0-1). Subs: A Byas for B Conneely, K McKeon for Martin Healy, B Rickard for N McNally
Dunboyne Report
St Peter's Dunboyne 0-10 Kildalkey 0-20
Dunboyne got off to a poor start against league leaders Kildalkey in this round 6 encounter played at the Rooske Road pitch on a sunny Saturday evening.
After trailing by 7 points at half time Dunboyne had it all to do, and some excellent points from John Mitchell and Michael Dunne helped narrow the gap. However Kildalkey reasserted their control on the game and ran out comfortable winners.
After the game the Kildalkey players made a generous contribution to the Sean Cox fund which was graciously accepted by team captain Fergal O'Neill.
Dunboyne - Sean Moran, Niall Watters, Andy McWeeney, Darragh Finlay, Sean McGrath, Peter O'Doherty (0-1), Jamie Gilmartin, Alan Watters, Eoghan Ryan, Stephen Moran, Fergal O'Neill, Keith Doyle, John Mitchell (0-5), Neil Hackett (0-2), Conor Gilmartin (0-1). Subs - Michael Dunne (0-1), Darren Dunne.
Most Read Stories