HL Div 2: 'Mills' good form continues
May 13, 2019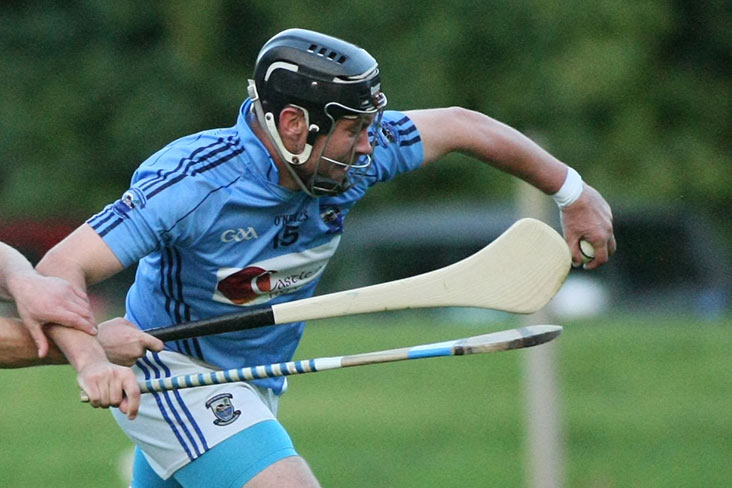 Boardsmill's Sean Dixon
Boardsmill 6:17 Navan O Mahonys 0:10
Boardsmill high in confidence from their last league win against Clann na nGael were eager to put in another good performance Saturday evening.
The host got off to the better start with a couple of points. They soon found the net through Sean Dixon, who was on top form. It wasn't long until Dixon found himself in front of the goals a again which he slotted by the keeper. The Navan men did attack but ruthless defending from Jim Bird and Liam O'Brien cut out a lot of the attacks. The hard work form the backs was rewarded by goals from Keith Hamilton and a quick free from Dixon which also found the net.
Quick fire goals from Niall Durkin midway through the second half put the result beyond doubt.
Best for Boardsmill were Conall Bird, Stevie Gibbison and Sean Dixon.
A real highlight for Boardsmill was having last years minor, Conall Bird, back in a Boardsmill jersey and having an unbelievable game.
Boardsmill: Vinny Guy, Conor Darby, Jim Bird, Eric McKay, Stevie Gibbons, Liam O Brien (0-5), Johnny Mitchell, Conall Bird (0-3), Cian Ryston (0-1), Niall Durkan (2-0), Fergal Flattery (0-2), Thomas Leonard (0-2), Craig Kelly (0-2), Sean Dixon (3-5), Keith Hamilton (1-2) Subs; Evan Dixon (0-1) for Sean Dixon.
Most Read Stories