FL Div 4: Cortown chop down the Wood X2
May 11, 2019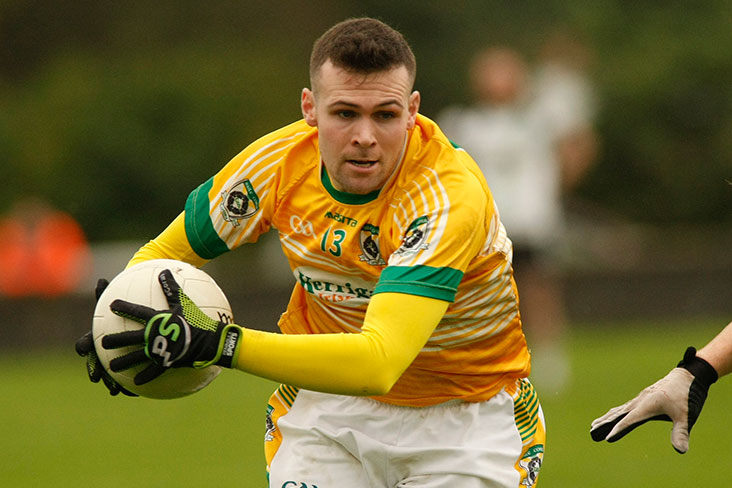 Cortown's Ryan O'Rourke
Cortown 1-11 Kilmainhamwood 1-07
Generally speaking, one visit to the forest is usually more than enough per year. However, Cortown clearly decided they didn't have enough wood for what they must be anticipating will be a cold Winter. Kilmainhamwood came to Cortown on Friday evening with two things in their mind – exacting revenge on Cortown for their Championship defeat in April and going top of the League with 3 games to go. Unfortunately (for them), they achieved neither and once again departed with the tail between their legs.
Indeed, the hosts albeit with a less realistic chance of promotion, were not willing to lie down and were eager to continue their excellent recent form. The sides traded blows early on with Ryan O'Rourke notching an early free after Sergeant Brían Smith was scuttled to the ground.
The visitors would respond with what was a truly remarkable goal. Michael Shankey improvised brilliantly pulling on a loose ball from 30 yards and finding the top corner with an extraordinary finish. It seemed to spark Anto Monaghan's side into life with Davy Rispin firing over. Smith would curl over soon after to narrow the deficit to one.
The home side were soon in front when they showed their quality with a beautiful free flowing move. Daragh O'Halloran who oozes class found Rispin who tucked in a pass to the onrushing Big Bad Stevie Clarke. Clarke made a charge to the goals like he does to a chipper after a night out but his progress was halted at the expense of a penalty. O'Rourke stepped up and despite some 'encourage' from the Wood players, he dispatched emphatically.
The Wood would reply but Cortown matched it a fine free from O'Rourke after Rispin was hauled down. Barry Canning, Donegal's finest export after Donegal Catch, was having a stormer as was Cortown netminder Paul Stanley. The veteran keeper has been in inspired form in recent months and he pulled off a couple of stunning saves to deny certain Kilmainhamwood goals.
Smith ensured the men yellow did go into the interval with a lead with a brace of excellent scores in quick succession. It was hard hitting and intriguing stuff but Cortown did lead by the bare minimum, 1-6 to 1-5 at the break.
Cortown would start the second half much better than they had started the first with O'Rourke slotting over his first from play following some good work from the Sergeant. Smith himself would nail his fourth of the evening following an enterprising run from midfield.
The Wood were wavering and finding Cortown difficult to break down with Skipper Coyne and young Jockey, Luke 'Ruby' Carberry prospering in a new found role of corner back. Mickey Rennicks did throw on Big Gary Yorke to try and turn the tide and he make no secret of his intentions bellowing "Let it into Gary for **** sake!!"
Hugh Staunton's mazy runs and nonchalance on the ball was causing real problems and the Wood caught him late again presenting O'Rourke with an easy opportunity to knock over another. Tommy Smith marked his arrival and his return to first team football with a smashing score along with a trademark roar!
The Wood missed a glorious opportunity to get themselves back into the game but somehow managed to blaze over when it looked harder to miss than score. Cortown punished this error when Staunton dished off to Rispin who got the sufficient curl to stretch the lead to 3. The insurance point arrived soon after when Smith carried from midfield before delicately applying a cushioned finish to the delight of the Cortown clash of 91' congregated behind the goals.
From there on in Cortown saw things out as only they can despite some dicey defending from Boots Clarke who absolutely loves taking place both on the pitch and on the poker table. The result brings Cortown to within touching distance of Kilmainhamwood and the other side's situated on 10 points whilst 'The Wood's' progress has been very much stalled by their newly found 'bogey team' Cortown.
Cortown: Paul Stanley, Davy Coyne, Barry Canning, Luke Carberry, Cormac Lindsay, Daragh O'Halloran, Kevin Muldoon, Stevie Clarke, Hugh Staunton, Ivor O'Halloran, Ryan O'Rourke (1-4,1pen,3fs), Decky Clarke, Brían Smith (0-4), Justin Reilly, Davy Rispin (0-2).
Subs: Colm Kerrigan for I O'Halloran, Tommy Smith (0-1) for S Clarke, Conor Mulroe for Reilly, Declan Clarke for Muldoon.
Most Read Stories