B FL Div 3: Clanns top in high scoring encounter
May 11, 2019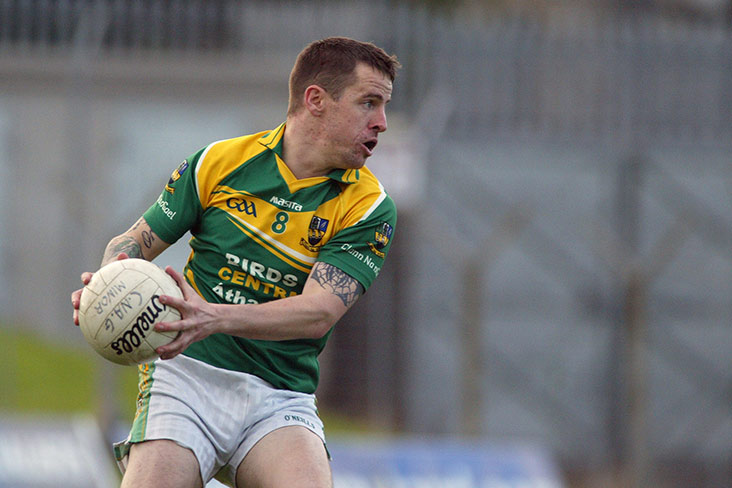 Clann Na nGaels Michael Priest
Clann na nGael 5-13 Meath Hill 3-14
On a sad day for Bective GAA with the passing of one of their players the late Greg Hogge, Clann na Ngael pass on our condolences to his teammate's family and friends. I played against Greg in the B FL Division 4 final a couple of years ago and he was always a great and honest competitor who gave everything to the green and white of Bective whenever he took to the field. An chuid eile i síocháin.
Rinne Clann na nGael turas fada leath na seachtaine go dtí Cnoc na Mí i gcluiche Sraithe na Sraithe5 B. Bhí na fir ó Áth Buí ag súil go leanfaidís a mbuaite an lá seo caite le bua eile anseo. Ba mhór an rud é an réimse a bheith á úsáid ag daoine nach bhfuil i gcnoc na Mí / Droim Conrath a bhfuil a gcuid scileanna á n-úsáid acu faoi bhláth, rud atá mar fhíneáil a bunaíodh do chlub cnoc na Mí.
Clann na nGael made the long midweek trip to the Meath Hill in the round 5 B football league Division 3. The men from Athboy were hoping to follow up their victory last day out with another win here. It was great to see the field being used by the underage's of the Meath hill/Drumconrath who are combined at underage out practicing their skills in what is a fine set up for the Meath Hill club.
The first score was a goal from Tommy Hanley who palmed to the net after some unselfish play by Tómas Doyle which was followed by a free from Micháel Priest. Meath hill opened their account with a free from Mark Tully. Clann goaled again after a great catch from Luke Swaine in midfield who played the ball in quickly to the full forward line. With Tómas Doyle in possession Priest who had a strong game throughout came looping on the outside of Doyle who pooped the ball off Priest evaded a couple of tackles and held off his man before calmly twisting to his left and slotting to the corner. It looked like the men from Athboy would run away with it after the score after 10 minutes read Clann na nGael 2-01 to 0-01 with Meath hill finding possession hard to come by and the backs holding firm early on.
Adrian (Tiger) kicked a lovely effort from 25 metres off the left like only he can and then this was followed by a lovely individual point from Shane (Duck) Doherty who gained possession on the 40 and headed forward after side stepping not one but two tackles he settled and kick a sweet point from around 30 yards. Tully kicked 2 more frees and was starting to influence the game after coming out around the middle to get on the ball and set up a point from play after a good pass put the Meath hill number 12 through.
Tully would then be the instigator in the Meath hill goal when he won possession played a quick pass to the roaming wing back who played in the full forward who blasted to the net. This left the score Clann na nGael 2-3 to 1-4. Meath hill kicked a couple of wides and where starting to turn the screw. Clann needed something and worked the ball up the pitch but kicked a bad wide which could have proved costly but the next play more than made up for it. Meath hill where working their kick outs short and this proved their downfall as Tommy Hanley intercepted and drove towards goal , Priest again was off the shoulder and when he was slipped the ball blasted to the net. Hanley and Doyle would both score points with Tómas also finding the net and Tully scored another free and another point from number 15 left the half time score Clann na nGael 4-5 Meath hill 1-6.
The second half was a more evenly contested match with Meath hill wining the half by a goal. Conor Fenton was his lively self and was running up and down the wing looking to help out his forwards when needed, The men in yellow's full back line where not seeing much of the ball with Tully and the half forwards for Meath hill sharing most of the possession and they were rewarded when the worked the ball up the field but Michael Yorke who had started corner back( as he is known to be clinical when presented with a chance on the green pitch or cloth) was put through he made no mistake and dispatched to the net. Hanley kicked 2 points when he won possession and worked the ball to Priest who return to him and made space for Tommy to score.
Paddy Tiernan was starting to get the upper hand on Tully which helped the men from Athboy keep ahead. Doherty would kick another nice point to take his tally to 2 for the game. Meath hill brought on a few experienced forwards who won a couple of debatable frees but frees an experienced forward are brought on to win and Tully would slot to close the gap. The score read Clann na nGael 4-8 Meath Hill 2-10.
Ryan Mc Namee came on for Adrian Doyle who had a good outing and got on the score sheet 5 minutes later with a well worked team score. Fenton got his reward after missing 2 good opportunities earlier in the half when he picked the ball up in midfield and carried for 40 metres and put another point on the scoreboard. The men in blue kept plugging away and an outstanding save from Gary Kelly in the Clann goal who got down low to his right to divert the goal bound shot out for a 45. Tully stood over the 45 and kicked towards goal but it dropped sharply at the last minute to evade everyone and into the net.
The men in blue smelt blood and went looking for the next score but Luke Swaine won possession played a quick ball into the half forward line continued his run got the return pass done a trademark Luke Swaine side step and cut inside to finish to the net. Hanley who was a strong contender for man of the match stole another kickout and turned for goal his blasted shot flew over but had it been lower would have surely hit the net. Kelly would again thwart the Hill forwards with a save at the death.
With darkness arriving Meath Chairman Peter O Halloran blew the whistle to end what was an entertaining and high scoring mid-week match. Clann na nGael will have been the happier of the 2 as not many teams come away from Meath Hill with points on the board. Rumours circulated before the match that Martin Tully and Emmet Mattews where getting an early flight home from the States for this match but these rumours proved to be false as Mattews who is a big Liverpool fan was still out celebrating the comeback from the night before.
Best for Clann na nGael was: T Hanley, M Priest, S Doherty, T Doyle, C Fenton, L Swaine
Clann na nGael : G Kelly, J Garry, R Mc Manus, M Coffey, A Farrell, P Tiernan, C Fenton 1P, L Swaine 1G , A Swaine , S Black, M Priest 2-3(1F), A Doyle 1P, S Doherty 2P, T Doyle 1-1, T Hanley 2-3, Subs R McNamee for A Doyle , M Tiernan for J Garry, A Doyle for M Priest.
Another 2 points for the Athboy/Rathcairn men who play Ballinlough on Sunday 19th of May in Athboy at 12md in the next round of the league but before that the first team will play St Vincent's in the preliminary round of the Tailteann cup in Athboy on Tuesday 14th May at 19:30.
Referee Peter O Halloran -Drumconrath
Most Read Stories