B FL Div 2: Na Fianna survive second half comeback
May 11, 2019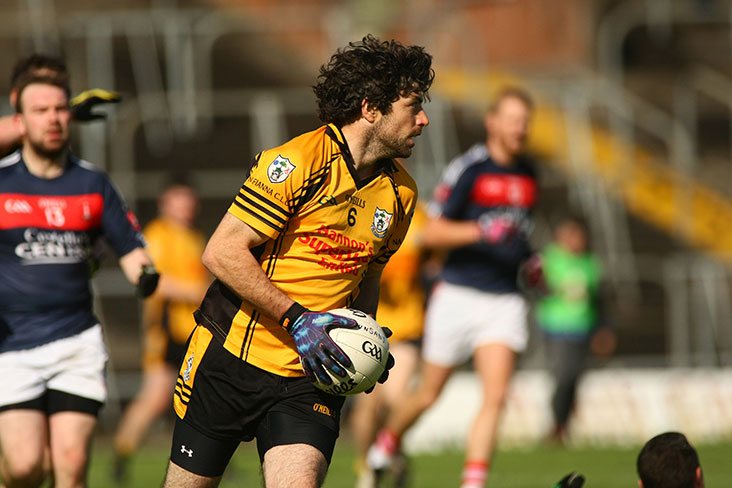 Na Fianna's Tommy Cosgrove
Na Fianna 4-07 Moynalvey 0-14
Na Fianna continued their winning ways with this hard earned win in Moynalvey on Friday night.
A blistering first half showing had Na Fianna in the driving seat, with Ciaran McDonnell blasting to the net while the impressive Ben Caldwell hit two goals and a point. Andy Glynn, Glen McDonnell, Ciaran McDonnell and Evan Mullally also pointed for the visitors. Sean Coyle made two fine saves in the goals for Na Fianna which contributed to a healthy 3-07 to 0-8 half time lead for the away side.
The second half proved a difficult one for the visitors as they kicked numerous wides and coughed up possession to leave Moynalvey in the game. The home side took full advantage and began to claw back the lead with a succession of points. It took a late goal from Ciaran Keogh to kill off the home sides comeback and earn Na Fianna the win.
Na Fianna; Sean Coyle, Jarlath Ennis, Christy Cosgrave, Stephen Slevin, Sean Coffey, Tommy Cosgrave, Eoin Downey, Brian Queeney, Kevin Coffey, Ben Caldwell (2-01), Evan Mullally (0-1), Damien Downey, Glen McDonnell (0-1), Andy Glynn (0-3,1f), Ciaran McDonnell (1-01). Sub used; Ciaran Keogh (1-0).
Most Read Stories