IFC final: 'Wood end wait
October 01, 2018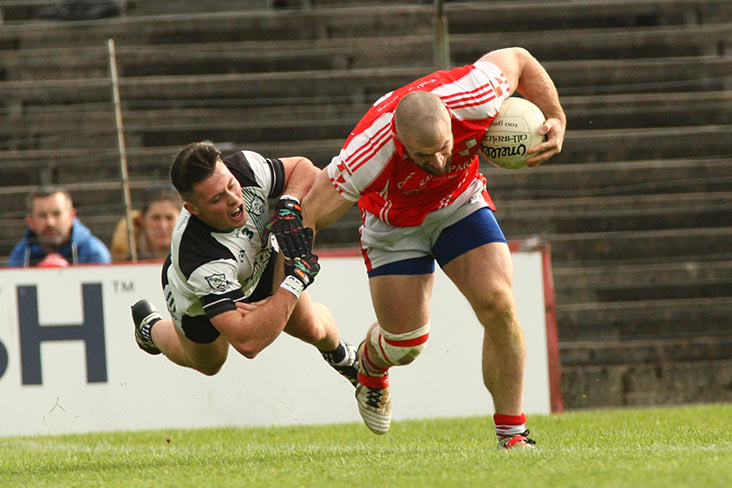 Longwood's Chris Lynch with Simon Deevey Ballinlough during the Meath IFC final at Pairc Tailteann
Longwood ........ 0-11
Ballinlough ........ 0-7
Longwood ended a 76-year-wait to claim IFC honours on Sunday when seeing off Ballinlough at Pairc Tailteann.
David Flynn's men looked to be in a shaky position when heading into the second-half and a strong diagonal wind with just two points to spare.
Longwood are deserving of the Mattie McDonnell Cup for the manner in which they withstood a Ballinlough rally that got the deficit down to the minimum in the third quarter.
The 'Wood's response was to outscore Ballinlough by 0-4 to 0-2 over the final third of the hour despite playing into the elements.
At the back Longwood were resolute denying Simon Deevey's goal attempts on two occassions.
Ballinlough managed just one score in the final quarter, from centre-half-back and captain Michael Geraghty in stoppage time.
Longwood also owe much to Ryan Moore, who scored seven points (six frees).
Longwood opened with the wind at their backs, an element getting stronger as the afternoon progressed. Starting positively they put four points on the boards within seven minutes of the off.
Aaron Ennis got the sequence going with help from Mickey Burke. Ryan Moore got the next three (two frees). Before the opening quarter passed Longwood's Evan Coyle was denied a goal by a post at the town end.
In the blustery conditions, Ballinlough lost out when Peader Byrne's free went wide off an upright.
Activity increased in the latter part of the second quarter. A foul on Wayne Leonard by Ballinlough 'keeper Dereck Muldoon led to a penalty for Longwood. Mickey Burke's attempt was read well and parried by Muldoon.
Boosted by their second significant let off of the half, Ballinlough responded positively. Robert Farrell posted their opening point in the 28th minute.
Before the break Ballinlough trebled their tally with further scores from Sean Geraghty and Byrne (free) as Longwood's 0-5 to 0-3 interval lead looked shaky.
The sides shared four points within 10 minutes of resumption. Ballinlough's Johnny Reilly got the sequence going. Mickey Burke soon countered it.
Sean Geraghty got Ballinlough's deficit down to the minimum.
Longwood sub Coran Byrne made an immediate impact to make it 0-7 to 0-5 heading into the final third of the hour.
The 'Wood closed out well to be deserving winners. Longwood captain Joey Stenson capped a memorable occasion with a speech that complimented, paying due respect to those who helped the club while also acknowledging Ballinlough's contribution to the final.
Longwood - Gary Heneghan; Sean Sheridan, Christopher Lynch, Bob Maguire; Joey Stenson (C), Eoin Lynch, Karl Ennis; Niall Mulvey, Anthony Healy; Damien Healy, Ryan Moore (0-7, 6 fs), Evan Coyle; Aaron Ennis (0-2), Michael Burke (0-1), Wayne Leonard. Subs - Coran Byrne (0-1) for Leonard (40).
Ballinlough - Dereck Muldoon; Robert Farrell (0-1), Padraig Muldoon, Matthew Farrell; Emmet Smith, Michael Geraghty (C) (0-1), Johnny Reilly (0-2); Lorcan Maguire, Thomas McCullen; Sean Geraghty (0-2), James Baugh, Mark McCullen; Benji Smith, Simon Deevey, Peader Byrne (0-1 f). Subs - Gary Reilly for Baugh (43), Niall Farrelly for Smith (46).
Referee - Paul Mooney (Syddan).
Most Read Stories