The Rispin Blog: Underdogs roar into county finals
September 18, 2018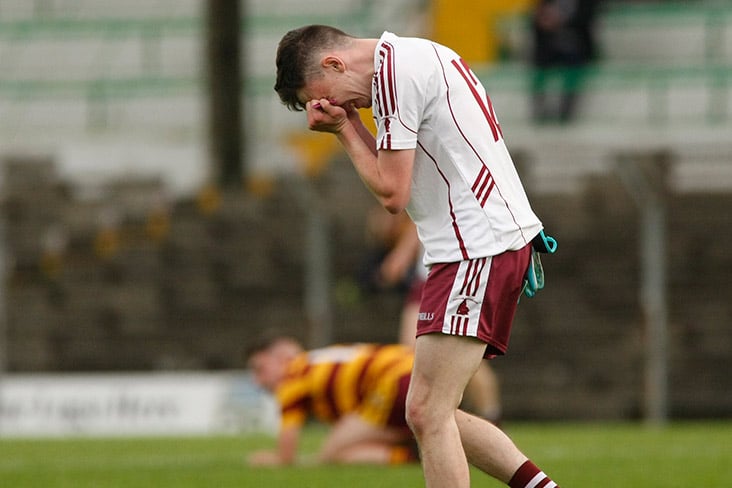 Tears of joy for St Vincents Nigel Hand after their semi final win over Carnaross at Pairc Tailteann
by David Rispin

First and foremost, we must send our commiserations to the Meath ladies on Sunday's heart-breaking defeat to Tyrone in the All-Ireland Intermediate Championship final in Croke Park. It just wasn't to be for Eamonn Murray's side as Tyrone ran out comfortable winners with the concession of four first half goals proving costly. Still and all, it was a fine achievement reaching such a stage considering a shock defeat to Wicklow in the Leinster Championship. Meath roared through the qualifiers and stormed into the final but it was a bridge too far as a tenacious Tyrone side deservedly took the title.
It was also a pivotal weekend in the Meath Junior and Intermediate Championships with two semi-finals in each grade down for decision. As it turned out remarkably, the four outsiders in each of the games emerged victorious to burn the favourites. It ended up being a great weekend for the rural parishes with St Vincents, Ballinlough and Longwood all booking their places in the showpiece finals in a couple of weeks' time.
Ballinlough have been quite the story this year after winning the Intermediate Championship as recently as 2014, they have been on a downward spiral ever since. They won just one of their first five league matches this year and I distinctly remember watching them play Dunsany at the end of March and thinking to myself "God how bad have Ballinlough got!" Talk about turning the corner and my word have they done that. The Lough are a proper Championship team, that's where they produce their best stuff and that's why they are such an accomplished side and ultimately why they will contest this year's Mattie McDonnell Cup decider.
Blackhall Gaels v St Pats (SFC Relegation Play-off):
Blackhall Gaels 17 year stay in the Meath Senior Championship came to an end last Thursday evening in Ashbourne when they went down to St Patrick's. The Kilcloon/Batterstown men have had a wonderful time of it with the highlight coming in 2003 when they lifted the Keegan Cup.
Unfortunately though, the writing has been on the wall for some time now and despite producing a battling and brave display against Pats, there was to be no great escape this time round. I'd liken Blackhall's recent escapes to that of Wigan Athletic when they were a Premier League side. Time and time again they would defy the odds and manage to make a remarkable recovery and avoid the drop. Blackhall have been doing similar for the last few years too but just like Wigan, all good things must come to an end and they will ply their trade in the Intermediate Championship in 2019.
St Pats will be mighty relieved having led by five points at the break, 7-2 in after a truly atrocious half of football. Donal Landy and big Alan Vickers provided some of the spark on a bitterly cold evening with the top quality facilities in Ashbourne warming the paultry attendance at the interval. The highlight of a dull first half was the hare's racing each other across the pitch as the football took a back seat.
Devoid of the services of the talismanic figure of Alan Nestor, Blackhall starring into the abyss, roared back into the contest with a spirited fightback. Sean Whelan, a great servant of the club, carried the can with some tremendous scores along with the growing influence of Paul Kelly. Ex-County star Donnacha Tobin who was clearly carrying a knock, battled on admirably and gave his absolute all to the cause. He was well complimented by ex-Cortown veteran John Fagan in the middle who put in a tireless shift throughout.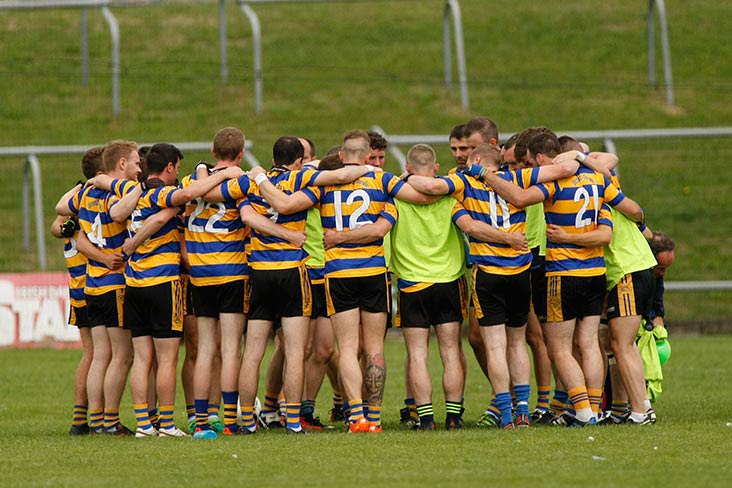 Pats were wilting and despite Blackhall losing the inspirational Whelan to a horror injury, Liam Keane's men drew level at 10 apiece. Full credit to the Stamullen men though, who hit back and steadied the ship with a score despite the best efforts of the determined Dan Carty and James Kelly who were outstanding in defence. With the Gaels pushing forward for an equaliser, the wily old Pats side broke away and struck a goal to settle the contest once and for all.
For St Pats it will be a relief, possibly even a bigger relief for Curraha who don't have to play again having got the win against Blackhall and then being knocked out of the Feis Cup the following Sunday. Pat's are an odd side, they stunned Ratoath with a terrific comeback earlier in the season but failed to kick on. They have top-class facilities along with a growing population so surely it is only a matter of time before they kick on. They are a big physical team with the majority 6 foot or over and this can make them a match for anyone on their day.
Blackhall on the other hand, are a club who face an uncertain future. They are a great club with a fantastic tradition but these are challenging times for the club with a small pool of players to choose from and not a whole lot of emerging players from the underage ranks. I'm sure I am speaking for everyone in the county when I say that I hope they can steady the ship next year and return to winning ways on the field of play in 2019. They have faced adversity in the past off the field and come out the right side of it, Alan Nestor is an inspiration to many in the area of what a positive outlook and attitude can achieve.
Carnaross v St Vincents (JFC Semi-Final)
The cliché "game of two halves" gets bantered about far too much but this game was precisely that. Carnaross absolutely dominated the first half, owning the ball for large periods, camped in the Vincents half. The Ardcath men had no answer; they had zero penetration and no focal point for their rare attacks. When you skip forward to the second half, you could effectively use the opening 3 lines but just rearrange the teams order.
The Ross buoyed by the #Ross4Junior on Twitter and Instagram raced into an early lead. They cut through the Ardcath men at will with the McGee brothers John L and Dermot sandwiching scores in between the excellent Frank O'Reilly who was running a-muck early on. Ronan Kearns side were showing their opponents far too much respect and not applying near enough pressure. It could have been a lot worse too but for a couple of tremendous first half saves by Vincents keeper Cathal Tallon from the McGee brothers who really are as feared a double act as the Hardy brothers were in the WWF in the late 1990's.
The barrage continued as some really dreadful passing and errors from Vincent's were putting themselves in trouble. Cian O'Reilly was enjoying the freedom of Pairc Tailteann and but for some last gasp defending from the Tallon brothers, Niall and Davy, the Ross would certainly have had a couple of goals to their tally. O'Reilly's place kicking was magnificent in that first half and he kicked two free's and two 45's to bring his tally to six with his Meath under-20 teammate Ryan Hand struggling to keep his hands on the classy centre forward.
It was the type of half that replicated their Quarter-Final win over St Brigid's seven days previous, it lacked conviction and intensity. You have to hand it to Kearns and his management team, they could have left things as they were and hoped things improved but he didn't. He had the balls to make three changes before the interval and despite not making an immediate impact, my God did they have their say later on!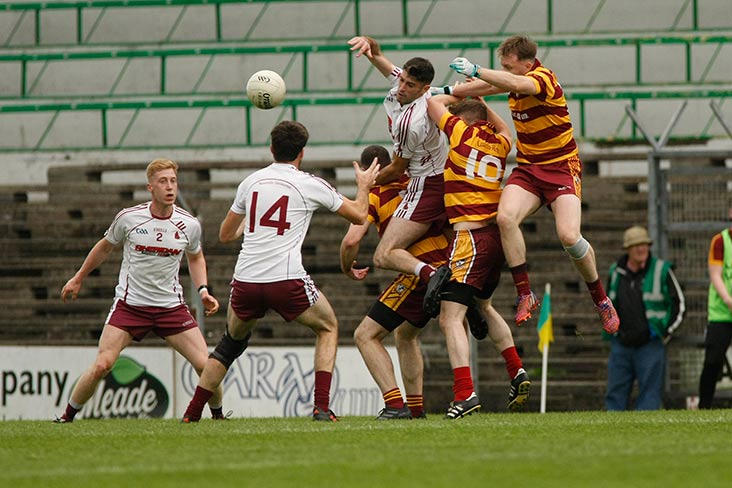 I'm sure the silver fox Tom Shine warned against complacency at the break and from the restart big Charlie Brogan added to the lead with a fine score. However, St Vincents seemed to take the handbrake off and have a go. No one epitomised it more than substitute Eoghan Corry who had a marvellous second half, showing for everything and just bringing a new lease of life to what looked like a lost cause.
The gigantic Tommy Field standing at 8'3 with his boots on got the comeback started with a free but it was his monster score from 50 metres which really seemed to ignite the dwindling flame for the men in maroon. The talented Richie O'Sullivan then stood up and pointed a brilliant 45 and suddenly the people in the stand who spent the first 30 minutes moaning and berating some of the Vincent's play were starting to believe that the impossible may just be possible.
Paddy McDermott stopped the rot when he fired over with the aid of the excellent Niall McDonnell who was arguably the Ross's best player over the hour. Tallon once again kept out John L McGee twice with a stunning double save and the 2016 Junior B Champions broke and O'Sullivan nailed another to put the minimum between the sides with 5 remaining.
Carnaross were imploding all over the pitch and O'Reilly got his marching orders from Gus Martyn for a second bookable off offense. Vincents were already in control all over the pitch even before O'Reilly walked but it didn't help their cause. Bob Tallon, Hand and the legendary Field were winning everything in midfield from Meath legend Ollie Murphy's kickouts and a speculative effort from full back Tallon dropped perfectly into the hands of substitute Jack Byrne who coolly slotted under Murphy to give Vincents a sensational late lead with time running out.
Ryan Hand broke through the cover and put two between the sides and despite a late free from Cian O'Reilly, the equaliser just wouldn't come and Vincents held on for a famous win. I've said it before and I'll say it again, the fitness of this team is quite something. They even trained through the cold and wet of Winter last year and it will most definitely feel like it was worth it now. When the Ross were wilting, St Vincents were only hitting top gear and this was ultimately the difference at the end of the tale.
It's a quite brilliant achievement from the Ardcath men and it shows what can be done with a decent game plan and a good level of fitness across the board. There's no doubt that a first half showing like that won't be good enough against Dunboyne in the final but you know they aren't going to go away and fold and this is a great quality to have. Junior B winners just two years ago, who would bet against them following it up with a Peter McDermott Cup in 2018…I for one certainly wouldn't!
Ballivor v Dunboyne (JFC Semi-Final)
Four years on from their Junior final heartbreak against Cortown, Dunboyne are back in the final of the Peter McDermott Cup after a topsy-turvy encounter over pre-championship favourites Ballivor. Just four of that team remain with many going on to play Senior football since and on the evidence of this showing, there will be more than an handful going on to do likewise next year.
Dunboyne are a club who take the Junior grade very seriously, always have and always will. It has provided them with a great stepping-stone to blooding young players at senior level. It's a stance that really should be taken by every second team in the Junior grade because it gives young players the opportunity to learn the trade and pick up vital experience playing adult football at a good level.
After a close shave against last year's beaten finalists Moylagh last weekend, Ballivor looked set to prove a bridge too far for Ger Robinson's men when the goal machine Martin Healy broke away and superbly finished to the corner of the net after just 10 minutes. Despite some wayward and rather wasteful shooting, the men in black and amber did feel their way into the contest thanks to scores from Jack Cox and Sean McGrath. McGrath was not programmed to start but it was little wonder when you watched the performance of the big full forward. He gave Ballivor captain Gary Sherrock who is one of the best defenders in the grade endless problems throughout the duration of the game.
Both sides were wasteful at times but a long, hopeful delivery from Nicky Potterton evaded everyone and ended up in the back of Johnny O'Connor's net. Cox and Daragh Nolan replied by the deadly Healy closed the scoring for the half to give the men in maroon a rather flattering three point lead at the interval.
Despite the youthful look to their team, Dunboyne do possess some real experience and know-how in the form of the old warriors like O'Connor, David Clarke and team captain Barry Comer. I do wonder is Barry any relation to Galway captain Damien Comer because you got to say he's built like a house pardon the pun! The barnstorming Comer went within a whisker of netting a brilliant goal but it just flew over for a point.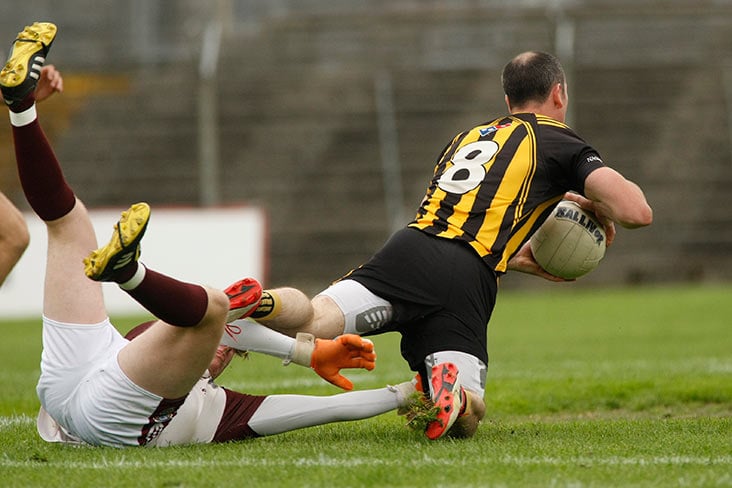 Dunboyne were dominant though and despite playing against the breeze, Pat Conway and the excellent McGrath hit great points to give Dunboyne the lead for the first time in the game. That man Comer soon had the ball in the back of the Ballivor net and it looked curtains for last year's relegated side from the Intermediate ranks.
Kevin McKeown never gave in though and he gave it is all in the middle of the field to try and resurrect Ian Kavanagh's side. As they so often do, they looked and relied heavily on the trio of Brendan McKeown, Potterton and Meath hurling star Adam Gannon. Dunboyne marshalled the Sundance kids admirably but McKeown did manage to wiggle his way through before chipping over an absolute peach of a score with the right boot.
Healy blazed over a great goal chance which would have cut the gap to a solitary point but they couldn't muster up a last gasp goal despite McKeown firing a 13-metre free into a crowd of Dunboyne defenders who were defending like Chris Kamara's infamous beavers. It wasn't to be for Ballivor and to be honest when the dust settles they will hold their hands up and admit that the better team won on the day.
It's a Junior final which few including myself would have predicted at the beginning of the year but it's two sides fitting of the competing for their first Peter McDermott Cup. I would probably make Dunboyne marginal favourites but that won't bother St Vincent's in the slightest. Dunboyne's full forward line of Jason Daly, McGrath and Cox with the stylish Nolan at centre forward and the man mountain Comer at midfield will be a tough side to put down and that's a fact.
Ballinlough v Oldcastle (IFC Semi-Final)
Oldcastle and Ballinlough met in an intriguing North Meath derby for a place in the Meade Potato Intermediate Championship final in HQ on Saturday evening. Oldcastle were priced up as the marginal favourites with the bookmakers but in most people's mind this was a 50/50 game and that's exactly how it panned out as it ebbed and flowed from start to finish.
It was a real slow burner as both sides took a cagey approach in the opening exchanges before raiding wing back Johnny Reilly stopped the rot with a well-taken goal. It was just what the game needed and Oldcastle responded with a couple of frees from Robbie Farrelly along with a terrific effort from Under-20 star Jason Scully.
It was an engrossing if not spectacular game that kept the large and passionate crowd on the edge of their seats throughout. Cian McPartland rightfully had his red card rescinded during the week and he took his place at full back and expectedly picked up Lough dangerman Peadar Byrne and did a very good job for the majority of the game.
Despite this, The Lough did manage to establish a half-time lead cutesy of a couple of scores from Tom McCullen and Seanie Geraghty. Man mountain Simon Deevy was proving to be more than a handful for the Oldcastle defenders with Pat Rahill given the unenviable task of trying to mark the Big Show. I mean his arms are like Terry Crews in White Chicks and rumour has it he bench presses manager Brian Donoghue before training! In all seriousness though, he's a key man for Donoghue's side providing a pivotal link to the likes of Byrne.
Disaster struck for the Lough at the start of the second half when Ronan McGuiness who shown a straight red card for striking and was given his marching orders by referee Martin Griffin. It definitely rocked the Lough and Leo McEnroe's men took full advantage when the Scully tore through the cover and finished with aplomb to level things up.
For the next 10/15 minutes, the men in blue and white took control and a pointed free from Farrelly and a couple of great scores from substitute Stephen Tierney seemed to put Oldcastle on the road to the final. Step forward Peadar Byrne…who else! He's been doing it for the last 15 years and when Ballinlough needed him most he was there to dig them out of the hole they were in.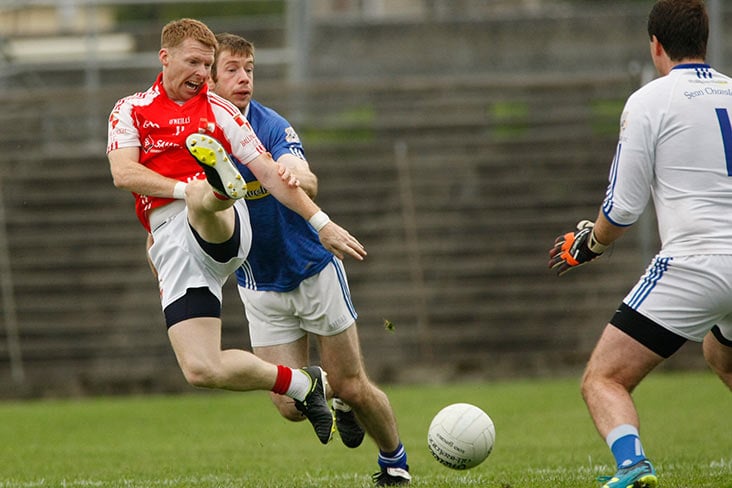 First the veteran fired over a stunning point from 50 metres and this was quickly followed by a pointed free. Gary Reilly made an instant impact from the bench to draw the sides level and when a lineball was upgraded to a free in injury time, there was only one man who was hitting it. I was lucky enough to be right behind it, just under the stand on the 21-metre line off his wrong side, Byrne placed the ball on the hallowed Pairc Tailteann turf. With the minimum of fuss he took a few steps back, ran up and struck it like a dream and it curled around the upright to send the partisan Lough crowd wild…it was just a magnificent moment.
Griffin blew the full time whistle soon after as the delirious players and fans alike celebrated like maniacs and why wouldn't they. They were dead and buried with 10 minutes to go but they managed to forge their way back into it with true grit and determination. I feel this is what separated the teams, Oldcastle have a more skilful side and of that there is little doubt. However, what they don't have is something which Ballinlough do, actually two things. The first is a never say die attitude and the second is a Peadar Byrne.
Everything that could go wrong in that second half went wrong for Ballinlough but staring elimination right in the face, they came out fighting and turned a seemingly hopeless situation into a glorious winning position. They are now just one game away from a return to Senior football, a scenario if you told them in Spring they would hardly believe you after going six games without a win in the league. Byrne, Deevy, the evergreen Podge Muldoon and captain and birthday boy Michael Geraghty had storming games for the winners.
Ballinabrackey v Longwood (IFC Semi-Final)
The Bracks and the Wood brought the curtain down on a busy weekend of semi-final action in the Meath club football championship with what turned out to be a bit of a classic in a sun-drenched Pairc Tailteann on Sunday evening. Both sides went into this one in great form and firmly believing that this was their chance to seize a spot in the Intermediate final.
It was a tight opening to proceeding with both sides deploying a similar style which has been fine-tuned over many years at this stage. Longwood have been in the relegation play-offs in the Intermediate Championship for the last two year's so David Flynn deserves immense credit for adding a stronger attacking dimension to the Wood game which has made them a force and seen them clock up some big tallies in this year's Championship whilst also maintaining their defensive shape.
Everyone knows what you will get will Ballinabrackey, they are a tough, hard-hitting mean-machine with the likes of the ageless Trevor Bannon and ex-county man Nicky Judge epitomising that. For a small area off the beaten track and a small pool of players to pick from, they do possess some real quality with the likes of Damien Carrolll, Chris O'Connor and Danny Quinn in their ranks. They also have what you could call a charismatic manager on the line in the form of Darren Bannon who kicks every ball from the dug-out area.
Playing with the aid of the breeze in the opening half, the Bracks were slow to get going with Longwood making space difficult to come by. Longwood curtesy of a superb counter attack, got in for a hugely important early goal. Aaron Ennis collected a pass over towards the stand side and with a terrific piece of improvisation found the onrushing Damien Healy who broke from his full-back duties. Healy, a man with the strength of two horses (Buff, 2018) had one thing on his mind and jinking inside his man, he found the corner of the net with a composed finish with the outside of his right boot.
It actually gave the Bracks the kick up the arse they needed and they soon clicked into gear with Quinn beginning to cause Healy problems at the other end of the field. He pointed a couple of frees which were brought forward by referee Podge Coyle for descent. Richard Coffey pointed with an unusual effort whilst the impressive Seamus Curry also raised a couple of white flags to claw the Bracks back in front at the break, 1-3 to 0-9.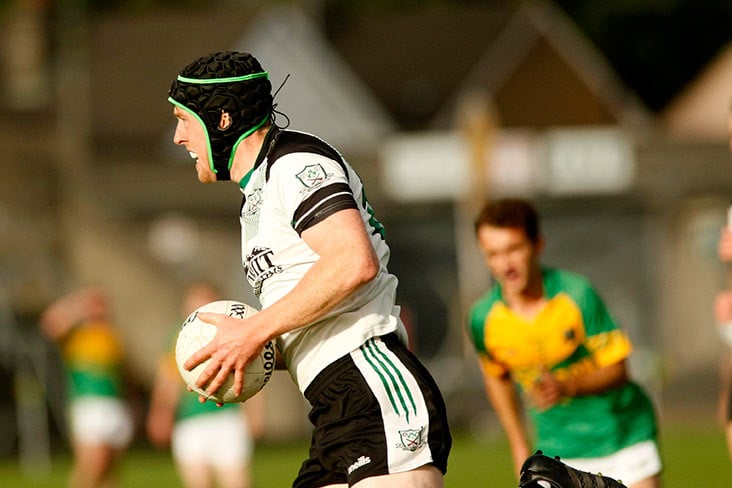 Longwood's two dangermen Aaron Ennis and Ryan Moore were well dealt with by the Judge and Derek Flynn respectively. Flynn in particular was stuck to the deadly Moore like superglue, there were times he didn't even look at the ball such was his focus on keeping Longwood's chief scorer quiet.
The Bracks had several opportunities to stretch their lead at the start of the second half but a combination of wides and dropped shots into the hands of Gary Heneghan didn't help their cause in the slightest. Flynn's men went onto level things with three on the spin with a textbook Honeybadger score from county star Mickey Burke being the highlight.
Damien Carroll's influence was growing as the game wore on and the illusive Quinn found his range once more to give the men in green and gold the lead again. They ought to have had a penalty with 10 minutes to go but Coyle despite being blinded by the strong sun, waved the appeals away. From the next play, Juicy O'Connor really should have put the game to bed but he was denied by an unbelievable point-blank save from Heneghan at the expense of a point.
The Bracks were running the clock down like only they can and they spurned a couple of glorious chances to get the insurance point. No one could have envisaged what would happen next as remarkable score from Burke inspired the Wood and cut the deficit to a solitary score before Anthony Healy who had a cracking game in midfield, split the posts the level things in injury time. Veteran John Curry in the goals just couldn't get the ball further enough away from danger and for the first time in the game Moore escaped the attentions of Flynn to curl over a dramatic late winner.
It was pure extasy for Moore and his teammates but it was a familiar tale of heartbreak for the Bracks who came so close to sealing their passage to the final in a few weeks' time. In all honesty, a draw might have been a fair result but full credit to Longwood who took advantage of the Bracks wastefulness by sending over the last 3 scores in the final 3 minutes.
It's quite the turnaround for the men in black and white and after their performance against Meath Hill a month ago I knew they had the credentials to lift the Mattie McDonnell Cup. It wasn't as if they were tested that day but they showed quality which I haven't seen from a Longwood team in a very long time. They advance to a meeting with Ballinlough with two huge tests against Trim and Ballinabrackey under their belt. It's 76 years since Longwood last won the Intermediate Championship and they'll never have a better chance to buck that trend than this year.
Most Read Stories