Feis Cup: Tones recover after slow start
September 17, 2018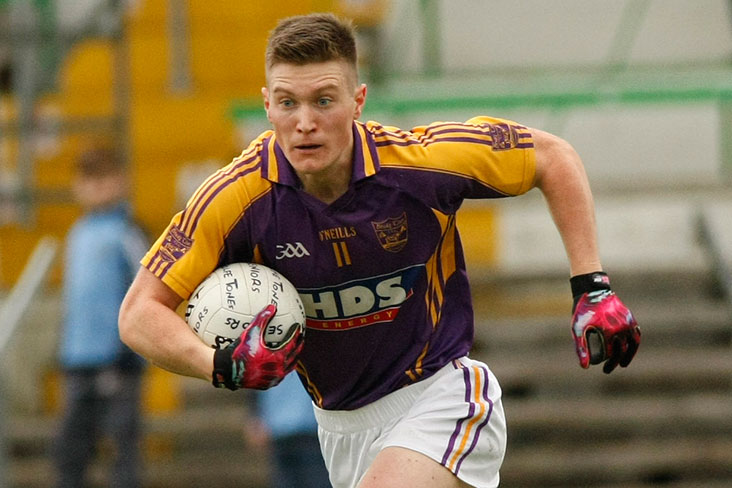 Wolfe Tones' Thomas O'Reilly
Wolfe Tones 3-18 Seneschalstown 4-4
Cé go bhfuair Baile Sencaill dhá chúil go luath sa chluiche seo, tháining Bhulf Tón ar ais go láidir agus bhí bua éasca acu sa deireadh.
A devastating start from the visitors saw them lead 2-0 to 0-1 after just ten minutes, their scores coming from Joe Sheridan and Dylan Keating, Alan Callaghan pointing for the Tones. Sarán O Fionnagáin, Thomas Blaney and Padraic Diamond narrowed the gap before Brian Sheridan pointed a free for the Yellow furze men. Thomas O Reilly added to the Tones tally with a well taken point and followed with a goal almost immediately to put the Tones in front 1-5 to 2-1.O Reilly finished superbly following a move involving Dan O Neill, Sarán Ó Fionnagáin and Fiachra Ward. Brian Sheridan levelled the match with a brilliant point from the sideline. A Fiachra Ward free and a point from play from Thomas Blaney nudged the Tones ahead as the half time whistle beckoned. Brian Sheridan restored Seneschalstown's lead with a goal on the stroke of half time. Bhulf Tón 1-7 Seneschalstown 3-2.
The second half was one way traffic as Tones dominated possession, Seneschalstown only registered 1-2 their goal coming late in the half while Tones racked up 2-11.
Bhulf Tón: David Nolan, Conor Sheppard, Shane Glynn, Brúghach O Fionnagáin, Stephen Sheppard, Daniel O Neill, Éanna O Kelly Lynch, Cian O Neill, Alan Callaghan (0 01), Padraic Diamond (0 02), Thomas O Reilly (1 02), Sarán O Fionnagáin (0 03), Cian Ward (1 00), Fiachra Ward (1 04), Thomas Blaney (0 04), Subs: Alan Lynam (0 01), Gary Mc Fadden (0 01) Mark Mc Fadden, Oisín Corrigan
Most Read Stories