JFC B quarter-final: Excellent Kilbride performance downs St Pats
September 16, 2018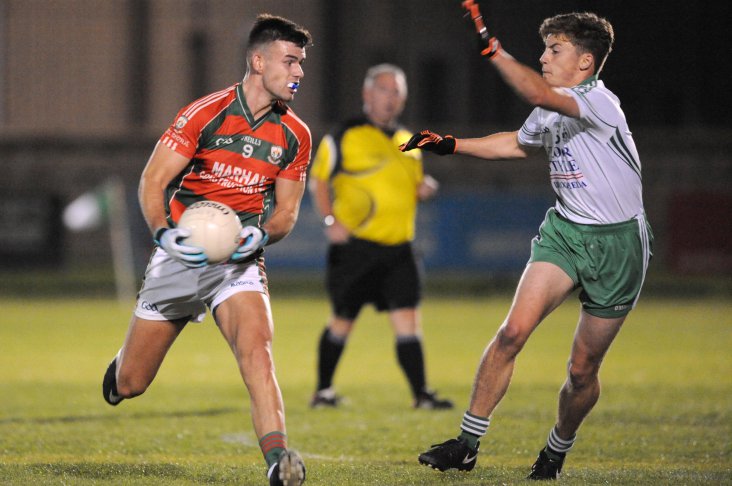 Kilbride's Cathal McKeown heads for the St Pats goal during the Junior B FC quarter final at Ashbourne
Kilbride 1-19

St Patricks 0-4
Kilbride were looking to book a place in the junior B semi-final for the second year running as they took on St Patricks under lights in Ashbourne on Friday night.

Playing with the aid of the breeze in the first half Kilbride seemed happy to allow St Pats possession from the off, Solid defending early on turned over the ball frequently, Kilbride were cautious and didn't allow St Pats carve open any real chance, Kilbride were guilty of some bad decision making when they did attack. It was end to end but with ten minutes gone it was still scoreless, The Kilbride lads were guilty of some bad shot selection but with ten minutes gone Ronan O'Leary slotted over an excellent point on ten minutes and it seem to settle them. This was soon followed when David O'Leary slotted over on twelve minutes a free from 40 yards. It was all Kilbride and St Pats were having to work hard to keep the score down, Cathal McKeown on 13 slotted over Kilbride's third, Brian White got his first on 18 minutes and joseph Donnelly scored Kilbride's with 21 minutes gone, Donnelly again slotted over from a free when he was hauled to the ground as he advanced down on goal. Kilbride were rampant and when St Pats did mount the odd attack the backs were solid and game out on top.

Kilbride were at time over playing and wasted some fine chances, Wing back Roan O'Leary ran 70 yards as he danced through the St Pats defence to get his second on 29 minutes, His brother David again slotted over another from a free when Donnelly was again hauled to the ground. As half time approached St Pats got there first point as they slotted over from a free. The resulting kick out was won again in the Middle by the energetic O'Leary who found centre back John Bruton who got in on the act with a fine effort from 35 metres to bring it to 9 points to 1 at the break.

Half time Kilbride 0-9 St Patricks 0-1.

In the second half St Pats had the aid of the breeze and as expected they tested the Kilbride defence with a few high balls into the square but as like the first Karl Stapleton, his brother Dean and John Smith were solid and batted away any treat that came there way. Brian white started off the second half scoring for Kilbride on 32 minutes to resume where they had left off. David O'Leary took his tally to three with another free from in front of the goals as another attack was halted by another drag down. The trend continued on 56 and 59 minutes when two more frees were converted after two more drag downs. St Pats were finding it difficult to keep up as Kilbride upped the gears, Excellent running from th half backs and wing forwards increased the tempo, Kilbride decision making and work rate turned over numerous St Pats attacks, However St Pats did score another free to bring their tally to two points. Sub Craig Sheridan had an immediate impact as he scored a fine effort on 41 and again on 44 minutes, Midfield maestro David O'leary was again the thorn in St Pats side when he got his sixth point of the game on 45 minutes.

The big difference in the second half was Kilbrides decision making as they worked the ball well before taking the final shot. Full forward Steve McMullen got a fine point as he slooted over from what looked like a near impossible angle. St Pats got there 3rd point again from a free but it was far little too late. Cadhla McKenna got a great individual point on 52 minutes to leave it Kilbride 18 to St Pats 0-3. Kilbride were still not done and when the ball broke to Paul Donnelly on the twenty meter line he decided to volley off his left which found the back of the net, an excellent piece of skill from a player that worked extremely hard throughout along with Kilbride's other wing forward Jamie McWeeney. St Pats rounded off there nights work with another free but again David O'Leary would have the final say as he converted his seventh of the night and Kilbride nineteenth.
In a repeat of last year's semi-final Kilbride now face Slane and Na Fianna awaits the winners in the final.

Kilbride: Craig Manning, John Smith, Karl Stapleton, Dean Stapleton, Ronan O'Leary 0-2, John Bruton 0-1, Gareth Lynch, David O'Leary 0-7 (3f), Cathal McKeown 0-1, Jamie McWeeney, Cadhla McKenna 0-1, Paul Donnelly 1-0, Joseph Donnelly 0-4 (3f), Stephen McMullen 0-1, Brian White 0-2. Subs: Craig Sheridan 0-2 for B White, Stephen Walsh for G Lynch, Colm Faughan for J McWeeney. Finn Hughes for J Donnelly, Jeff Sheridan for C McKenna.
Most Read Stories