IFC quarter final: Disappointing exit for Syddan
September 10, 2018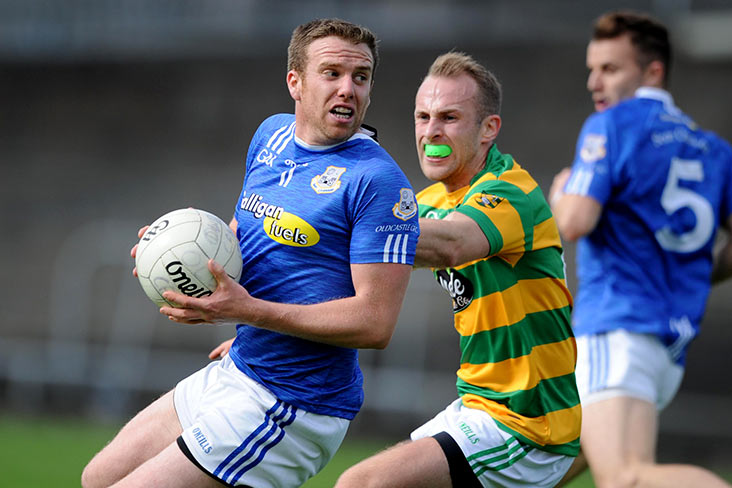 Oldcastle's Paddy Rahill with Andrew Garland Syddan during the Meath IFC quarter final at Pairc Tailteann
OLDCASTLE 3-11 SYDDAN 0-11
THE Gods certainly weren't smiling on Syddan as they made a disappointing exit from the race for the IFC title at the quarter final stage at Pairc Tailteann on Sunday.
The concession of two goals in the opening quarter proved a blow but the loss of Mark Fedigan to a black card after just five minutes and Daire Rowe to injury later in the half left the Syddan task an almost impossible one.
When the teams clashed in the league final earlier in the year Oldcastle had plenty to spare at the final whistle and this one followed in a similar vein with the issue decided long before the finish.
Daire Rowe pointed Syddan ahead in the opening minute from a free and that was the only time they led. CJ Healy had the teams' level a minute later and then Peter Monaghan blasted over the bar when he should have done better.
The black card shown to defender Fedigan dented Syddan hopes and it got worse after that as Jason Scully struck for Oldcastle's opening goal on 11 minutes which left his side leading 1-4 to 0-1.
Rowe converted another free before Monaghan grabbed possession and hit low to the net for his side's second goal.
Even at that early stage Syddan's prospects looked bleak and they took a further dive when talisman Daire Rowe was forced to leave the action following a clash of heads with Cian McPartland.
McPartland returned to the action following treatment but was then shown a red card along with Rowe's replacement Brian Dillon after referee Gerry McGivney consulted with an umpire.
Syddan failed to score from play throughout the half with their remaining two points also coming from frees converted by Padraic Dillon and Michael Fedigan. Oldcastle added points from Ronan Maguire and Patrick Rahill and squandered numerous other chances as they led 2-6 to 0-4 at the break.
Kevin Traynor had Syddan's opening score from play on 35 minutes in reply to a pointed free from Robert Farrelly. However any hopes of a revival disappeared when Rory McHugh finished to the net after an earlier effort from Oran O'Reilly rebounded off the crossbar.
That left it 3-7 to 0-5 and while Syddan hit successive points from Graham and Andrew Garland and Stuart Fedigan the Oldcastle lead was never threatened at any stage.
The winners continued to create the bulk of the chances as they set up a semi-final with their north Meath neighbours Ballinlough.
OLDCASTLE: Conor McHugh; Eoin Gilsenan, Cian McPartland, Oran O'Reilly; Darren Hawdon, Gerard Reidy, Jason Scully 1-0; Ross Cadden, Keith Connell; Ronan Maguire 0-1, Patrick Rahill 0-1, Steven Lawless; CJ Healy 0-1, Peter Monaghan 1-2, Robert Farrelly 0-4f. Subs: Rory McHugh 1-0 for Healy (22), Paddy Gilsenan for E Gilsenan (45), Stephen Tierney 0-1 for Connell (53), Patrick Kevin for Farrelly (55), Niall Mangan for Maguire (60), E Gilsenan for Rahill (63).
SYDDAN: Peter Sheehy; Kevin Garland, Ryan Summersby, Mark Fedigan; Stuart Fedigan 0-2, Andrew Garland 0-1, Ronan Mooney; Kevin Traynor 0-1, Sean Clare; Graham Garland 0-1, Paddy Farrelly 0-1, Michael Fedigan 0-1f; Cormac Rowe, Daire Rowe 0-2f, Padraic Dillon 0-1f. Subs: Jack Reid for Mark Fedigan (BC 5), Brian Dillon for D Rowe (19), Gary Farrelly for P Dillon (46), Stephen Tallon 0-1 for Mooney (50), Cathal Dardis for K Garland (56).
REF: Gerry McGivney (Simonstown).
Most Read Stories