IFC quarter final: Longwood advance after sensational comeback
September 10, 2018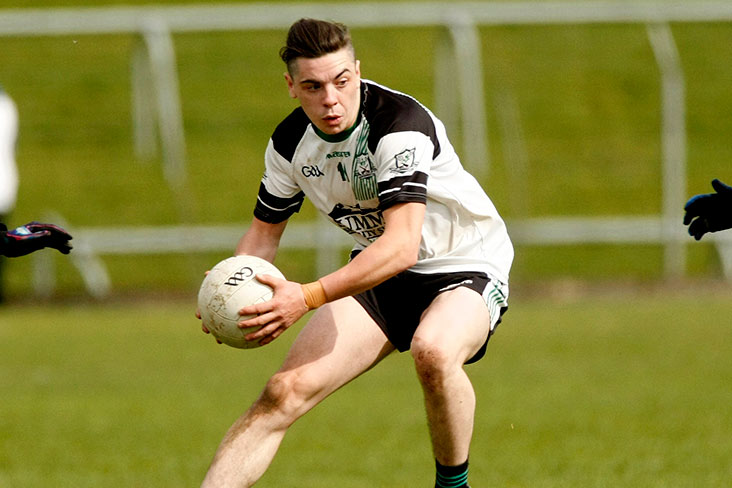 Longwood's Ryan Moore
Longwood 4-17 Trim 2-15
Longwood advanced to the semi-finals of the Intermediate Football championship after a sensational comeback against a strong Trim team in Summerhill on Saturday evening.
Seventy minutes proved insufficient to separate the sides with 20 minutes extra time required to finally reach a verdict. Ultimately it was Longwood who rose to the challenge, playing their best football in the opening period of extra time; a return of 2-3 proving to be decisive.
Intermittent rain made the conditions incredibly difficult with players from both sides struggling to maintain their footing throughout the contest. Somehow this only added to the excitement; it certainly kept the supporters of both teams on the edge of their seats for the duration. Despite the slippery conditions and playing with a greasy football, both teams played some excellent football and provided excellent value for all those in attendance.
Trim were quicker to settle and had racked up 3 points before Aaron Ennis opened Longwood's account with a fine point from play after nine minutes. Longwood's plans were unsettled by an early black card for corner back Paul Gill but Coran Byrne proved to be an able deputy. Both teams exchanged points before a Trim goal midway through the half extended their lead to 5 points. The team in red seemed ready to take control but, to their credit, Longwood never flinched. A magnificent piece of fielding by Eoin Lynch followed by a run of 3 unanswered points from Mickey Burke (2) and Ryan Moore brought the Longwood support to life whilst reducing the deficit to a more manageable two points. Trim responded with two points of their own with little over a minute to go before half-time. You sensed that Longwood needed a score before the break and they delivered in spades. Corner forward Wayne Leonard won possession near the end line and with a clever handpass set up Aaron Ennis who buried the ball past the Trim goalkeeper.
Half time: Trim 1-7 Longwood 1-6
The second half resumed with the worrying sight of Eoin Lynch carrying a heavily strapped foot. Displaying typical courage, Lynch tried manfully to carry on but soon had to concede that the injury was going to prevent him from having his usual meaningful impact on the game. Sean Sheridan was introduced in his place and proceeded to make a very positive contribution during the remainder of the game.
Ryan Moore, displaying unerring accuracy from frees, tied the game up after 2 minutes of the second half. The teams matched each other point for point over the next twelve minutes before Trim produced a mini purple patch, scoring 1-2 without reply to open up a 5 point lead midway through the half.
Longwood could have been forgiven for thinking that it was not going to be their day but, not for the first time this season, the players dug deep. Points from Anthony Healy and Ryan Moore kept them within touching distance before a pivotal moment saw Trim reduced to 14 men after an off the ball incident.
A pointed free saw Trim stretch the lead to a seemingly safe 4 points but Aaron Ennis responded with a similar effort to reduce the margin to 3. Longwood were now dominating possession and must be commended for their composure as they moved the ball patiently, waiting for the opportune moment to attack the opposing goal. With time running out, a high ball was punched clear by the Trim goalkeeper but he hadn't reckoned on the intervention of Ryan Moore who lashed a half volley to the roof of the net. Ronaldo woud have been proud of such a finish! The Longwood supporters erupted with sheer joy. The final whistle followed soon after and we were set for extra time.
Full time: Trim 2-12 Longwood 2-12
With Trim restored to their full complement of 15 players for extra time, proceedings recommenced after a short break. Longwood set the tone immediately, winning possession from the throw in and working the ball quickly through the hands before Ryan Moore kicked a fine score from play giving the boys from the Wood their first lead of the day. Longwood drove on and began to dominate. A brace of Moore frees gave them a three point lead before a delicious foot pass from Aaron Ennis set up his cousin Karl who, after ghosting in unnoticed, dispatched the ball to the Trim net in clinical fashion. Longwood supporters had barely regained their composure when another goal followed, this time a crisp right footed finish to the bottom corner of the net from the boot of Evan Coyle.
Longwood were now 9 points clear with only ten minutes remaining. The second period of extra time offered no such excitement. Longwood were now in game management mode and controlled the game to a large degree. Trim were, by now, understandably shell-shocked and deflated. The remaining minutes were played out with little in the way of incident although Longwood did spurn one or two late chances for further scores.
Final Score (AET): Longwood 4-17 Trim 2-15
Longwood: Gary Heneghan, Paul Gill, Chris Lynch, Damien Healy, Joey Stenson, Eoin Lynch (0-1), Karl Ennis (1-0), Anthony Healy (0-1), Bob Maguire, Evan Coyle (1-0), Ryan Moore (1-9), Niall Mulvey, Aaron Ennis (1-3), Mickey Burke (0-3), Wayne Leonard. Subs: Coran Byrne for Gill (BC), Sean Sheridan for Lynch, Ross Kerrigan for A Healy.
Well done to all the players who performed so well in very difficult conditions. Well done too to the management team who got their tactics and match-ups spot on.
We can look forward to the semi-final with hope and a degree of excitement.
Maigh Dearmhaí abú!!
Most Read Stories