IFC Rel play-off: Kilmainham trounce Ultans with 14-point victory
September 09, 2018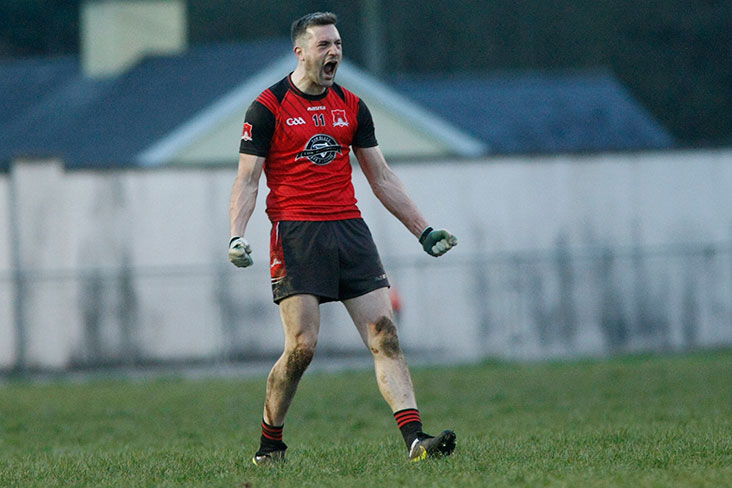 Kilmainham's Mickey Newman after kicking a late late equaliser against Meath Hill in the opening round of the Meath IFC at Carlanstown.
Kilmainham 4-11
St. Ultan's 0-09
Kilmainham left Cortown on Friday evening with a compromising victory over St. Ultan's in the Intermediate Relegation Play Off. Kilmainham produced the performance that many supporters knew they were capable and got their just reward.
Kilmainham started the game with a quick point straight from the throw in from full forward Seanie Mahon. Many of the sizeable crowd wondered at the positioning of Mahon on the square but he proved his worth as he won his own ball, assisted plays, earned a penalty and scored 1-02. Both teams traded points in the early minutes but Kilmainham hit the first of their 4 goals after 10 minutes. The goal came from great work in defence by Darren O'Sullivan who moved the ball forward to Ger Morgan who then found Mickey Newman just on the square. Newman was surrounded but spotted Mahon had floated into the square and sent the ball across. Mahon made sure the ball landed into the back of the net.
Dean Peppard added a point off his right boot much to the delight of the Kilmainham supporters. Mickey Newman fielded an outstanding ball at the edge of the square between two defenders. There was only one place the ball was going, into the top of the Ultan's net. Kilmainham led 2-03 to 0-01 after 14 minutes. Kilmainham added a further 1-03, a penalty from Newman, left them leading 3-06 to 0-05 at half time.
The second half lacked the same intensity from Kilmaimhan and Ultan's tried to push forward and cause Kilmainham problems but the Kilmainham backs stood firm and only allowed Ultan's score 4 points for the half. Kilmainham were aided with scores from Mark Newman, Mahon, Morgan, Pat O'Sullivan and a Newman free. As the game drew to a close Mahon sent a hopeful ball towards the Ultan's goal, corner back Stephen Newman found himself at the end of it and made sure it hit the Ultan's net. This left the final score 4-11 to 0-09.
Kilmainham showed great heart and determination to ensure that they kept one foot still in Intermediate Football for 2019. There was great performances from all Kilmainham players. Full forward Seanie Mahon revelled in his new-found position, Barry Lynch gave a great display of high fielding in the middle. While many supporters wondered if this would be Lynch's last year in the red and black, I'm sure avoiding relegation might encourage him to give it one more year.
All eyes will be on St. Ultans' and Castletown as they battle it out in the next round.
Kilmaimham team and scorers: Kevin Jordan, Stephen Newman (1-00), Richie Brady, Darren O'Sullivan, Joe Mahon, Harry Newman, Gerard Morgan (0-01), Barry Lynch, Conor Kilgallen, Dean Peppard (0-01), Mark Newman (0-01), Denis Newman, Mickey Newman (2-05;1 penalty, 3 frees), Seanie Mahon (1-02), Shane Morgan. Subs: Paddy Hennigan for Mark Newman, Pat O'Sullican (0-01) for Kilgallen, Fergal Black for Peppard, Shane Butler for Morgan, Jamie O'Sullivan for Darren O'Sullivan.
Most Read Stories