IFC QF: 'Lough qualify for last four at Michaels expense
September 09, 2018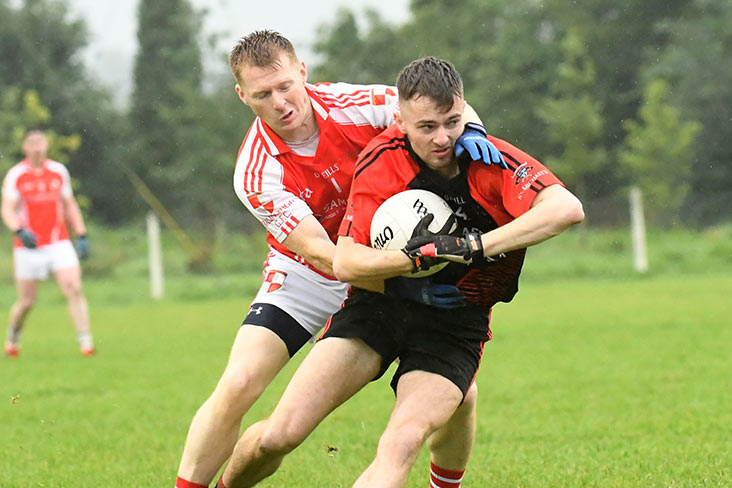 Ballinlough's Ronan McGuinness with Alan Reilly St Michaels during the Meath IFC game at Carnaross
Ballinlough 1-13
St Michaels 0-13
Ballinlough qualified for this year's IFC semi with a hard fought win over last year's beaten finalists St Michaels at Carnaross on Saturday evening. Indeed Ballinlough opened the scoring in the first minute with a fine point from Tommy McCullen. This was followed by 2 pointed frees from Peadar Byrne. The crucial score of the game came after 18 minutes when full forward Simon Deevey used his strength well to bundle the ball to the Carlanstown net. Deevey, who won an all Ireland medal with Ashbourne RFC earlier this year, won a lot of valuable possession on what was a wet evening under lights. The goal was soon followed by a superb point from the busy Michael Geraghty. A Peadar Byrne point on the stroke of half time left the 'Lough 1.05 to 0.06 ahead at the break.
Ballinlough started off the second half where they had left off with man of the match Sean Geraghty pointing inside the first minute. This was quickly followed by a Benjy Smith point. With Johnny Reilly and Lorcan Maguire immense in defence Ballinlough took control of the game. Points from Sean Geraghty, Tommy McCullen and Ronan McGuiness kept the distance between the two teams. Gary Reilly replaced the injured Emmet Smith on 18 minutes and used his height well around the centre. 3 pointed frees from the evergreen Byrne was enough to see The Reds over the line but thoughts will quickly turn now to next weekend's semi final. Overall it was a well balanced team effort from Brian Donoghue's men who were well served also by Matty Farrell, Robbie Farrell, Podge Muldoon and Mark McCullen.
Ballinlough: D Muldoon, R Farrell, P Muldoon, M Farrell, M Geraghty (0.01), L Maguire, J Reilly, S Geraghty (0.02), T McCullen (0.02), E Smith, R McGuiness (0.01), M McCullen, B Smith (0.01), S Deevey (1.00), P Byrne (0.06).
ST. MICHAELS IFC MATCH REPORT.
St. Michaels 0-13, Ballinlough 1-13
A Ballinlough goal 13 minutes into the opening half proved crucial in seeing them progress to the semi-finals of the IFC at the expense of St. Michaels in miserable playing conditions in Carnaross on Saturday evening last.
Both sides traded three points apiece in the opening 11 minutes with Peter O'Connell, Oran Meehan and Davy Lynch all on target for St. Michaels. Then a ball into the St. Michaels square caused all sorts of chaos with it eventually ending up in the back of the net for the only goal of the game. The poor conditions did little to help the quality of play as players found it difficult to retain their footing and handling errors were ten a penny and an eight minute barren spell passed before Oran Meehan tapped over the next score from a free, Meehan reduced the deficit to the minimum two minutes later but back came Ballinlough with another point to restore a two point advantage. Ciaran Lynch converted another placed ball on 24 minutes to leave it a one point game once again but they failed to score again for the remainder of the half while Ballinlough put two between the sides from a free on the stroke of half time for a 1-5 to 0-6 interval lead.
Within three minutes of the restart Ballinlough had stretched their lead to four points. St. Michaels brought about a mini resurgence with Ciaran Lynch and Shane McDonnell both splitting the posts, however they were finding it difficult to get the ball into their forwards and as a result they went through another ten minute spell scoreless while Ballinlough tagged on a further three points for a 1-10 to 0-8 lead at the end of the third quarter.
Again St. Michaels fought back showing great urgency in their play kicking three unanswered points through Ciaran Lynch, Shane McDonnell and substitute Shane McCormack in a three minute spell, however Ballinlough were not relenting and one of their outstanding players on the night Peadar Byrne fired over from a placed ball on 50 minutes. Both sides traded two points apiece both from Ciaran Lynch and Peadar Byrne in the final five minutes.
We wish Ballinlough the very best of luck in the semi-final.
St. Michaels: Darren O'Connell; Harry Dunne, Sam Briody, Alan Reilly; Matthew Halpin, Christopher Drew, Davy Lynch (0-1); J.B. O'Reilly, Felim O'Reilly; Ray Reilly, Peter O'Connell (0-1), Shane McDonnell (0-2); Oran Meehan (0-3), Ciaran Lynch (0-5), Ronan Lynch. Subs: Ciaran O'Reilly for Alan Reilly, 25 minutes, Shane McCormack (0-1) for Ronan Lynch 30 minutes, Mark Stafford for Harry Dunne 50 minutes.
Referee: Bernard Heaney.
Report: Pascal Reilly PRO.
Most Read Stories