SFC pre-lim quarter final: Great start seals win for Kells
September 04, 2018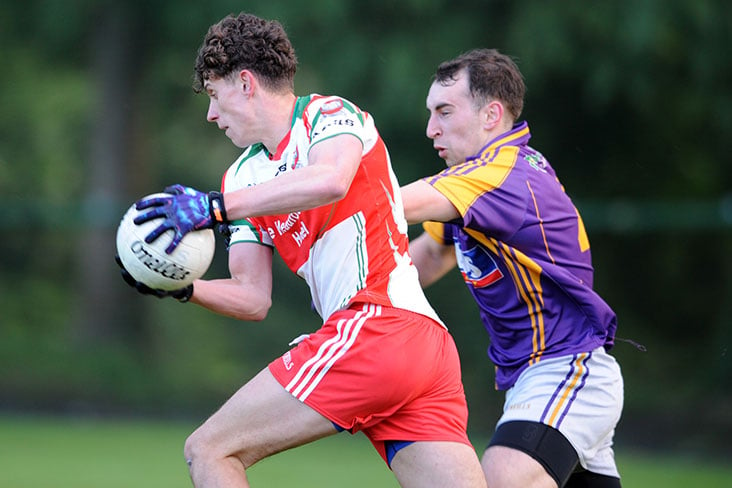 Gaeil Colmcille's Oisin Reilly with Shane Glynn Wolfe Tones during the Meath SFC
Gaeil Colmcille 3-13 Wolfe Tones 1-13
Gaeil Colmcille and Wolfe Tones battled it out in Castletown on Monday night for the right to face St. Peter's, Dunboyne in the Fairyhouse Steel, Meath Senior Football Championship Quarter-final. 
Under the lights, in a packed out Castletown, it was Gaeil Colmcille who got the first chance of the game, from the penalty spot and Brian Hanlon dispatched the ball to the back of the net despite the Tones keeper getting a hand on the ball. Two Seamus Mattimoe free kicks and an opening point from Wolfe Tones left the Kells men 1-02 to 0-01 after 8 minutes. 
In the space of 120 seconds Gaeil Colmcille fired 1-02 from play without reply thanks to points from Mattimoe, Martin Barrett and a superb goal from Fionn Reilly. 
Wolfe Tones steadied the Gaeil Colmcille scoring and contributed to three points in a row to leave 6 points between the teams after 16 minutes. But just as Wolfe Tones got into the game, a shot from Brian Hanlon fell short and the Tones keeper failed to deal with it under the lights and Reilly was on hand to palm the ball into the net for his second goal of the game. 
With Gaeil Colmcille leading 3-07 to 0-05 on 30 minutes the Tones needed something to bring in to half time and they got that, with good work from the Tones backs saw the ball turned over and playing the ball up the pitch Tones got their goal. Mattimoe would add another pointed free to leave Kells 3-08 to 1-05 up at half time. 
Hanlon opened the score in the second half with a fine effort. Oisin Reilly fisted over on 38 minutes left 10 between the sides, on the follow through Reilly had a clash of heads with the Wolfe Tones defender and with blood gushing from his forehead he required some treatment before coming back on. This seemed to slow down Gaeil Colmcille's momentum and saw Tones creep back into the game tagging on four scores withigh reply. With second half points hard to come by for Kells Oisin Reilly popped up and another fisted point put Gaeil Colmcille 3-11 to 1-13 ahead going into the Final 10 minutes of normal time. Three points in a row from Tones pulled the gap back to four points going into injury time, but two points from Hanlon, one from a free and another excellent effort from out near the sideline left no way back for the Wolfe Tones lads.
Gaeil Colmcille: J Carry-Lynch, P Tormay, B Smith, J Muldoon, B Tormay, C Keegan, J Reilly, O Reilly (0-02), E Sheridan, F Reilly (2-00), S Curran, L Ferguson, S Mattimoe (0-06), M Barrett (0-01), B Hanlon (1-04). Subs: C Courtney for B Tormay, C Doogan for O Reilly, O Reilly for S Mattimoe, F Ferguson for F Reilly, G Arkins for Hanlon. 
Wolfe Tones Report
Gaeil Colmcille 3-13 Bhulf Tón 1-13
Ag leath am bhí Bhulf Tón naoi gcúilíní chun deiridh agus cé gur tháining siad ar ais ( ladhgdaigh siad an bearna go ceithre chúilíní) thei orhtu sa deireadh.
Two goals and four points in the first twelve minutes from the Kells men gave them a platform for victory and gave them the cushion they needed to withstand a spirited second half rally from the Oristown- Kilberry men. Tones trailed by nine points after that opening blitz their only scorer being Sarán O Fionnagáin  who pointed after good play from Thomas O Reilly. Niall O Reilly and Thomas O Reilly(2) narrowed the gap to six points before Seamus Mattimoe and Cian Ward(free) traded points. However a mistake in the Tones defence which yielded a goal for the Kells men followed by a Mattimoe point and a Brian O Hanlon free stretched the Gaels lead to 3  07 to 0 05, a whopping eleven point lead after 28 minutes.. Cian Ward responded with a goal to give the Tones a small glimmer of hope in the twenty ninth minute before Gaeil Colmcille closed out the scoring with a free to lead at half time 3 08 to 1 05.
Wolfe Tones would need something special in the second half and this did not appear likely as the Kells men outscored them 0 02 to 0 01 in the opening ten minutes, the Tones opener being a Thomas O Reilly free. However Tones found a bit of form helped by the dominance of Cian O Neill and Alan Callaghan in mid field and were boosted by four points in a row Thomas O Reilly (2), Cian Ward ('45) and Dan O Neill all finding the target. Gaeil Colmcille stopped the rot with a point but the Tones were undeterred and came again with three points in a row. Sarán O Fionnagáin was unlucky not to score a goal as he finished off a Fiachra Ward Cian Ward combination to palm the ball narrowly over the crossbar. Cian Ward added a free and Alan Callaghan added a long range effort to reduce the gap to four points with minutes remaining. There was an extended period of injury time and with Gaeil Colcille defending in numbers Bhulf Tón could not work the goal they needed. The Kells men held their nerve to finish strongly and added two points in the dying minutes to earn their passage to the quarter final proper.
Victory was earned in the opening minutes of this game as the very lively Kells' forwards cut through the Tones defence. When Tones did come to life they gave as good as they got but were unable to close the gap and had left themselves too much to do.
Bhulf Tón: David Nolan, Eoghan Harrington, Shane Glynn, Conor Sheppard, Daniel O Neill (0  01), Éanna O Kelly Lynch, Éanna Harrington, Stephen Corrigan, Alan Callaghan (0 01), Stephen Sheppard, Thomas O Reilly (0  05, 3f), Niall O Reilly (0 01), Cian Ward (1 03, '45,2f), Sarán O Fionnagáin (0 02), Fiachra Ward Subs: Padraic Diamond for O Kelly Lynch, Cian O Neill for Stephen Corrigan, Gary Mc Fadden for Niall O Reilly
Most Read Stories