IFC: Duleek Bellewstown advance
August 27, 2018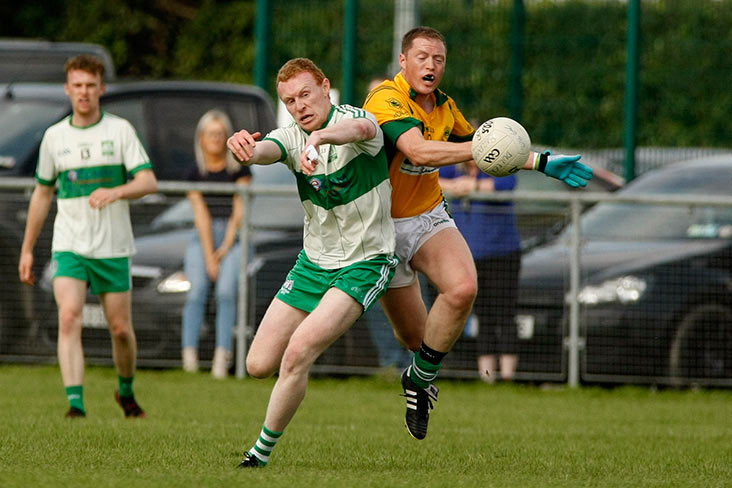 Bective's Ciaran McConnell with Des Teeling Duleek Bellewstown during the Meath IFC clash at Seneschalstown
Duleek Bellewstown 2-12  Bective 0-12
Duleek Bellewstown advanced to the knockout stages of the intermediate championship after a hard earned victory of a determined Bective in Seneschalstown on Saturday afternoon. Ultimately it was Duleek Bellewstown's ability to take their goal chances which proved the difference in the end as their two first half efforts proved to be the difference in the end. 
Both teams knew coming into the game that this was in effect a knockout game as the winners would advance to the next stage whilst the championship was over for the losers. For the first 10 minutes it seemed both teams were finding it difficult to come to terms  wither the passing and shooting  as the only scores came from a Bective point on 6 minutes and a fortuitous goal from  corner forward John MC Donnell  when  his pointed effort dipped in at the last second over the Bective's keeper.
Defensive turnovers continued to the order the order of the day as both sides came to grips with each other.  Following the goal Bective were spurred into action and by the end of the first quarter had scored three further points  to put themselves in front and but for some stout defending and the crossbar that lead should have been greater.  Shortly after Padraig McGroggan got the men in green and gold back on the score board after a fine run and almost immediately John Flood picked up a Pass from  Jamie Crosby and planted the ball to put Duleek Bellewstown in front for the second time and a lead which they never relinquished.
Two further Flood frees and a Jamie Crosby point as the clock passed the 30th minute were balanced by a  Bective point to have Duleek Bellewstown 5 points to the good at the break.
The second half was a mixed bag with both teams scoring in bursts.  Duleek Bellewstown opened with three points in the first 5 minutes to extend their lead to 8 with points from Flood and two from Stephen Nolan. But Bective just would not go away. Playing down the hill they reeled off 3 quick fire points by the end of the thirds quarter and the game was back in the melting pot again.
John Flood steadied the ship with two further points and when Robin Clarke drove upfield  to score a fine point on twenty minutes which was followed a few minutes later by Padraig McGroggan's second score of the evening it looked, for the second time, that the result was secure. Bective had other ideas and continued to press looking for the goal that would have put the game in the balance but 4 further points in the remaining minutes was their only reward with Flood again finishing the scoring with a pointed free.
Duleek Bellewstown: F Hartford, D Teeling, D Moore, K McCann, S Crosby, B Moore, R Clarke, M Dowling, J Flaherty, J Flood, S Townley,, J Crosby, J McDonnell, S Nolan, P McGroggan: Subs: J Roche for S Townley S McArdle for J Flaherty, E Byrne for S Nolan, C Flynn for J MCDonnell
Bective Report
Bective, by losing to Duleek Bellewstown, failed to advance to the knock-out stage of the Intermediate championship.  
This was a disappointing finish to their 2018 campaign as they had shown great heart and had brought composure into their game under management team of David Hosie , second in command Shane Clarke and selectors Niall Davis and Ruairi Russell. However it was not to be - courtesy of a scoreline Duleek Bellewstown 2-13 to Bective's 0-12.
Bective started strongly and played a lot of good football in the first 15 minutes and had the lion's share of possession with well worked ball out of defence, a dominant midfield and fast moving ball in attack. Paul McCabe pointed a free kick on 5 minutes after a foul on Cathal McConnell, but then a narrow angle attempted point somehow found the top hand corner of the Bective net on 7 minutes.  
Again Bective continued their attacking play and McConnell landed a fine point off the left peg. Mark O'Brien followed up with 2 points on 13 minutes. Marty Mulhall cracked a shot against the bar from short range and McConnell hit the side netting after another good move. Duleek Bellewstown pointed again from play and Bective conceded a soft second goal on 20 minutes. Duleek Bellewstown gained the momentum and scored 2 more points from play and one from a free kick to Bective's 1 point from play to end the first half with Duleek Bellewstown 2-4 to Bective's 0-5.
Bective came out in the second half with full intentions to turn the deficit of 5 points around but Duleek Bellewstown had grown into the match and scored a point from play and scored from 2 free kicks. Bective kept in touch with a pointed 45 from Marty Mulhall and 2 pointed frees from Paul McCabe after 9 minutes. 
Duleek Bellewstown pointed again on 15, 17, 21 and 25 minutes and left Bective needing goals to get back into contention. McConnell pointed a free on 27 minutes and again from play on 29 minutes and McCabe added a point from play on 30 minutes.  
Pressure was piled on the Duleek Bellewstown goal but there was no way through and they eased the pressure with a pointed free. McConnell pointed a free kick on 35 minutes to conclude this game and end Bective's interest in the 2018 championship.  
Although winning 3 games out of 5 Bective were unlucky not to advance to the knock-outs - losing out on score difference.  However they can be proud of their effort, dedication and response to the management team and that they brought a great championship hope and buzz to the Bective supporters and can look forward to another attack on the championship in 2019.
Bective: Ciaran Breslin, Jack Grant, Diarmuid Rogers, Ben Malone, Donagh Garvey, Jarlath Brennan, Colin O'Rourke, Ciaran Mc Connell, Kevin Brennan, Paul Mc Cabe, Cathal Mc Connell, Craig Roche, Paul Lyness, Mark O'Brien and Marty Mulhall. Subs: Brian Cantwell, David Fitzpatrick, Michael Lyness and Gary Brennan. 
Most Read Stories