IFC: Carry's late point secures Emmets survival
August 27, 2018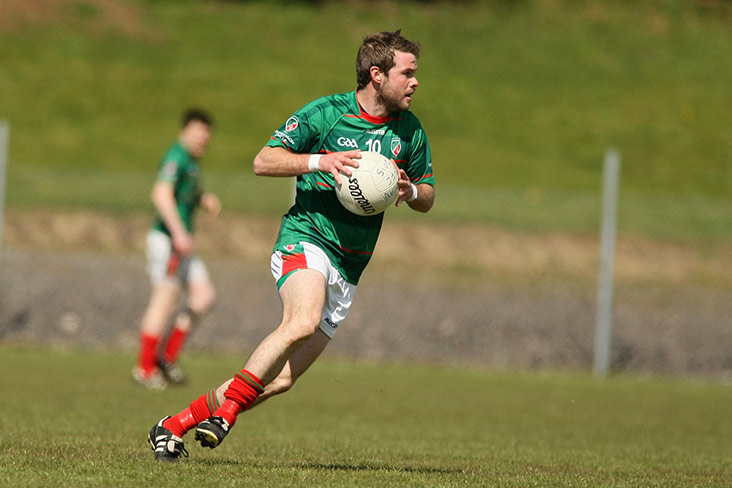 Drumbaragh's Colm Carry
Drumbaragh 1-12 Longwood 0-15
Longwood were held to a draw by Drumbaragh in this entertaining Meath IFC Group B clash at Dunganny.
The draw secures Drumbaragh's place in next years Intermediate championship while neighbours Kilmainham face the relegation battle on score difference.
In a game of two halves Longwood tottaly dominated the opening 30 minutes and led by 7 points, 0-11 to 0-4, at the break. Luke Fagan, Conor Lynch, Jimmy Connolly and DJ Carry got the scores for the Emmets.
Drumbaragh manager Conor Brennan was delighted to get his team in at half time and after making some tactical switches Drumbaragh grew in to the game. Conor Lynch began to dominate on the half forward line and the scores followed. Stephen Meegan, DJ Carry, Lynch (2) and Jimmy Connolly (3) pointed to leave three between the teams. They were level soon after when Lynch found Seanie Bennett with a pinpoint pass and the veteran stuck the ball in the Longwood net the tie up matters. 
Longwood went ahead in injury time but Drumbaragh were not to be denied a precious draw. Once again Lynch with an accurate pass found Colm Carry who duly obliged with the leveller. Carry spent the year on the sidelines with an injury and was a major loss to the Kells parish outfit all season.
Best for Drumbaragh were Joe Carry, Stephen Meegan, Luke Fagan, Michael McNamee, James Connolly and Conor Lynch.
Drumbaragh: W. Arkins: P. Carry, J. Morrissey, JD Smith, P. Murray, W. Carry, M McNamee, Joe Carry, S. Meegan (0-1), DJ Carry (0-2), L. Fagan (0-1), N. Corcoran, T. Carry, J Connolly (0-4), Conor Lynch 0-3). Subs: K Dardis for N Corcoran: S Bennett (1-0) for DJ Carry, C. Carry (0-1) for T. Carry, N. Corcoran for W. Arkins.
Most Read Stories