IFC: Ballinlough hit Castletown for six
August 26, 2018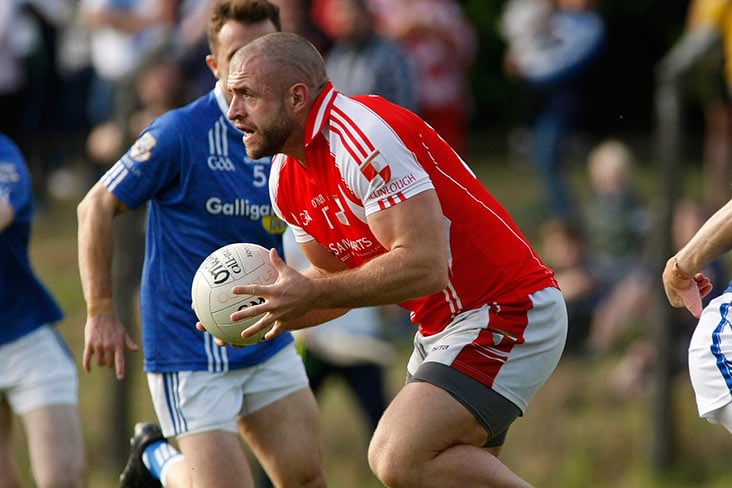 Ballinlough's Simon Deevey
Ballinlough scored six goals in Carlanstown on Saturday evening on route to securing their place in the quarter-final of the intermediate football championship.
Ballinlough………………………6-8
Castletown…………………...2-13
The score-line would suggest that Ballinlough cruised to victory however that only tells half the story, ten minutes into the second-half Castletown led, 2-8 to 3-4, but a blistering six minute spell in which Ballinlough scored three goals effectively ended the game as a contest.  It was a hammer blow to Castletown who played a significant part in an enjoyable game and actually scored more times than the winners, but ultimately the succession of six goals was detrimental to their chances.
Paul Cribbin was active for Castletown early on and registered a goal and a point early on before Lorcan Maguire breached the centre of their defence for the first time and lashed the ball into the roof of Jonathon Ginnity's net to level it; 1-1 to 1-1, after 18 minutes.
There was a quick exchange of goals again late in the half, firstly Ballinlough's Ronan Mc Guinness finished low after good work from Tommy Mc Cullen and Benji Smith and then on the next Castletown attack Barry Smith sold a dummy and beat Derek Muldoon when maybe a point was his intention. Castletown were trailing, 2-2 to 2-3, but points from Kevin Ross (2) and Stephen Duffy seen them take a well deserved lead. Castletown probably felt they had done enough to be ahead at half-time before the impressive Jonnie Reilly finished neatly for Ballinlough's third major putting them ahead, 3-3 to 2-5, just before Seamus O' Connor blew the half-time whistle.
Points from Ross (2) and Cribbin responded to a Peadar Byrne free as Castletown forged ahead again; 2-8 to 3-4, after 40 minutes but it was a case of poking the bear as Ballinlough came to life with a defining scoring burst to put the outcome beyond doubt. Peadar Byrnes' point attempt fell short and Mark Mc Cullen flicked home their fourth goal and at this stage Ballinlough were moving forward in droves, combining strong running with precision passing which created openings for Simon Deevy to get their fifth and sixth goals, both smart finishes from close range. Both teams had scored 11 times but Ballinlough had a significant cushion, 6-5 to 2-9, after 46 minutes.
Despite the disheartening score line Castletown battled gamely in the last quarter and points from Kevin Ross and Mark Kelly seen them finish with a very respectable tally of 2-13 which will offer plenty of encouragement as they face into a relegation playoff. The outstanding performance of young Killian Markey in defence along with Kevin Ross, Mark Kelly and Paul Cribbin at the other end were the positives on a tough evening.  
Despite having spent much of the season loitering in the lower half of Division 3 recent form would suggest that Ballinlough are just as well equipped for outright honours as any of the remaining teams. The concession of 2-13 will be cause for some concern but their ability to execute goal scoring opportunities was a huge positive and could prove to be critical in tighter battles ahead.
Ballinlough: D. Muldoon, R. Farrell, P. Muldoon, E. Smith, M. Geraghty, J. Reilly (1-0), J. Baugh, T. Mc Cullen, L. Maguire (1-1), S. Geraghty (0-1), R. Mc Guinness (1-0), M. Mc Cullen (1-1), B. Smith (0-1), S. Deevy (2-0), P. Byrne (4f). Sub: G. Reilly for Smith.
Most Read Stories