SFC: Four-goal Seneschalstown hammer Blackhall
August 26, 2018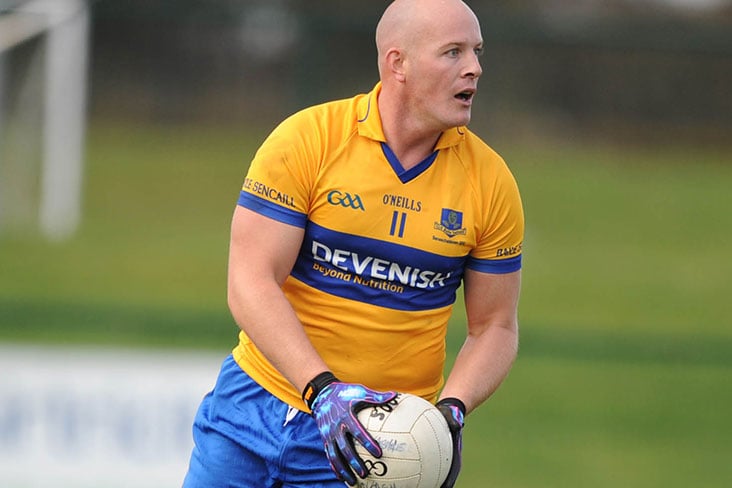 Seneschalstown's Joe Sheridan
Meath Senior championship Round Five Seneschalstown GFC V Blackhall Gaels match summary
Full time: Seneschalstown GFC 4-12 Blackhall Gaels 0-07
Blackhall Gaels got the first point of the match in the opening minute.
Four minutes later Cathal Finnegan scored a pointed free.
Blackhall Gaels responded with a point from play by their right half forward.
Joseph Sheridan replied with a point from play in the seventh minute.
Blackhall Gaels full forward then scored from play to put them in the lead.
In the tenth minute Sean Noonan scored from play to level the match.
Stephen Finnegan and Sean Noonan's inter play set up Niall Hickey to finish to the net.
There was a lull in the play for the next ten minutes which included the substitution of Cathal Finnegan who sustained an injury while on the attack.
Blackhall Gaels right corner forward scored a point from play.
From the twenty third to thirtieth minute Seneschalstown hit three points with Stephen Finnegan, Joseph Sheridan and Niall McCabe the scorers.
Blackhall Gaels scored a forty five from their centre forward to finish the scoring for the half.
During the first half there was some great tackling which resulted in a number of turnover as Blackhall Gaels players were blown up for over carrying.
Andrew Collins expertly tackled his opponent on a number of occasions to clear the danger in the first half.
At half time the score was Seneschalstown 1-06 to Blackhall Gaels 0-05.
Seneschalstown got off to the best possible start with a goal by Dylan Keating who was a half time substitute. He received the ball as a result of Seneschalstown winning the throw in at the start of the second half.
Two minutes later Joe Sheridan got on the end of another move to finish to the net.
Brian Sheridan scored two pointed frees over the next three minutes.
There was a lull in the scoring until Dylan Doyle coming up from defence had a shot that bounced over the bar.
Blackhall Gaels scored a pointed free from their centre forward and followed up three minutes later with a point from play by their number twelve.
In the twenty sixth minute second half substitute Robert Wogan scored from play.
A minute later following the winning of a fifty fifty ball by Dylan Doyle which he feed to Robert Wogan who in turn played the ball across the square for Joe Sheridan to finish to the net.
In the final minutes of the second half Robert Wogan scored two close range free to end the scoring.
There was a great block in second half by Brian Maguire to thwart the Blackhall Gaels centre back scoring a goal.
Team Seneschalstown GFC: David Gordon, Mark Fox, Andrew Collins, Brian Maguire, Niall McCabe, Joe Cowley, Cormac Duffy, Brian Sheridan, Stephen Finnegan, Alan Mulvany, Sean Noonan, Niall Hickey, Cathal Finnegan, Joseph Sheridan, Dylan Doyle.
Subs: Bryan Clarke for Eoin Finnegan, Dylan Keating for Cormac Duffy, Robert Wogan for Alan Mulvany, Brendan Lynch for Niall McCabe, James Meade for Sean Noonan, Robert Ruddy for Stephen Finnegan.
Scorers: Cathal Finnegan. 0-01 (1F), Brian Sheridan 0-02 (2F), Joseph Sheridan 2-02, Dylan Keating. 1-00, Niall Hickey 1-00, Robert Wogan. 0-03 (2F), Dylan Doyle 0-01, Niall McCabe 0-01, Sean Noonan. 0-01, Stephen Finnegan. 0-01.
Most Read Stories