IFC: Syddan close in on knockout spot
August 14, 2018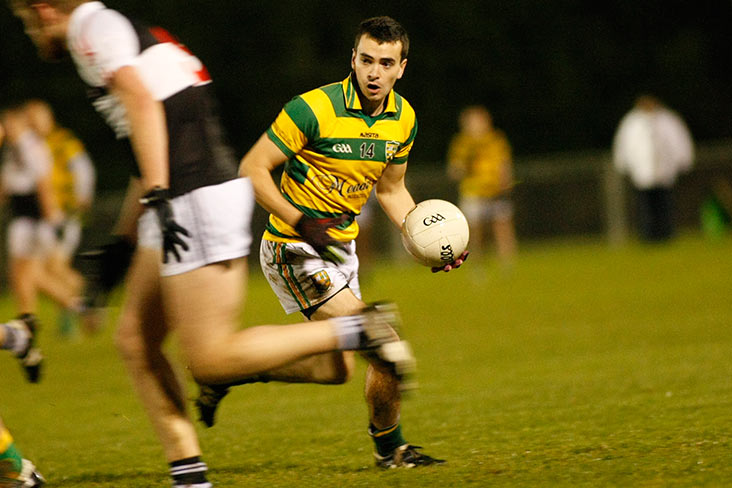 Syddan's Daire Rowe eyes up the Dunderry goal
Syddan 0-18  Dunderry 2-9

Syddan produced their most complete display of the campaign to date as they closed in on a knockout spot following this victory in the IFC at Sean Newman Park on Saturday evening.

Dunderry were forced to play the final quarter with 14 following the dismissal of midfielder Conor Farrell on receipt of a second yellow card offence. However even with a full compliment of players it is doubtful if they would have taken anything from the game as they were unable to match Syddan's greater team work and desire over the hour.

Defeat for the 2016 finalists leaves them tethering on the brink of an early exit and they are dependent on favourable outcomes from the final round to entertain hopes of a knockout spot.

Dunderry made the best possible start to both halves with early goals but they could never quite shake off a tenacious Syddan who finished in impressive style with the final four points of the match.

Daire Rowe who top-scored for the winners with 12 points continually punished Dunderry's indiscipline, hitting nine of those scores from placed balls. Rowe accounted for six points in the opening half with his final one from a free giving his side a 0-9 to 1-5 lead at the break.

Dermot Kelly had the ball in the Syddan net within three minutes of the start and that goal still separated the sides after Jordan Martin pointed on 13 minutes.

Points in as many minutes from Paddy Farrelly and Rowe (two) had the teams level and Rowe then pointed Syddan ahead for the first time on 20 minutes.

The teams were level on three further occasions after that before Syddan enjoyed a minimum lead at half-time.

Dunderry started the second half in similar fashion to the first with Luke Martyn applying the finish touch to a Liam Dempsey delivery for his sides' second goal. That Dunderry lead extended to three points but again Syddan responded to be on level terms, 0-13 to 2-7 heading into the final quarter.

The lead changed hands twice after that with Rowe edging Syddan in front before points from Kelly and Stephen Coogan restored the Dunderry lead.

Rowe levelled from play and then kicked the lead point from a free. He doubled his sides' advantage on 58 minutes before Paddy Farrelly left three between the teams in added time.

Syddan: Peter Sheehy; Mark Fedigan, Ryan Summersby, Kevin Garland; Stuart Fedigan, Andrew Garland, Kevin Traynor; Daire Rowe (0-12, 9fs), Sean Clare (0-1); Michael Fedigan, Paddy Farrelly (0-2), Graham Garland; Cormac Rowe, Cathal Dardis (0-1), Padraic Dillon (0-2). Subs: Gary Farrelly for Dardis, Brian Dillon for S Fedigan, Cormac Rafferty for Mark Fedigan.

Dunderry: David Jennings; Aaron Newman, Morgan Callaghan, Alan Watters; Oisin Martyn (0-1), Conor Dempsey, David McCormack; Liam Dempsey, Conor Farrell; Paddy Kennelly, Dermot Kelly (1-4, 2fs), Jordan Martin (0-1); Stephen Coogan (0-1), Luke Martyn (1-2), Conor Daly.
Most Read Stories