IFC: Defeat to Oldcastle leaves Castletown in relegation dogfight
August 12, 2018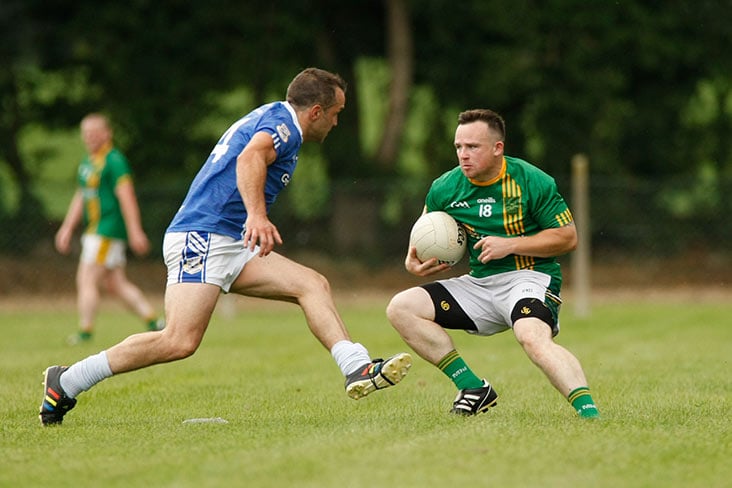 Oldcastle's Peter Monaghan with Kevin Ross Castletown during the Meath IFC game at Kilmainham
Castletown 0-8 
Oldcastle 2-11 
Castletown went down to their fourth loss in this year's IFC with this nine points defeat to Oldcastle played in excellent conditions in Kilmainham on Sunday. Castletown opened the  scoring with two  points from Kevin Ross (1f) with ten minutes played then Oldcastle scored three in a row from the 11th to the 14th minute to go one ahead. It was then score for score a point from Darren Finney on 16 mins, Shane Hoey  on 22 mins, Declan Cribbin on 27mins and Kevin Ross with another placed kick on 30 mins and more points for Oldcastle left Castletown one point to the good at halftime 0-06 to 0-05. 
This was as good as it got for Castletown as the eventual winners opened the scoring of the second period on 31 mins with Kevin Ross two minutes later scoring Castletowns first of only two points in the second half the other twenty minutes later but by that stage Oldcastle had 2-9 on the board to Castletowns 0-8. The winners then tagged on three more points to leave 9 between the teams at fulltime. This now leaves Castletown in a relegation dogfight with one round of group matches left to play.
Castletown team: Johnny Ginnitty; Shane Hoey (0-1), Robbie Hoey, Stephen Duffy; Damien Ginnitty, Evan Hoey, Paul Cribbin; Gerry Farrelly, William Bellew; Declan Cribbin (0-1), Kevin Ross (0-5), Francis Hoey; Mark Kelly, Tommy Smith, Darren Finney (0-1). Subs: Wayne Donegan for T Smith (40 mins), Kieran Weldon for D Cribbin (52 mins), Johnny Metry for P Cribbin (55 mins).
Most Read Stories