IFC: All square in Kells
August 12, 2018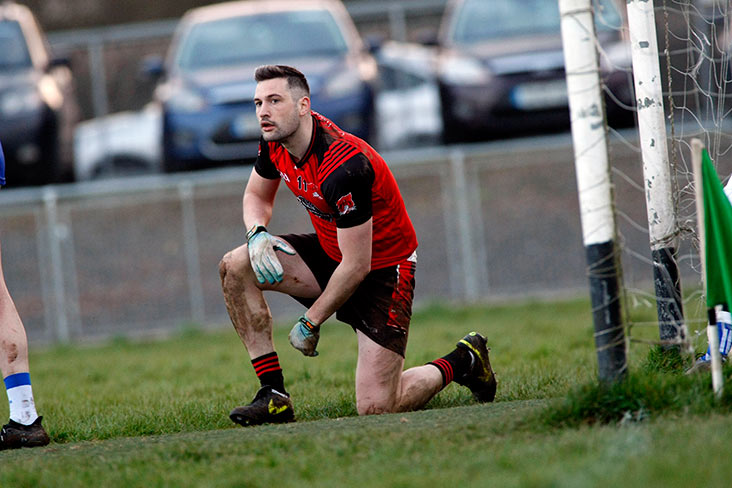 Kilmainham's Mickey Newman
Kimainham 2-07  Drumbaragh 1-10
Parish neighbours Kilmainham and Drumbaragh played out a draw in their IFC Round 4 clash in Pairc Colmcille, Kells on Friday evening.
Kilmainham report:
After a very successful Round Towers Summer Camp, where 140 boys and girls attended, all attentions turned to Pairc Colmcille in Kells as Kilmainham and Drumbaragh battled it out in a must win game for both teams.
Kilmainham settled well and were 2 points to the good after 4 minutes through a pointed Mickey Newman free, after his brother Mark was fouled and a point from play from Seanie Mahon after good work from Harry Newman. Drumbaragh then responded with 4 unanswered points before midfielder Barry Lynch pushed forward and pointed leaving the minimum in it after 15 minutes played. Kilmainham's last score of the half came on 21 minutes when Mickey Newman somehow managed to strike the ball into the Drumbaragh net. The goal came from great work coming out of defence with Fergal Black finding Pat O'Sullivan close to the end line. O'Sullivan did extremley well getting passed his marker to then be disposed. Newman pounced and drilled the ball into the back of the net. Kilmainham were back on level terms 1-03 to 0-06. Drumbaragh went in at half time with a deserved 1 point lead 1-03 to 0-07.
The point of the game came in the 7th minute of the second half, substitute Shane Bulter seen his shot deflected off the bar but the rebound found Denis Newman, who somehow managed to kick the ball over the bar from a very awkward angle. In the 11th minute Drumbaragh got an all important goal to see them race into a 6 point lead 1-04 to 1-10. Many of the large crowd that had gathered into Pairc Colmcille would have felt that that was game over for Kilmainham. Kilmainham continued to fight and points from Harry Newman and Mark Newman left 3 points in it with just over a minute remaining. Following the loss of Mickey Newman to injury midfielder Barry Lynch made his way into the square. A long ball in from Mark Newman landed on top of Lynch who fisted the ball into the back of the net. The teams were level 2-07 to 1-10. The game was into injury time with both teams having chances to take the spoils but it wasn't to be. The game ended in a draw.
Kilmainham will be relieved to take a share of the spoils as Drumbaragh had controlled the game. The game was played in great spirit by both teams and supporters.
Kilmainham: Declan Nelson; Stephen Newman, Richie Brady, Darren O'Sullivan; Joe Mahon, Harry Newman (0-1), Fergal Black; Barry Lynch (1-1), Mickey Newman (1-1, 1f); Denis Newman (0-1), Paddy Hennigan, Seanie Mahon (0-1); Gerard Morgan, Pat O'Sullivan, Mark Newman (0-2).
Subs: Dean Peppard for Brady (black card), Shane Butler for Hennigan, Conor Kilgallen for Pat O'Sullivan, Andy Arkins for Denis Newman, Paddy Hennigan for Mickey Newman.
Drumbaragh report:
A big winner takes all local derby played in Kells on Friday evening brought a big crowd, which saw both sides cancel each other out in a game that took awhile to come to life.
Kilmainham went 2 pts up after 4mins, DJ Carry scored after 6mins and John Morrissey scored a fine individual point after 8mins. On the 11th minute Conor Lynch put Drumbaragh ahead with his first score and on 13th minute Lynch struck over another point. On 15mins Kilmainham hit back with a point then Thomas Carry and DJ Carry scored a point apiece, then on 21mins Kilmainham scored a goal against the run of play to put the sides level. The last score of the half went to William Carry to leave Drumbaragh up by a point at the break.
Stephen Meegan opended the scoring to the second half with a lovely point but a few minutes later Kilmainham hit back again with a point. On the 12th minute Paddy Murray went on a run along the end line and pick out the in form Lynch who slotted home a goal to put Drumbaragh 4 up. This was followed by a point from Jimmy Connolly and a well deserved point by the hard working JD Smith. But Kilmainham were not going to be denied as they hit back with 1-3 without reply and the game ended level.
Best for Drumbaragh were John D Smith, Luke Fagan, Stephen Meegan, John Morrissey and Conor Lynch.
Drumbaragh: W Arkins; M McNamee, P Carry, J Morrissey (0-1); W Carry (0-1), Joe Carry, P Murray; S Meegan (0-1), DJ Carry (0-2); L Fagan, N Corcoran, Conor Lynch (1-2); J Connolly (0-1), T Carry (0-1), JD Smith.
Sub: K Dardis for T Carry.
Most Read Stories