B FL Div 2: Big win for Skryne 3rd's
May 15, 2018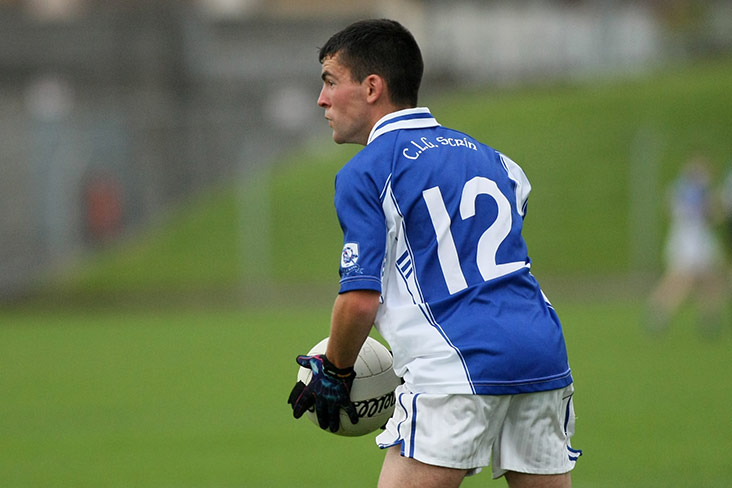 Skryne's Jason Fox
Nobber 1-8 Skryne 5-13

Skryne had a big win over Nobber in this B League Div. 2 match played in ideal  conditions in Nobber . 
Both clubs were short a number of regulars with Nobber struggling to 'field' and eventually just making the bare fifteen with no substitutes. Skryne on the other hand had two very important men - the two Jason's, Fox and Reddy - to come in and made good use of them by alternating five of the six substitutes allowed. 
Nobber got off to a great start and had the ball in the Skryne net after just 25 seconds but this was cancelled out by Skryne's big full forward Kevin O'Riordan when he scored the first of his two important goals about three minutes later. Kieran O'Rourke then gave Skryne the lead with a fine point - a lead they never relinquished. The Blues went on to lead at half time by 1-7 to Nobbers 1-3.
Once again Nobber began the second half like they did the first and scored the first three points in whirlwind fashion to leave just a point between the sides after six minutes of this period. Again, like the first half, Kevin O'Riordan came up trumps for Skryne when he rammed in his second goal to leave the margin the same as it was at half time - a four point lead for Skryne. Two more goals from  top scorer Jason Fox and another from Keith Donoghue gave Skryne the margin of victory their play deserved. 
The use of their two substitutes was vital to Skryne's win and they were able to make five changes while Nobber had to replace their injured player with their manager who hasn't played football for a number of years. Brian Clarke, Kieran O'Rourke and Allan Carty all returned to the fray after coming off in the first half. Carty replaced Felim O'Rourke in goals and managed to keep a clean sheet by saving a late Nobber penalty. Rourkey moved to midfield to steady the ship and bring the best out of the younger players like Clarke, Fox, Tommy Carpenter, Peter Swan and the other sub Jason Reddy.
As this is Skryne's third team their return of three wins from four matches is a compliment to their enthusiasm and no little effort which keeps the bright start to the adult season going. 
Next outing for this team is a home game versus Moynalvey on Tuesday next 22nd May at 8pm. 

Skryne: Felim O'Rourke. Peter Swan, Vinny O'Reilly, Enda Byrne (0-1). Tommy Carpenter, David Carroll, Niall Lenehan (0-1). Keith Donoghue (1-1), Kieran O'Rourke (0-1). Sean Cassidy (0-1), Allan Carty (0-2), Eddie Dunne (0-1). Brian Clarke, Kevin O'Riordan (2-0), Oisin Coyle. 
Subs. Jason Fox (2-3), Jason Reddy (0-2). 
Nobber: J Halpin, P. Olwell, C. Cassidy, C. Clarke, D. Shields, D Halpin,  D. Cassidy, A. Farrell, G. Farrelly, B McEntee, A Shields, J. Donohue 0-1, C Fox 0-1, K Casserly 1-6, A McEntee. Sub: L. McEntee 
Most Read Stories