IFC: Dunderry title aspirations back on track
April 26, 2018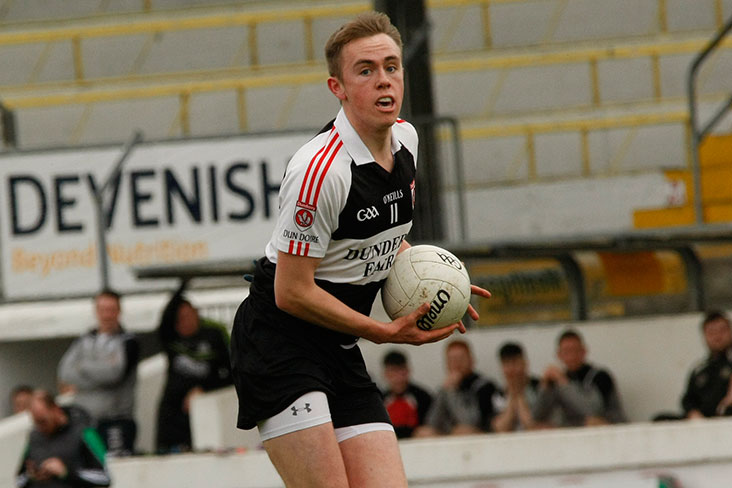 Dunderry's Dermot Kelly
Dunderry 2-14 Drumbaragh 1-9
Dunderry got their Intermediate Championship aspirations back on track with an emphatic win over Drumbaragh in Athboy.
Looking to bounce back from their defeat by Longwood in round 1 they went at Drumbaragh from the first whistle but found themselves a point down after 30 seconds. Points from Conor Farrell in the 4th and 9th minute and 2 well taken free's from Dermot Kelly in the 8th and 11th mins put Dunderry ahead.
Jordan Martin fired over a point in the 17th min followed by another free from Kelly to increase the winners lead. The score of the game came in the 24th minute when Alan Watters broke down a Drumbaragh attack found Kelly who exchanged passes with Marc Kane who found Aron Newman who ran unmarked from his own 21yrd line collected the pass and from 30yrds out put over a fine point.
The forward line of Luke Martyn, Stephen Coogan and Kane were causing plenty of problems. Martyn was fouled fielding a high ball and from the resulting free Coogan put it over from a tight angle. In the final minute of the half Liam Dempsey sent in a high ball, Martyn fielded it beat 2 markers and found the net too leave the half time score 1-10 to 0-5 in favour of Dunderry.
Drumbaragh scored 1-1 in the opening 4 minutes of the second half but again Kelly was punishing any indiscretions with 3 free's scored in the 37th, 40th and 47th mins. 
Coogan followed up with a superb point in the 50th minute. From the resulting kick out  Liam Dempsey won a midfield challenge found Coogan who put the ball across the face of the goal, Luke Martyn found Kane who fired into the net. 
Dunderry were well worth the victory but it was based on a strong defence.
Dunderry: D.Jennings, C.O'Shea, C. Dempsey, A.Watters, O. Martyn, D. McCormack, A. Newman (0-1), P. Kennelly, L. Dempsey, J. Martin (0-1), C. Farrell (0-2), D. Kelly (0-8,8f's), L. Martyn (1-0), S. Coogan (0-2,1f), M. Kane (1-0). Subs: R.Brady for J.Martin, E.Dempsey for C.O'Shea. 
Most Read Stories