IFC: Early black card leaves Duleek Bellewstown with uphill battle
April 24, 2018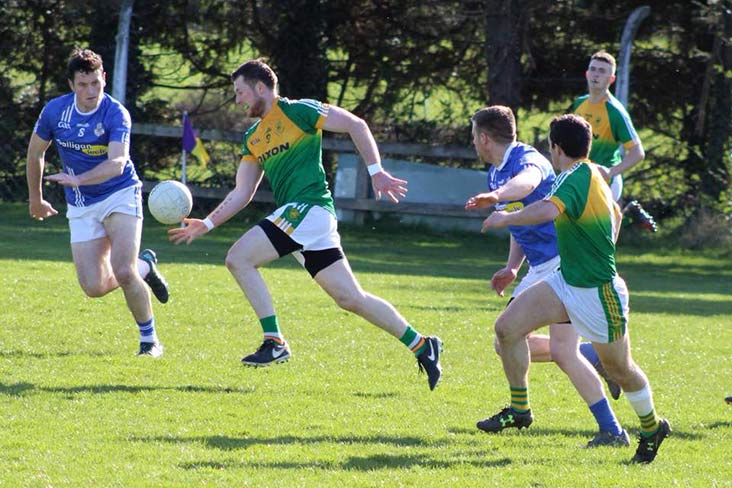 Duleek Bellewstown's Jamie Flaherty heads for the Oldcastle goal during the Meath IFC game at Kilberry. Pic Duleek Bellewstown GAA
Duleek Bellewstown 1-9 Oldcastle 1-15
Duleek Bellewstown's bid for group honor's stuttered on a very warm Saturday afternoon when the Oldcastle gained a well merited victory in Kilberry.
The cause of the men in green and gold was not helped by an early black card to full forward Stephen Nolan for what appeared to be an innocuous challenge between himself and the Oldcastle goalkeeper. However despite that Oldcastle displayed more hunger and intensity for the game and deserved their victory.
Oldcastle opened at pace and had a point on the board in the first minute. Continuing to force the pace they had extended that further two points by the 10th minute. With Oldcastle winning the battle around the midfield area it was only the resolute defending of the Duleek Bellewstown defense that kept the score to manageable levels.
On 15 minutes Jamie Crosby opened the scoring after a good run down the right. But Olcastle hit another purple patch and popped over 5 points from the 20th to 26 minutes to extend their lead to 7 as the half entered the final minutes. Jami Flaherty then produced one of his trademark surges and drove  over  a point  and as the half ended Peter Collins managed to squirm his way through the Oldcastle rearguard and plant the ball in the net. This now had the deficit down to three a manageable 3 points at the break
Just like the first half Oldcastle had a score on the board within 30 seconds but Jamie Crosby replied with a free. In what was ultimately the defining score Oldcastle goaled  from a penalty on  9 minutes. Spurred into a reaction Duleek Bellewstown threw caution to the wind and by the 22nd  minute had the deficit back to 2 points with scores from Jamie Crosby (3) Peter Collins and Johnny Mc Donnell. At this stage Oldcastle were under pressure but to their credit they dug deep, reorganized  and reeled off  5 points in succession to a solitary John Flood free to run out on a comfortable 6 point margin .
Duleek Bellewstown: A Dowling, D Teeling, D Moore, K McCann,  S Crosby, R Clarke, B Moore, E Byrne, J Flaherty (0-1),  J Roche, J Flood (0-1), P Collins (1-1) J Crosby (0-5), S Nolan, J McDonnell (0-1): M Dowling for S Nolan, S Mc Ardle for J Roche.
Most Read Stories