SFC: Ratoath dominate opening half and win with ease
April 21, 2018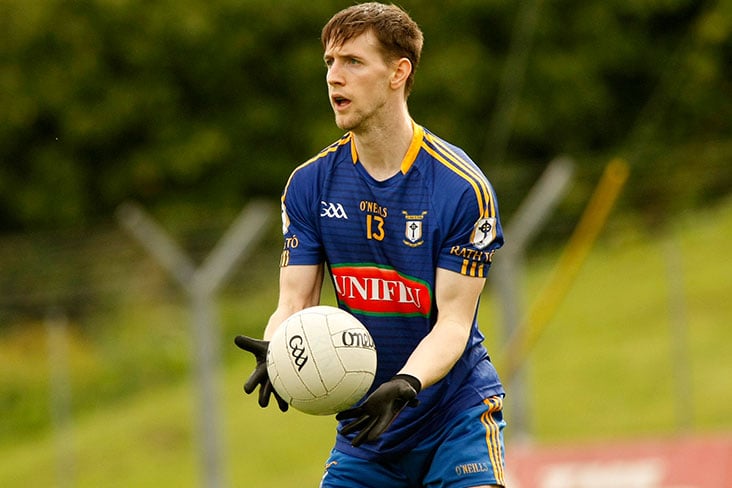 Ratoath's Bryan McMahon
Ratoath report:
Ratoath 1-18 Moynalvey 1-5
Ratoath emerged 13 point winners in this second round championship game played in  dry cool conditions in Skryne on Friday night. Fergal Power's charges put the disappointment of the draw against St Patricks behind them as they completely dominated the first half to put the result beyond doubt. 
In the first 10 minutes alone Ratoath rattled off 7 points with Daithi McGowan, Bryan McMahon and Joey Wallace impressing in picking off the scores. Moynalvey got their opening score in the 12th minute from a David McLoughlin free  but this would prove their solitary point in the first half as Ratoath demonstrated excellent teamwork in keeping the scoreboard ticking over. The same trio of players above raised further white flags  both from play and placed balls with Ben McGowan also chipping in with a point of his own to leave the score 0-14 to 0-1 at half time.
The second half began with Ratoath continuing from where they left off as this time Gavin McGowan joined his brothers in getting in on the scoring act. Moynalvey though did stage a mini recovery with well worked scores from Anthony Forde & Shane Lennihan and another McLoughlin free reducing the deficit. Any hopes of a comeback though were quickly snuffed out  with first Brian Power getting a point and Gavin McGowan finishing a move he started with a goal in the 45th minute. After that scores dried up for the Ratoath men( apart from a late McGowan free) as the wide count increased and Moynalvey continued to battle to the end. Their spirit was rewarded with a goal in the 53rd minute from inter county star, Cillian O'Sullivan but ultimately they were outclassed by a much superior Ratoath outfit.
Foireann Ráth Tó: Darragh McPartlin, Ciarán O'Fearraigh, Conor McGill, , Darragh McGill, Brian O'Connor, Gavin McGowan(1-1), Brian Power(0-1), Darragh Kelly, Cian O'Brien , Keith McCabe, Conor Rooney, Ben McGowan(0-1), Bryan McMahon(0-7)3 frees), Joey Wallace(0-3), Daithi McGowan(0-5, 3 from frees) Fir ionad : Gareth Rooney for Wallace ( black card) , Enda Cahill for Kelly, Jack McGowan for Conor Rooney.
Moynalvey report:
For the second time in a fortnight Moynalvey were on the wrong end of a heavy championship defeat, this time to Ratoath on a 1-18 to 1-5 score line at Skryne on Friday Night 20th April.  
Ratoath 1-18 Moynalvey 1-5 
Skryne has turned out to be an unhappy hunting ground this year for Moynalvey, as they suffered their third heavy defeat there this season following an A League defeat to Skryne and two Senior Championship defeats in a fortnight to Wolfe Tones and Ratoath.  
Once again just as it was in the Wolfe Tones game two weeks ago Moynalvey failed to ignite from the throw in and found themselves seven points down before David McLoughlin converted a free for Moynalvey's first score in the 13th minute. 
A further seven points from Ratoath without reply saw them secure the two points on offer by half time with a 0-14 to 0-1 lead at the break, with all bar one of their opening half tally coming from their full forward line of Bryan McMahon, Joey Wallace and David McGowan. 
Fergie Power's side hit the first two points of the second half from David McGowan and Gavin McGowan. Moynalvey's David McLoughlin hit his and his side's second point in the 39th minute, but two minutes later Ratoath's lead was extended to seventeen when Gavin McGowan struck for the game's first goal, leaving it 1-16 to 0-2. 
A trio of Moynalvey points from Anthony Forde, Stephen Donoghue & David McLoughlin were countered by points from Brian Power & David McGowan for Ratoath, with Cillian O'Sullivan tagging on a late consolation goal to leave the full time score 1-18 to 1-5. 
While Moynalvey will be disappointed with another dour performance, they now look forward to the championship break in a bid to regroup following two heavy defeats in the two opening rounds of the championship. 
Having dropped a point when in a commanding position in their opening round game against St. Patricks, Ratoath will be delighted with their performance here, especially with a return of 0-15 of their 1-18 tally from their inside full forward line. 
Moynalvey: Ray Ryan, Conor Harnan, Robert Lawless, Brian O'Reilly, Anthony Forde (0-1), Stephen Donoghue (0-1), Darren Brennan, Donal Smith, Adam Murphy, Cathal McCabe, Brian Harnan, James Weldon, David McLoughlin (0-3, 2f), John Donoghue, Cillian O'Sullivan (1-0). Subs used: James Kelly for J. Donoghue, Fearghal McCabe for O'Reilly, Shane Lenehan for C. McCabe.
Most Read Stories