IFC: 'Lough' up and running
April 21, 2018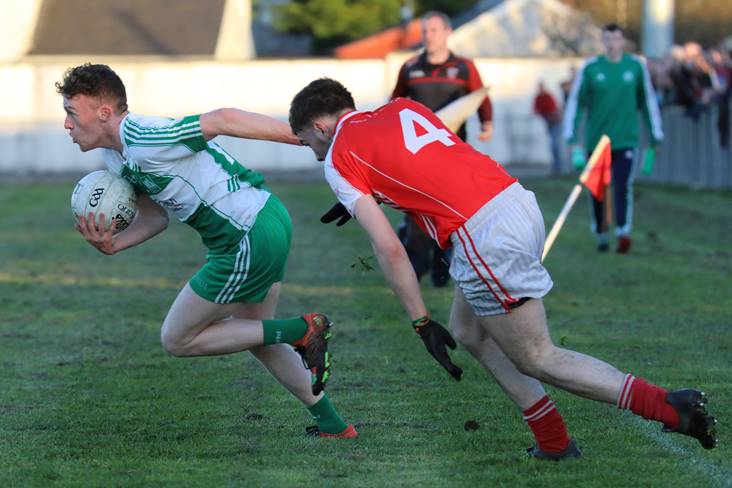 Bective's Cathal McConnell has Matthew Farrell of Ballinlough for company.
Ballinlough report:
Ballinlough 2-9  Bective 1-11 
Ballinlough got their first 2 points in this years Intermediate Football Championship with a convincing win over favourites Bective in Carlanstown. 
Indeed it only took Bective 5 minutes to put the ball in the Ballinlough net but 2 minutes later Mark McCullen punched in a high ball from his brother Tommy to score Ballinlough's first goal.
The 2016 JFC winners were confined to 3 pointed frees for the rest of the half while Ballinlough had 5 more scorers, 2 points from both Peader Byrne and Michael Geraghty and points from Sean Geraghty, Benjy Smith and Lorcan Maguire as the North Meath club went in at the break 1-7 to 1-3 in front.
The second half started even better when Man of the Match Benjy Smith had the ball in the Bective net in just 3 minutes. The goal seemed to spur on Bective and they piled on the pressure scoring 8 points. 
A point from Benjy Smith in the 50th minute sent shockwaves through the crowd as an upset looked on but it must have blown the lights also as the pitch was plunged into darkness. 
Play resumed after a short break and Ballinlough used all their experience gained at Senior level to close out the game. While a black card was issued to a player from both sides the game was played in the right spirit on a dry night in front of an an enthusiastic crowd. 
Full marks as ever to the hosts St Michael 's for having the pitch in such good order after a very long winter. Ballinlough were well served by Derek Muldoon, Mathew Farrell, Gary Reilly and Johnny Reilly.
Ballinlough: D.Muldoon, R Farrell, P Muldoon, M Farrell, J Baugh, L Maguire 0-1, J Reilly, M Geraghty 0-2, G Reilly, T McCullen, R Mc Guinness, M McCullen 1-0, B Smith 1-2, P Byrne 0-3, S Geraghty 0-1. Subs E Smith for J Reilly (BC), J Tunney. 
Bective report:
Bective came up short in this tightly contested and entertaining championship game played in St. Michael's pitch in Carlanstown.
The pitch looked well after all the wet weather and the stage was set for this match on a warm evening.
Ballinlough were first to score with a point in the 2nd minute but Bective responded with a fast moving attack involving a number of players and finished to the net by Brian Cantwell 2 minutes later.
Ballinlough, well led by Peader Byrne, pointed again and goaled in the 7th minute. Bective, now finding it hard to penetrate Ballinlough's sweeper system and robust defense, struggled to get into shooting position and had to rely on 3 pointed free kicks on the 10th, 15th, and 16th minutes from Marty Mulhall.
The frees were mostly given for fouls on the hard running Cathal Mc Connell. Ballinlough dominated the middle third of the pitch and scored a point from play in the 12th minute and added 3 more points on the 24th, 28th and 30th minutes to lead with 1-7 to 1-3 at half time. 
Bective bring on Ciaran Mc Connell at half time and begin to restore parity of possession and Paul Lyness scores a long range point, but Ballinlough work a fine goal to go 6 points up after 3 minutes.
Sean Keating fires another point after 4 minutes and Bective start to pile on the pressure with good control out of defense and fast attacking movements but it is the experienced Ballinlough that score next with a pointed free. Ben Malone is brought on and uses his pace to good effect.
Bective add pointed frees by Paul Mc Cabe after Cathal and Sean were fouled. Cathal points from play and Ronan Murtagh, in as a sub, kicks a fine long range point from play. Ballinlough reply with a point from play on 20 minutes and the floodlights go out.
Bective were in the ascendancy and had narrowed the gap to 3 points and this break halted their momentum. The floodlights had to be allowed cool and were back on again after 10 minutes.
On the restart Bective increased the intensity and Cathal was dragged down and the free converted. Marty also was fouled and scored his free. Bective were unlucky not to finish goal chances but Ballinlough had adequate bodies behind the ball. Bective ran out of time and had to accept a 1 point defeat.
It was frustrating for Bective management and players and it questions why championship games are not played in daylight hours on Saturdays or Sundays when players do not have to take a day off work or college to play football.
Also it surely is farcical that all clubs have to now put aside their championship boots for 3 months as inter-county competition have been given the months of May, June and July.
Ballinlough 2-9, Bective 1-11. 
Bective team: Ciaran Breslin, Jack Grant, Diarmuid Rogers, Craig Roche, Colin O'Rourke, Jarlath Brennan, Dara Maguire, Paul Lyness, Kevin Brennan, Mark O'Brien, Marty Mulhall, Paul Mc Cabe, Cathal McConnell, Brian Cantwell, Sean Keating.
Most Read Stories