IFC: Ultans get winning start for first time in ten years
April 12, 2018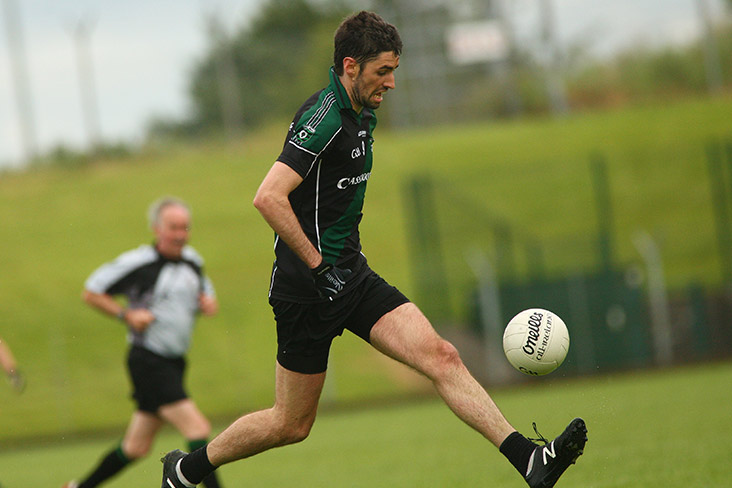 Gearoid Rennicks St Ultans
St Ultans 1-12 Walterstown 0-14
St Ultans opened their championship campaign with a win for the first time in ten years with a one point win over Walterstown in Dunganny.
The only time St Ultans led was when Darren Kavanagh split the posts four minutes into injury time to complete an excellent comeback. Walterstown opened far the brighter and raced into a six point lead with seven scores from play in the first seven minutes with the only score in this period coming from Cian Rennicks after good build up play from full forward Greg McKeever. Ultans made some positional changes in defence and started to tighten up. Two frees and a point on the run from Gearoid Rennicks reduced the gap to three. Walterstown extended their lead with three of the next four scores with Ultans reply a Gearoid Rennicks free after Darren Kavanagh was fouled. 
Mark Allen scored another Ultans point after a good team move but this was quickly cancelled out by Walterstown eleventh point of the half all from play. The crucial score of the game came in the 28th minute when Ronan Breslin finished powerfully to the roof of the net after being slipped through by Gearoid Rennicks.
Walterstown opened the 2nd half scoring and the sides exchanged points to leave Walterstown 3 up approaching the final quarter at 14 points to 1-8. Gearoid Rennicks scored his seventh point and sixth free after Ronan Breslin won a high ball in the full forward line and was fouled. Ultans finished games strongly all year and a point from Cian Rennicks left Ultans still in the game as the clock ticked towards the sixty minute mark. 
The 2nd half was stop start with injuries so it was inevitable that there would be time to look for an equalizer, Ultans secured  the score to level the game in the sixty third minute when midfielder Gearoid Rennicks scored from distance after a period of possession from Ultans. Ultans secured possession from the re start and Darren Kavanagh found himself in possession sixty yards out, he took on the Walterstown defence and his direct running style left him in space 35 yards out where he split the posts to win the game.
Next up for St Ultans is Nobber Saturday week in Kilmainham while the Junior C's take on St Pauls on Saturday in O'Mahonys at 4.30  
St Ultan's - Cian Farnan; Declan Ball, Jason Bennett, Luke O'Reilly; Martin Dolan, Darren Costello, Darren Mallon; Gearoid Rennicks (0-8 six frees), Mark Allen (0-1); Conor Smyth, Cian Rennicks (0-2), Darren Kavanagh (0-1); Emmet Costello, Greg McKeever, Ronan Breslin (1-0). 
Black card - M Dolan (replaced by Declan Galligan 46 mins) Subs Used Sean Herward. Eoin Kavanagh
Walterstown Report
St Ultans 1-12   Walterstown 0-14
In a replay of last year's opening round of the championship Walterstown faced St Ultans on Wednesday evening in Dunganny.
Walterstown got off to a flying start in their first game of the championship, registering seven points in the opening 7 minutes, with 5 of the forwards registering a point or more after Aron McLoughlin's opener. Walterstown were playing some very good football and for a time it looked like they could really push on to dominate the game.
Ultans however scored the only goal of the game, via Ronan Breslin,  two minutes before half time which brought them back into contention and the blacks, playing in orange jerseys, when in at the break with a slender 2 point advantage. Would Walterstown rue a couple of missed goal chances in the first half?
Half Time: St Utlan's 1-6 Walterstown 0-11
After the break Walterstown didn't seem to have the same intensity they showed in the first half, and Ultan's came more and more into the game, with Gearóid Rennicks becoming more influential in the middle of the park and John Davis was called more and more into action in the Walterstown nets. Walterstown were hanging onto their slender lead as the full time whistle loomed. Three minutes into injury time Rennicks slotted over the leveller, followed by another point a minute later to give Ultan's the victory.
Walterstown -John Davis; Conor Cullen, David Maguire, Eoin O' Mahony ,Mark McCormack (0-1), John Geoghegan, David Donnellan; David Reynolds, Alan Wall; Conor O'Sullivan, Ruairi O'Dowd(0-2),Aron McLoughlin(0-2); Robbie McDonnell (0-4 (2f)), Brian O'Connell (0-3), Sam McCabe (0-2). Subs: Michael Clarke for David Reynolds, Stephen Davis for Aron McLoughlin, Brian McGrane for Ruari O'Dowd, Cormac Madden for O'Connell, Kashif Ali for David Donnellan.
Most Read Stories