IFC: Syddan see off Drumbaragh
April 09, 2018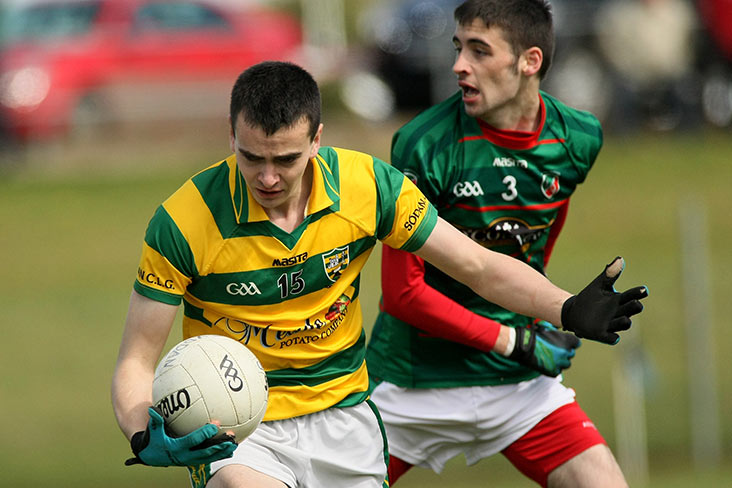 Syddan's Daire Rowe with Paddy Murray Drumbaragh
Syddan 2-10 Drumbaragh 2-5
Syddan started and finished strongly as they saw off the stiff challenge of Drumbaragh in this IFC opener at a soggy Simonstown on Saturday.

Impressive midfielder Sean Clare had the ball in the net inside a minute from a Jack Reid pass to give his side the perfect start.

And after conceding a goal and a point in the final quarter which threatened their lead, Syddan saw out the game in impressive style with three unanswered points to leave them comfortable at the final whistle.

Overall this game proved a dour struggle for long spells with both sides finding it difficult to hit the target. Syddan led 2-2 to 0-0 after Gary Farrelly netted on 19 minutes but they could well have been out of sight at that stage.

Drumbaragh had to wait until the 20th minute for their opening score from a Conor Lynch free. Earlier Daire Rowe and Farrelly had pointed for Syddan who went on to enjoy a 2-4 to 0-3 lead at the break.

James Connolly went close to goaling for Drumbaragh on 25 minutes but had to settle for a point after keeper Ciaran Farrelly got a touch to his fiercely struck effort.

The second half was 13 minutes old before Gary Farrelly hit the opening score of the second half. Drumbaragh responded with a goal from Stephen Meegan after Syddan lost possession.

However Syddan remained a safe distance in front following further points from Daire Rowe (free) and Stuart Fedigan.

A scrambled goal, from substitute Kyle Dardis sparked a brief Drumbaragh and the deficit was down to two points after Connolly converted a free.

Syddan though regained control in the final five minutes and saw out the game with points from Daire Rowe and two from substitute Brian Dillon.

Next up for Syddan is a local clash against last years junior champions Meath Hill.

SYDDAN - Ciaran Farrelly; Mark Fedigan, Kevin Traynor (0-1), Kevin Garland; Jack Reid, Andrew Garland, Stuart Fedigan (0-1); Sean Clare (1-0), Cathal Dardis; Michael Fedigan, Daire Rowe (0-4 three frees), Graham Garland; Cormac Rowe, Gary Farrelly (1-2), Padraic Dillon. Subs - Ryan Summersby for Dardis 44 mins, Brain Dillon (0-2) for P Dillon 49m.

DRUMBARAGH - Willie Arkins; John D Smith, Martin Kavanagh, Joe Carry; John Morrissey, Paddy Murray, Michael McNamee; Ciaran Lynch, Stephen Meegan (1-0); Luke Fagan, William Carry, Conor Lynch (0-1 one free); Derek Carry 0-2, Enda Nulty, James Connolly (0-2 one frees). Sub - Kyle Dardis (1-0) for Conor Lynch 48 mins.

Referee - Martin Griffin (Simonstown)
Drumbaragh Report
Syddan 2-10 Drumbaragh 2-05
With the unbeaten Syddan being touted as major IFC contenders, it meant a good start was vital for an injury ravaged Drumbaragh side.
Unfortunately, The Drums were very slow to get into stride and with the concession of two soft goals in the early stages Drumbaragh were reeling. Giving a side of such quality an 8 point head start before registering a first score - meant it was always going to be an uphill task. Both teams traded points in the closing stages of the first half, but the writing was on the wall for Drumbaragh. HT - Syddan 2-04 Drumbaragh 0-03
It took some tough talking at half time from manager Conor Brennan and team captain Paddy Murray to rally the troops, who found themselves 7 points down heading into the second half. Whatever Brennan and Murray said at half time seemed to strike a chord. Drumbaragh found an extra gear, for the next 25 minutes dominated possession and outscored the opposition in the second half thanks to goals from Stephen Meegan and Kyle Dardis. What was once an 8 point deficit was now 2.
Syddan were now on the back foot - it was game on. Drumbaragh pressed further up field in search of an unlikely victory, as Syddan tired with 10 minutes remaining. Some wayward passing and unorthodox refereeing frustrated Drumbaragh. Ultimately, it was as close as the Drums would get to snatching the points.
Committing players forward meant there were gaps at the back. With the game stretched, Syddan tacked on points in the final stages to give them some breathing space, as the final whistle blew.
It was relief for Syddan, frustration for the Drums. Defeat is always hard to stomach, but with two young men making their championship debuts in Mikey McNamee and Conor Lynch the future is looking bright for the green and red. An exceptional performances by McNamee, coupled with the return of Enda Nulty alongside impressive displays from Lynch and Joe Carry means there is plenty more to come from the team over the season ahead.
Thanks for all our loyal supporters that made the journey to Simonstown.
Drumbaragh scorers S. Meegan 1-00, K. Dardis 1-00, DJ Carry 0-02, J.Connolly 0-02, Conor Lynch 0-01.
Most Read Stories