SFC: Don-Ash hold on for victory
April 07, 2018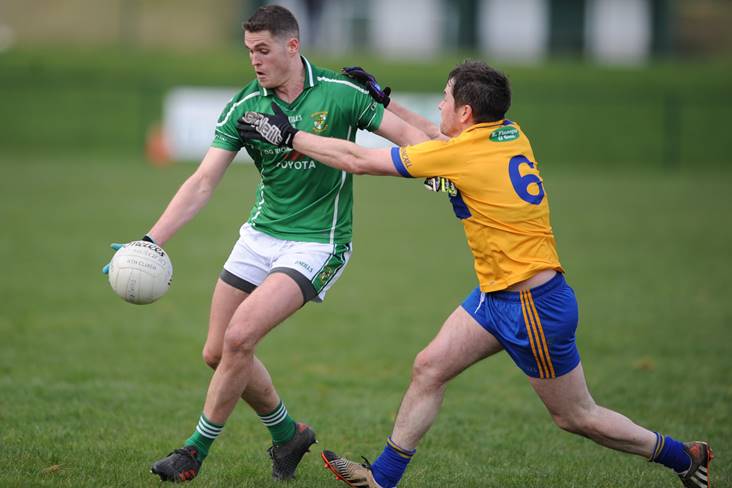 Donaghmore Ashbourne's Bryan Menton delivers a pass against Seneschalstown at Stamullen.
Donaghmore/Ashbourne 1-12 Seneschalstown  1-11
Donaghmore Ashbourne started their 2018 SFC campaign with intent grabbing all 2 points on offer in a keenly contested match against Seneschalstown.
The impressive McGovern twins were to the fore with Darragh scoring his first point from play in the first minute of the game. Paul Gilligan pointed a free after 4 mins and Darragh also pointed from a free after 8 mins. Thomas McGovern scored his point from play after 13 mins. JP Casserly then had to be replaced by Jack McCarney after suffering a shoulder injury. The Moores continued to play attacking football and responded to a Seneschalstown goal with a point from play by Leo Reilly. Darragh McGovern pointed two more frees before finishing the half with another super point from play. Half time score Don/Ash 0:08, Seneschalstown 1:05.
Half time brought changes to the Donaghmore Ashbourne attack with Andy Tormey and Cathal Field replacing Carey and Lanigan. This proved to be a clever substitution when just two minutes into the second half, Tormey got on the end of a speculative effort from Paul Gilligan, out jumped the fullback and keeper and popped it into the net from a very narrow angle. He followed this up with a long range point a minute later and after Seneschalstown could only point from a penalty conceded by the Don/Ash defence.
Seneschalstown nearly conceded another goal from a well worked Don Ash move only for a last ditch goal line clearance to keep them within reach of the Moores. This seemed to drive Seneschalstown on and they quickly drew level with some outstanding point taking from out the field. Dylan Brady pointed at the end of a fast flowing move on 46 mins and midfielder Shane Melia settled Don/Ash with another point on 48 minutes. James Crumlish came on for Leo Reilly after 49 mins. Don/Ash were leading by the minimum until Melia again pointed from play to put them 2 points ahead in time added on. Seneschalstown rallied and reduced to deficit to one point but it was too late.
A good team performance from Don/Ash with key players shining at different points in the game to ensure victory.
Don/Ash: Jack Hannigan, Jack Giles, Cormac McGill, JP Casserly, Conor Carton , Thomas McGovern (0-1), Paul Gilligan (0-1f), Shane Melia (0-2), Conor Carey, Colm O'Mealoid, Bryan Menton, Darragh McGovern (0-5, 3f), Dylan Brady (0-1), Kevin Lanigan, Leo Reilly (0-1). Subs used : Jack McCarney for Casserly, Cathal Field for Carey, Andrew Tormey (1-1) for Lanigan, James Crumlish for Reilly.
Seneschalstown Report
Seneschalstown 1-11 Donaghmore Ashbourne 1-12
The team travelled to the great facilities at Stamullen to play the first round of the Championship against Donaghmore Ashbourne. Similar to the game in 2015 at the same venue there was not much to separate the sides this time. Donaghmore Ashbourne took the spoils with a one point victory in a hard fought game.
The team welcomed back Joe Sheridan for his first game of the year as he was away in the Fiji until late last week.
Donaghmore Ashbourne got off to the better start and had a four to five point lead at stages in the early part of the first half.
The team came more into the game in the second half of the first half as a goal from Cathal Finnegan brought the team back in the game along with frees from Robert Wogan. There was a great point from Joe Sheridan on the clubhouse side at Stamullen in the first half similar to the score last year against St Colmcilles.
At half time the score was tied at Seneschalstown 1-05 to Donaghmore Ashbourne 0-08.
The second half was similar to the first half in that Donaghmore Ashbourne got off to the quick start with a goal by Andrew Tormey. There was a chance for the team to reduce the deficit when a penalty was awarded. Bryan Clarke took the responsibility but was unlucky with the penalty opportunity as it went over the bar.
There was some great defensive work by Mark Fox as he cleared off the line when a goal looked certain for Donaghmore Ashbourne.
There was 2 points from play by Cathal Finnegan and a point each from Joseph Sheridan and Robert Wogan in the second half along with a pointed free from Bryan Clark.
It was tight going down the stretch and there were chances to win the game coming to the end of normal time.
Seneschalstown scorers: Bryan Clarke 0-04 (2F), Cathal Finnegan 1-02 (4F), Joe Sheridan 0-02, Robert Wogan 0-03
Seneschalstown: David Gordon, Mark Fox, John Smith, Brian Maguire, Niall Groome, Joe Cowley,Niall McCabe, Niall Hickey, Stephen Finnegan, Adam Carey, Joseph Sheridan, Bryan Clarke, Cathal Finnegan, Niall Lyons, Robert Wogan. Subs: James Meade for Niall Lyons, Sean Noonan for Niall McCabe, Dylan Keating for Robert Wogan
 
Most Read Stories