SFC: Pats prize point from Ratoath
April 07, 2018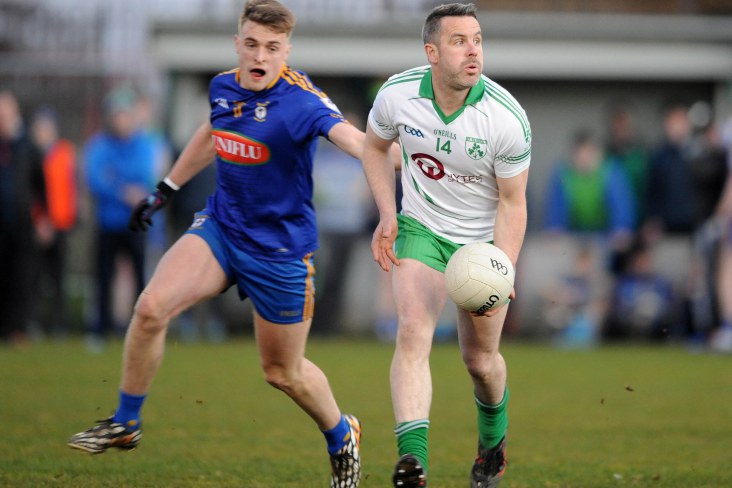 Niall Mooney St Pats gains possession as Ratoath's Conor Rooney closes in during the opening round of the Meath SFC at Ashbourne.
In a dramatic finale to this SFC Group C opener at Ashbourne on Friday evening St Patrick's forced a draw with fancied Ratoath.

Ratoath ............. 3-12
St Patrick's ........ 4-9

It took a pointed close range free from sub Niall Whearty in the ninth minute of added time to salvage something from this fixture for the Stamullen-Julianstown outfit who were five points down after 58 minutes.

Shane Dowling's 59th minute goal cut the gap to two points. A Conor Rooney point briefly interupted the St Pat's rally. Having fallen a goal off the pace in the 59th minute the east county side posted three unanswered points in the time remaining.

Two Niall Mooney efforts from frees trimmed the gap to the minimum. Momentum carried St Pat's to the parity for the first time in the game.

Conditions were dry, if a bit breezy at times. Most impressive of all was the pitch itself, firm despite the recent heavy rain.

Scores flowed freely in the first-half while Ratoath endured a 21-minute scoreless spell after the break during which time they managed only three points.

St Pat's scores were almost evenly spread over the two halves. Yet, they managed just one point between the 31st and 58th minutes.


It looked as if matters would limp to a conclusion, with Ratoath repeating their win in round two in the previous campaign.

St Pat's trailed by six points when Niall Mooney's dipping effort hit the frame of the goals in the 58th minute. Seconds later Shane Dowling's goal ignited the rally.

Gavin McGowan pointed Ratoath in front inside 15 seconds. Playing towards the town end, St Pat's responded quickly with a Kieran Lynch goal.

That lead lasted less than three minutes before Joey Wallace netted Ratoath's opening goal. The team in royal blue jersey's kicked-on, moving four points clear three times in the opening quarter.

The sides exchanged goals early in the second quarter with Keith McCabe netting for Ratoath before Neil O'Flaherty responded in like fashion for St Pat's.


Ratoath moved nine points clear, 3-8 to 2-2, in the 27th minute when McCabe expertly netted a penalty after he himself was fouled. Ahead by 3-9 to 2-4 at the interval, Ratoath looked a good bet for the spoils.

In round two St Patrick's is meet Rathkenny, while Ratoath face Moynalvey.

Ratoath - Shane Duffy; Darragh McGill, Conor McGill, Ben Wyer;  Brian O'Connor; Gavin McGowan (0-1), Brian Power (0-1); Darragh Kelly (0-1), Ben McGowan; Ciaran O Fearraigh (0-1), Conor Rooney (0-3), Keith McCabe (2-1, 1-0 pen); Brian McMahon (0-4 fs), Joey Wallace (1-0), David McGowan. Subs - Gareth Rooney for B O'Connor (bs 10-12), Rooney for Wallace (16), Darragh McPartlin for Duffy (18), Garrett Rooney for C O'Brien (42). Cian Rogers for D McGowan (45), Cian O'Brien for Fearraigh (45), Enda Cahill for G McGowan (bc 60).

St Patrick's - Brian Calvey Adam Byrne, David McQuillan, David Stafford; Ciaran Sullivan, Barry Mooney, Shane Dowling (1-0); Alan Vickers (1-1), Darren Hagan; Diarmuid Quinn (0-1), Donal Landy, Padraig Nulty (0-1); Niall Mooney (0-5, 4fs), Kieran Lynch (1-0), Neil O'Flaherty (1-0). Subs -  Donal Landy for S Byrne (ht), John Curtis for Hagan (43), Johnny Woods for Nulty (50), Niall Whearty (0-1f) for K Lynch (58).

Referee - Patrick Nelis (Kilmainham).
St Pats Report
St Patricks 4-9 Ratoath 3-12
It was a dramatic finish in Ashbourne on Friday night as the Pats got a well-earned draw against Ratoath. It was a Nanny Whearty free with the last kick of the ball that secured it.
It didn't always look like the lads would come away with anything in this one, especially at half time when Pats trailed by 8. It was a really spirted and intense second half performance, aided by an early goal from Neil O'Flaherty, which let us leave Ashbourne with a point.
It was a quick start to the game by both teams with Ratoath pointing after 20 seconds, Pats responded just a few minutes later with a Goal by Kieran Lynch. This only lasted less than 5 minutes when Ratoath came back with their own goal, they then kicked on a knocked over 5 points in the opening 15 minutes. The sides then traded goals again, Ratoath getting theirs and again, this was quickly cancelled out by Alan Vicker's goal.
Ratoath then moved 9 clear when they were awarded and scored a penalty just as Pats began to get a bit of momentum before they could make it count on the scoreboard.
The first half ended 3-9- to 2-4.
The Pats came out in the second half a different team and their determination and intensity allowed Ratoath to only score 3 points in the second half coupled with their ability to take  chances when they came got us the draw.
As the game drew to a close Pats still found themselves 5 down and then a excellently taken Dowling goal cut the score down to 2, Ratoath responded with a point which was followed by two Niall Mooney frees to leave the gap at just 1 deep into added time.
Perhaps the tactics implied by Ratoath towards the end of the game to run down the clock backfired slightly as the ref made it clear he was adding every second the ball wasn't in play, and did we need it. A free was rewarded to the right of the goal which suited the left peg of Nanny, who slotted over the bar like he has done many times down the years.
Next up for the Pats in Rathkenny.
St Patrick's: B. Calvey, A. Byrne, D. McQuillan, D. Stafford, C. Sullivan, B. Mooney, S. Dowling, A. Vickers, D. Hagan, D. Quinn, D. Landy, P. Nulty, N. Mooney, K. Lynch, N. O'Flaherty. Subs: S. Byrne for D. Landy, J. Curtis for D. Hagan, J. Woods for P. Nulty, N. Whearty for K. Lynch
Scorers: N. Mooney (0-5 4fs) A. Vickers (1-1) S. Dowling (1-0) K. Lynch (1-0) N. O'Flaherty (1-0) D. Quinn (0-1) P. Nulty (0-1) N. Whearty (0-1)
Most Read Stories