Neighbours go head to head to decide the destination of the Mooney Cup
December 01, 2017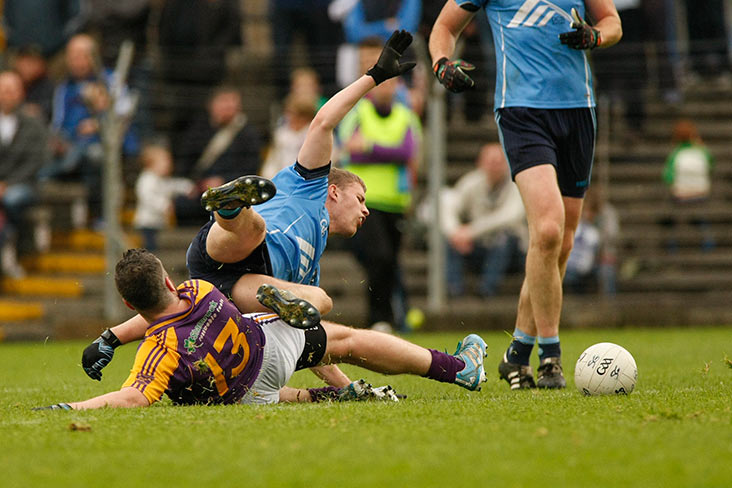 Cian Ward Wolfe Tones with Simonstown's Shane Gallagfher during the Meath SFC semi final at Pairc Tailteann
After the opening round was played back in mid-February, it has taken over nine months to reach the All County League Division 1 final which will we played this Saturday in Pairc Tailteann.
Neighbours Wolfe Tones and Simonstown are due to meet to decide the destination of the Tommy Mooney Memorial Cup.
The Tones finished top of the division, losing three games out of the 13 match programme while Simonstown finished a point behind, losing three and drawing one. The Keegan Cup holders defeated Summerhill in the semi-final.
These two are no strangers to each other this year. They met in round 6 in late April and it was Tony Kearney's men who came out on top with four points to spare. Fiachra and Cian Ward accounted for 2-6 of the winners' total.
When the two teams met in the senior football championship semi-final six weeks ago it was Colm O'Rourke's men who came out on top. Boosted by the return of Conor Nash from Australia, the Gaels held on to win by five points.
Simonstown went on to retain the Keegan Cup but bowed out of the Leinster championship last Sunday in Mullingar.
Wolfe Tones are enjoying a great finish to the year. The club's minors won the Division 2 championship after a replay win over Summerhill while the Under 21s find themselves in the county decider against Ratoath with a great chance of bringing home the Joey McKeown Memorial Cup.
Throw in this Saturday is at 1.45pm in Pairc Tailteann and Gaeil Colmcille's Colm McManus will referee.
Path to the final
Round 1 
Wolfe Tones 4-11 Moynalvey 1-14
Simonstown 2-20 Dunboyne 2-10
Round 2
Wolfe Tones 1-14 Navan O'Mahonys 0-8
Simonstown 2-12 Dunshaughlin 0-6
Round 3
Wolfe Tones 1-12 Dunboyne 2-10
Simonstown 1-10 Summerhill 1-9
Round 4 
Wolfe Tones 0-10 Dunshaughlin 0-9
Simonstown 1-12 St Patricks 1-15
Round 5
Wolfe Tones 2-9 Summerhill 3-11
Simonstown 2-10 Rathkenny 2-4
Round 6
Wolfe Tones 2-11 Simonstown 2-7
Round 7
Wolfe Tones 2-13 Rathkenny 1-10
Simonstown 2-7 Gaeil Colmcille 1-10
Round 8
Wolfe Tones 6-13 St Patricks 0-11
Simonstown gave walk over to Na Fianna
Round 9
Wolfe Tones 2-15 Gaeil Colmcille 1-9
Simonstown 2-10 Donaghmore Ashbourne 1-11
Round 10 
Wolfe Tones 0-12 Na Fianna 2-12
Simonstown 2-18 Seneschalstown 1-9
Round 11
Wolfe Tones 0-16 Donaghmore Ashbourne 1-7
Simonstown 1-26 Blackhall Gaels 0-8
Round 12
Wolfe Tones 3-18 Seneschalstown 0-9
Simonstown 2-13 Moynalvey 0-11
Round 13
Wolfe Tones 2-19 Blackhall Gaels 0-5
Simonstown 2-19 Navan O'Mahonys 0-10
Semi final
Simonstown 0-12 Summerhill 0-9
Most Read Stories