Staunton delighted to have game under her belt
June 27, 2018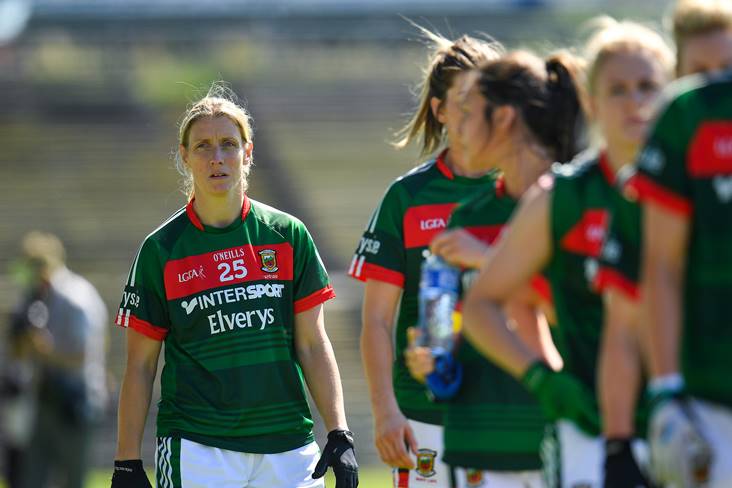 Mayo's Cora Staunton before the Connacht SFC final clash against Galway at MacHale Park, Castlebar.
By Declan Rooney

Cora Staunton says she is relieved to have a competitive game under her belt with the Mayo ladies as she familiarises herself with the round ball once again.

After her first season playing Australian Rules with the Great Western Sydney Giants, Staunton (35) took some time off to recover from the surgery she had on the nose injury she sustained playing in Australia.

But after a full 60 minutes in the Connacht final defeat to Galway, Staunton is excited by the All-Ireland Series ahead.

The Carnacon player confirmed she will return to Australia once her season with the club championship campaign finishes, but she is focused on maintaining her ever present championship run with Mayo, which stretches back 22 years and 68 games.

After taking some time to some to terms with playing with an oval ball in the AFL, Staunton said it didn't take her long to acclimatise to playing her natural game again. She kicked six points for Mayo last weekend, but also uncharacteristicly fired a handful of efforts off target too.

"It's just different, going from different training. I had a couple of weeks off over there. I had an operation on my nose and had to take a couple of weeks off training. It's been a long 19 or 20 months," said Staunton.

"Coming back in changing ball and things like that it took me a little while to get up to the pace of the game. But I am back six or seven weeks now. We have a few challenge matches under our belt too.

"But nothing prepares you for the heat of battle and championship matches. Good to get 60 minutes or more under my belt there. It's a change of a game but I enjoy being back.

"The fitness is fine, skills wise is probably the biggest thing. Going from the oval ball back to the round ball. But probably after one session and a couple of club sessions I was back into it, a club match and that.

"It takes a little while but I am so used to playing football. It's harder going the other way when you have to pick up a new game. It was difficult but came back into it pretty quickly."

Next up Mayo will face Cavan on July 14 in their first Group 4 round robin game, while a re-run of the All-Ireland final against Dublin will be on the cards two weeks later - if the Dubs account for Westmeath in their provincial decider on Sunday.

Staunton returned to Mayo and Carnacon training after her return home in April, and after finding her feet, she slotted straight back into the fold.

"For myself it's no harm, I haven't played football in quite a while. This competition was a once off: it was a Connacht final but now we go into an All-Ireland series.

"We need to improve, look at things we did well and things we didn't do too well. Any Galway versus Mayo match there isn't much between us. Girls will be disappointed but we have to move on. Move onto the training field next week.

"We are in a kind of Super 8s series in a couple of weeks' time and we will meet Galway along on the road again. It's disappointing but we have to try and move on as quickly as we can and look to the Super 8s type qualifiers next."

Now in her 23rd season with Mayo, Staunton will be aiming for fifth All-Ireland title before she returns to Sydney, and 15 years on from their last title, defeat in last year's final suggests Mayo are as close as ever to being the country's top team.

But whatever happens Staunton will be leaving Ireland again before Christmas.

"I signed a contract just before I left. I'm trying to keep a bit of that training up as well. Obviously I'm concentrating on Mayo and Carnacon over the next couple of months but keeping my skills up for the AFL.

"Hopefully, when Carnacon will finish and the championship finishes I will be heading away all going well. Club championship doesn't start until the middle of August and last year we got to December.

"I can't tell when I am going back. But please God I will be going back sometime before Christmas."
Most Read Stories