"It is extraordinary that the Director General would remain silent on this"
June 27, 2018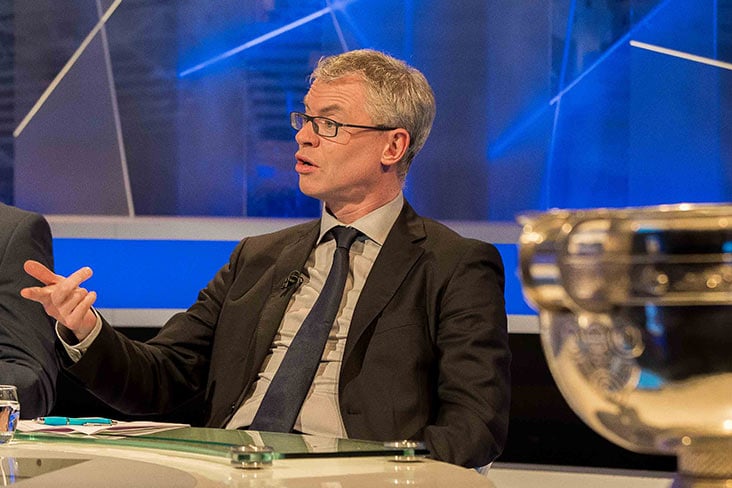 Joe Brolly
The GAA has scored a PR own goal in the 'Newbridge or nowhere' saga, according to Joe Brolly who warns that Croke Park chiefs need to tread very carefully in their attempts to resolve the impasse.
Speaking to independent.ie, the Sunday Game pundit highlighted the 'disconnect' that exists between the Association's top brass and the grassroots.
"I have not seen a reaction on social media like this ever. Gaels all over the country are saying, 'Enough is enough'. Kildare being treated like this is a step too far.
"I've been saying for a long time that, sooner or later, there's going to be a point where GAA people are going to say, 'F*** this'.
"This is the last straw. Making a few pounds is all very well but there comes a point where you have got to look to the greater good of the GAA family. I think this might well be that point. The GAA needs to be very, very careful."
The 1993 All-Ireland Derry winner wondered aloud what Director General Tom Ryan has to say on the matter.
"This absolutely typifies the direction the GAA is taking.
"We have a Director General who is the invisible man. He doesn't say anything. He doesn't lead. I feared very much that he was a bureaucrat who would simply continue to move down the path of elitism and commercialism. That was all the evidence of his past. It is extraordinary that the Director General would remain silent on an issue such as this.
"If I was the Director General of the GAA, this would never have happened.
"I'd say: 'We've got this wrong. I've intervened and Kildare have the home draw here'. That would be a very smart move in terms of bringing people on board with the new Director General.
"This typifies the disconnect. Increasingly, Croke Park is seen as the enemy of the GAA family."
Most Read Stories