HL2B: wins for Mayo, Down and Donegal
February 04, 2018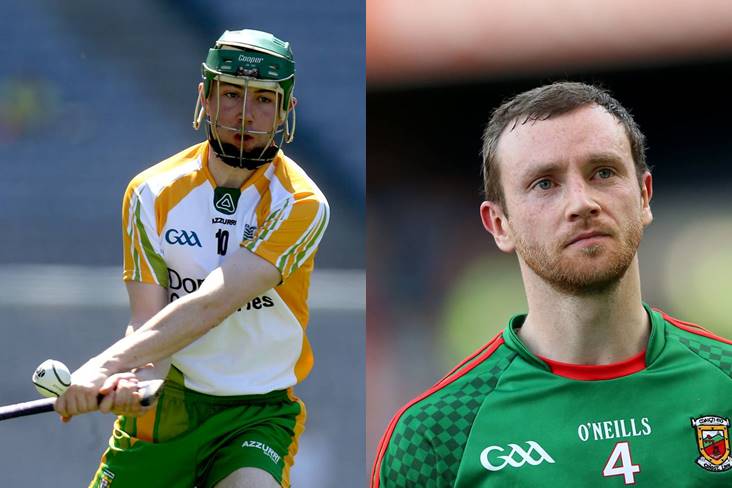 Donegal's Lee Henderson and Keith Higgins of Mayo.
Mayo and Down maintained their 100 per cent records in Division 2B of the Allianz Hurling League with wins over Armagh and Wicklow respectively.
With dual star Keith Higgins lining out at full forward, Mayo came away from the Athletic Grounds with a 3-15 to 2-13 victory, while Down were 1-24 to 0-16 winners in Ballycran.
Meanwhile, Donegal bounced back from their opening day defeat to Mayo to beat neighbours Derry 4-17 to 2-9 in Letterkenny with David Coulter, Davin Flynn, Bernard Lafferty and Ronan McDermott scoring their goals and Lee Henderson firing over six points.
Mayo - D O'Brien; A Brennan, C Daly, B Hunt (0-1); M Morley, J Cotter, C Freeman (1-1, 1-0f); D Kenny, K McDermott; S Regan (0-1), K Feeney (0-5, 3f), P Kiely (0-1); S Boland (0-5, 4f), K Higgins (2-1), S Mulroy. Subs: C Scahill for S Mulroy, D McTigue for S Boland, C Henry for D Kenny, T Sweeney for K McDermott.
Armagh - S Doherty; C Clifford, A McGuinness, C Rice; C Lavery, N Curry, T Nevin; S Reneghan, N Green (0-3); D McKenna, C Carvill, D Carvill (0-4); O McCann (1-1), E McGuinness (1-0), C McAnallen (0-4). Subs: D Magee (0-1) for O McCann, D McCreesh for D McKenna, G McKeown for C McAnallen, D Bridges for S Reneghan.
Referee - D Hughes.
**
Down - S Keith; B Byers, C Teggart, M Hughes; J McManus, M Fisher (0-4, 3f), L Savage; C Bailie, D Toner (0-4); R Branagan (0-3), D McManus, P Og McCrickard (0-5, 4f); M Magee (0-2), P Sheehan (0-4), E Sands (1-1). Subs: D Sands (0-1) for P Sheehan, E Coulter for L Savage.
Wicklow - R Fitzgerald; P Keane, B Cuddihy, M O'Brien; G Byrne (0-1), J Henderson, W Kavanagh; S Kelly, J Connors; E McCormack, A Byrne, P Doyle (0-1); D Staunton, A O'Brien (0-10, 6f), G O'Brien (0-2). Subs: C Moorehouse Jnr (0-1) for S Kelly, J Byrne for E McCormack, G Connors (0-1) for A Byrne, C Moorehouse Snr for G O'Brien, S Germaine for P Doyle
Referee - J Connors.
**
Donegal - P Burns; P Doherty, J Boyle (0-1), G Browne; N Cleary, C McDermott, S Gillespie; D Cullen (0-1), C Mathewson (0-3); R McDermott (1-1), G Gilmore (0-2), L Henderson (0-6, 5f); B Lafferty (1-1), D Coulter (1-1), D Flynn (1-0). Subs: K Campbell (0-1) for B Lafferty, S Doherty for D Flynn, D Lafferty for P Burns, J McBride for D Cullen.
Derry - M Kirkpatrick; C Murphy, S McCullagh, E Gilmore; D McCluskey, C Steele, P Cleary (0-2, 1f); J Mullan (1-0), J Phelan; S Higgins, O McCluskey, N Smith; D Cartin, A Grant (1-7, 0-7f), N Waldron. Subs: B Quigley for N Waldron, L Murphy for C Steele, O McKeever for D Cartin.
Referee - K Brady.
Most Read Stories