IFC final: Mochtas come from behind in injury-time to complete stunning victory
October 15, 2018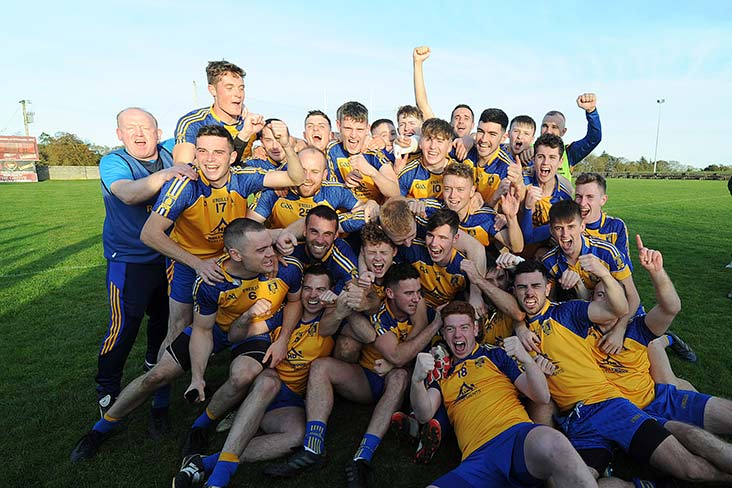 St. Mochtas celebrate
ST MOCHTAS 1-15
ST FECHINS 1-13
St Mochtas completed a stunning Intermediate Championship victory when they came from behind in injury-time to defeat St Fechins in a dramatic conclusion at The Grove on Sunday afternoon.
The Louth Village side looked to have blown their chances of landing the Seamus Flood Cup when they squandered a seven- point advantage as St Fechins hit back to lead by a point in the closing stages thanks to scores from Ronan Holcroft and Eoghan Duffy. To make matters worse for the Mochtas, they also had to finish the game without Ciaran Byrne who was stretchered off in the final quarter.
However, Seamus McGahon's charges responded to the challenge in magnificent fashion and late points from Eamon O'Neill, Stephen McCooey and Ciaran McMahon saw them snatch a memorable win and book their return to senior football.
The Mochtas had the edge for much of the game and after captain Darren McMahon set the tone with the first point of the game, they eased into a 0-6 to 0-1 lead with points from Man of the Match Declan Byrne (3), Gerry Garland and O'Neill.
However, the Fechins came alive in the second quarter and with the help of points from Bevan Duffy, Holcroft and Joe Corrigan they had cut the gap to 0-8 to 0-6 at the break.
The Louth Village side took a firm grip of the game as a goal from Stephen McCooey along with points from substitute Ciaran Byrne and Declan Byrne saw them move 1-10 to 0-6 clear after 37 minutes.
However, the Fechins were in no mood to give up the fight and points from Ronan Holcroft (2), Eoghan Duffy, Brian Devlin to get his side right back into contention at the end of the third quarter.
The flow of the game was disrupted when Byrne picked up a leg injury and was stretchered off after being treated on the pitch. It was the Fechins who regained their composure following the delay and pulled another point back through Holcroft before Brian Devlin found the net to put his side for the first time at 1-11 to 1-10.
It looked as if the cup would be heading back to Termonfeckin when they next four points were shared with Duffy edging the Fechins ahead. However, the Mochtas found an extra gear in the closing minutes as points from O'Neill, McCooey and McMahon saw them claim victory.
ST MOCHTAS: Jason Callan; David Lennon, Philip Englishby, Liam Lawlor; Gareth O'Reilly, Andrew English 0-1, Conor Garland 0-1; Darren McMahon 0-2, Eamon O'Neill 0-1; Barry Mulholland, Gerry Garland 0-1, Jamie Farrell; Declan Byrne 0-5, Stephen McCooey 1-1, Emlyn Clerkin. Subs: Ciaran Byrne 0-1 for G O'Reilly, Ciaran McMahon 0-1 for C Byrne , Danny Kindlon for J Farrell.
ST FECHINS: Niall McDonnell; Conor Haughney, Leo McGrane, Niall McCabe; Colm O'Neill, Paul Matthews, Matthew Flanagan; Brian Devlin 1-1, Bevan Duffy 0-2; Jamie McDonnell 0-1, Donal Ryan, Eoghan Duffy 0-1; Joe Corrigan 0-1, Niall Devlin, Ronan Holcroft 0-7. Sub: Harry Haughney for P Matthews.
Most Read Stories