Rossies now the focus for Leitrim - Mulligan
April 02, 2019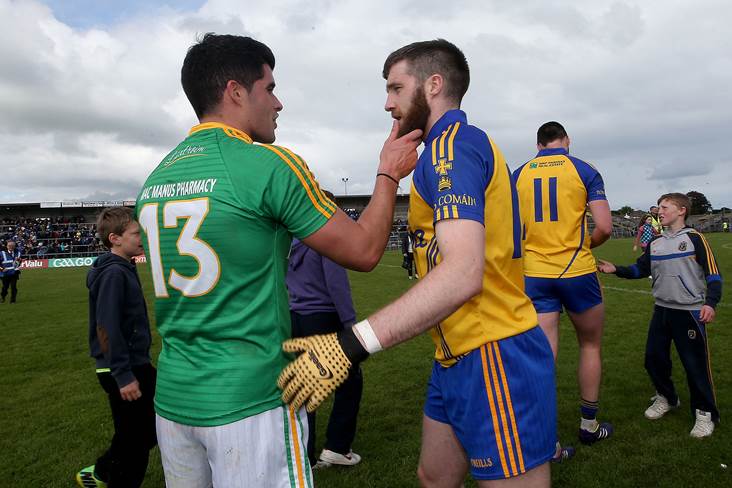 Leitrim's Emlyn Mulligan talks with Cathal Cregg of Roscommon.
©INPHO/James Crombie.
Leitrim star Emlyn Mulligan says the team's focus is completely on Roscommon following their Division 4 final loss to Derry last Saturday.
Terry Hyland's men went down by four points at Croke Park in what was the county's footballers' first outing at HQ since 2006 and Mulligan is hopeful that they can make the experience count this summer.
"Our focus is completely now on Roscommon. The Croke Park thing is over, it's done with," Mulligan is quoted saying by GAA.ie.
"It was great to get the fans up here today but we need them to stay on our side now for the next six or seven weeks going into Roscommon because those young lads definitely deserve that.
"They've put in a massive effort and got us up here and I think the only downfall is that we didn't win today. But, listen, there's more to life than winning.
"That experience will stand to them boys for the rest of their careers. Just the experience of getting out in front of that crowd and being in Croke Park. It's something that we've never been in front of and I thought the lads coped well with it today.
"16 points wasn't a bad return, unfortunately Derry were that bit stronger. That's done and dusted now, we'll draw a line across it."
Most Read Stories