Defeat is 'gut-wrenching' for McNulty
November 15, 2017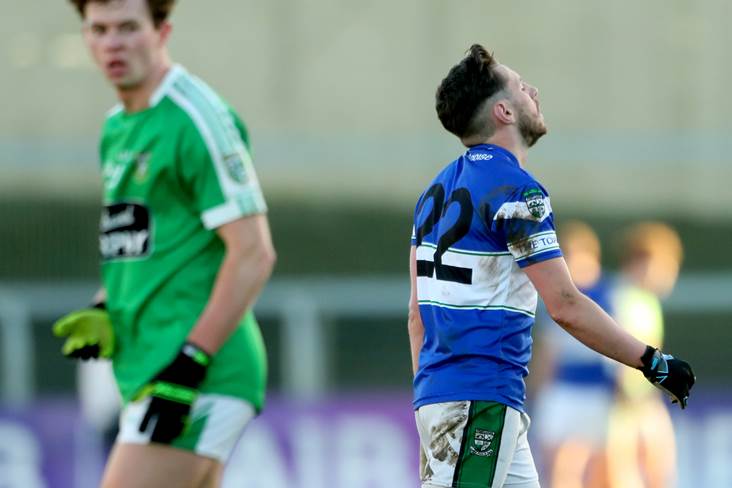 Portlaoise's Craig Rogers leaves the field dejected after being sent off against Moorefield.
©INPHO/James Crombie.
Portlaoise manager Malachy McNulty admits that it was hard to find the right words for his players following their heart-breaking defeat to Moorefield in last weekend's pulsating Leinster club SFC quarterfinal.
The Laois champions looked set for victory as they opened up a three-point lead, the biggest margin between the teams throughout the game, with just 15 minutes to go.
However, Moorefield stuck to their task and an unanswered 1-01 was enough to see them over the line and book their place in the semi-final where they will face Rathnew in Aughrim on Sunday week.
McNulty told the Leinster Express that it was difficult to absorb the defeat in the manner of the way it occurred, but added that overall, it had been a good year for the club.
"It's gut-wrenching, I had a few words with the lads after the game, but as I explained to them, when you have a game like that and a defeat like that, you're reaching deep for the words, but there's very little in there to be able to say," said McNulty.
He added: "It was a fantastic journey, we started off very early, I think we started off nearly a year to this month ago. The commitment was fantastic from the boys, we had a fantastic backroom team, the voluntary staff were fantastic, the paid staff did great work, but look when it comes down to it, it's the 35 lads that committed throughout the year.
"Their commitment and drive and passion for this club, is second to none and I'd just compliment them on that."
Most Read Stories